MUBI, Nigeria — Life is returning to normal in this northern Nigerian town one year after the army expelled the Islamist fighters of Boko Haram — shops bustle with customers and vendors hawk their wares in the pot-holed streets.
President Muhammadu Buhari has vowed to crush Boko Haram by December and the army has recaptured much of the territory seized by jihadists during their six-year-old campaign to carve out an Islamic state in Nigeria's remote northeast.
But a recent surge of suicide bombings and hit-and-run attacks makes residents doubt there is any end in sight to an insurgency that has killed thousands and displaced 2.1 million. Boko Haram has killed more than 1,000 people since Buhari was elected in May on a promise to defeat the group.
Related: Boko Haram Massacre Survivors 'Didn't Have Time to Cry'
"We are afraid that they might come back," said Abubakar Idi, 60, a farmer who fled with his two wives and 16 children when Boko Haram captured Mubi in October last year. "Anybody who has seen such a terrible thing must be afraid," he said.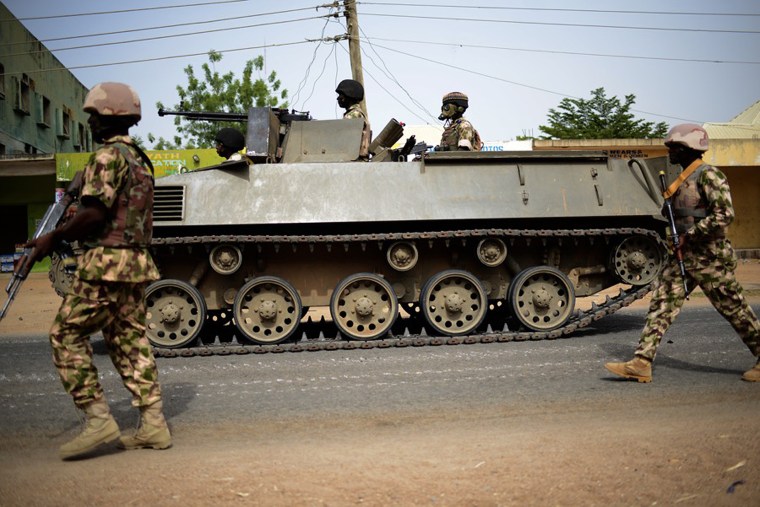 The insurgency is the biggest security challenge facing Africa's top oil producer, already grappling with a severe economic crisis due to a plunge in oil revenues.
Signs of fighting can still be seen, despite the buzz in Mubi's market. Banks remain closed having been robbed by Boko Haram, while electricity is almost non-existent.
Town schools have reopened but many in the countryside remain shut because jihadists burned the buildings and killed the teachers. Boko Haram, whose name means Western education is sinful, abhors secular learning.
Diplomats say the army has improved since Buhari took office pledging to "fix" corruption and mismanagement. The former military ruler has appointed a new army leadership and moved its anti-Boko Haram command center to Borno state, where the jihadists started their revolt.
Residents say Buhari's anti-corruption drive has had an effect as army commanders are now less inclined to steal resources intended for the security forces.
Residents also say the soldiers no longer run away when Boko Haram arrive in their pickup trucks. "The difference is that back then if there was a report of an attack we all ran with the security men," said 55-year-old Mohamed Joda, who makes a living repairing bicycles in Mubi.
"But now they respond to reports of an attack proactively," he added.
"They wanted to kill us, burn us"
The army is securing Mubi and the main road to the Adamawa state capital Yola, 120 miles to the south, with patrols, tanks and checkpoints. But in rural areas the army is spread more thinly, allowing Boko Haram to move around at will. Villagers living along the Mubi-Yola road stay close to their houses for fear of the jihadists.
"I can no longer go hunting because I might run into them in the forest and get killed, so we have to resort to farming," said Murtala Maxwell, who lives in Gombi village south of Mubi.
A security expert said the army is getting help from South African mercenaries to navigate in the vast Sambisa forest, Boko Haram's main local hideout.
Army brigade commander Victor Ezugwu said the military had cut off the forest, last week rescuing more than 300 people from villages that had been held by Boko Haram.
Human rights activists have long accused the army of committing abuses such as looting, fueling an insurgency in a poor region where many complain of neglect.
This time Ezugwu makes an effort to talk to a group of rescued women, who applauded when he came to a camp in Mubi. Three village elders shook hands with the commander.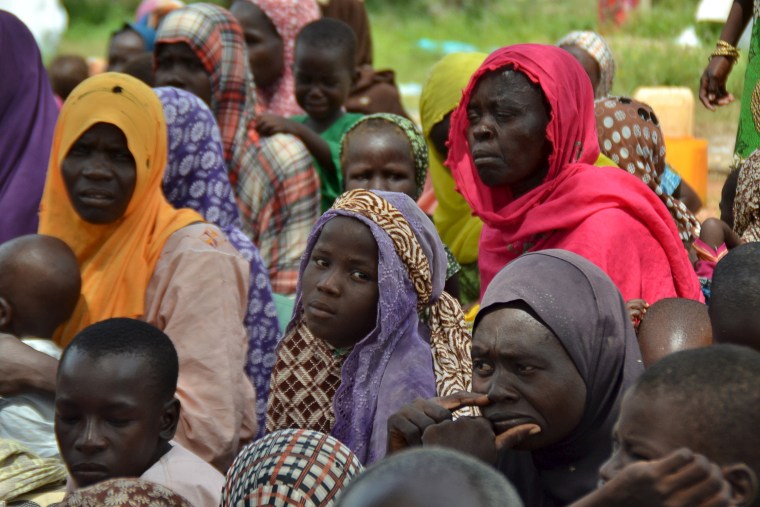 "Boko Haram took over our village, they wanted to kill us, burn us," said Bukar Manipo, one of those rescued. "Soldiers heard what they were doing to us so they came to our village. They were shooting, some fell and died, some were shot, others ran into the forest."
But the commander warned the women that the enemy might strike again as suicide bombers. "If you see any people who do not belong to your community report them immediately to us," Ezugwu told the crowd.