Boko Haram is winning.
That's the assessment of both U.S. counterterrorism officials and many experts who cover West Africa. After several months of optimism, and military successes by Chadian and Nigerian forces that rolled back the terror group's gains, Boko Haram has retaken the initiative.
The Islamist terror group attacked a police academy in Chad's capital city of N'Djamena this weekend, killing dozens of officers and recruits. Boko Haram had also killed dozens of Nigerians, including police officers, in a series of recent attacks around Maiduguri, the biggest city in Nigeria's northeast. On Wednesday, a sack of bombs killed more than 60 people in Bauchi, Nigeria.
"You can quibble on this and that, but yes, they are winning," said John Campbell, the Ralph Bunche Center director at the Council on Foreign Relations and a former U.S. ambassador to Nigeria. Campbell said that Western observers had "way overstated" the territorial gains by Nigerian and Chadian forces that dislodged Boko Haram from small towns it had overrun in the spring.
"There have been successes," said a U.S. counterterrorism official. "But it's whack-a-mole. Boko Haram does strategic retreats. ... They will move out from the forest into the countryside, attacking villages, then when confronted will beat a retreat and carry out bombings in Maiduguri. ... We've just had three days of bombings in Maiduguri. It had quieted down in Maiduguri."
Officials in Nigeria and four neighboring countries -- Chad, Cameroon, Niger and Benin -- have been trying to form an 8,700-man fighting force to battle Boko Haram. Both the United States and France has been helping with intelligence and other support, but the multinational force is still has no central command.
"There have been successes ... But it's whack-a-mole."
So Boko Haram retains the initiative, and commands the pace. The group has also solidified its connection with ISIS, referring to itself in a June 1 video as the "Islamic State, West Africa Province," ans is borrowing the Arab terror group's military ideas.
Though U.S. officials say there's no evidence that ISIS has supplied Boko Haram with anything other than production help on social media, J. Peter Pham, director of the Atlantic Council's Africa Center, says there's evidence of what he called "revolutionary" military tactics inspired by ISIS.
"What I have seen is increasing sophistication in confronting Nigerian forces," said Pham. "In attacks on Nigerian forces, it's always been see-saw battles for control. What's interesting is that tactics have changed."
Before, said Pham, the Nigerians would flee and Boko Haram would advance. "That's still ongoing," he said. "Now, however, Boko Haram is attacking on two of three sides and will put the bulk of their forces on the escape route and the Nigerians are getting ambushed. That's a military revolution."
The counterterrorism official agrees, saying Boko Haram is showing "a lot more nimbleness."
The attack on N'Djamena is a bold move by Boko Haram, say experts, because it will spur reprisals from Chad. The French-trained Chadians, who already have 5,000 soldiers committed to the fight, are seen as the "warriors" of the region, U.S. officials say, compared to the other national armies. But there are issues with the way Chadians fight.
"They are fearless and have the best training in the region. In short, they bring it," said an official. "On the other hand, they think direct combat is the best. As a result, they tend to lose more people. They think body armor wimpy," said the official.
In a long war, that tends to be problematic, the official added. "Neither Chad nor Nigeria nor Niger nor Cameroon have the troops to sustain a long-term effort."
Pham thinks the attack on the police academy will have consequences, ending an implicit agreement under which Boko Haram was permitted to keep its families there. Even Boko Haram leader Abubakar Shekau had a favorite wife living in Chad. "That tacit understanding is over," said Pham. "Expect the families to be rounded up." Some in the U.S. note that Chad's military, like Nigeria's, has a record of human rights abuses.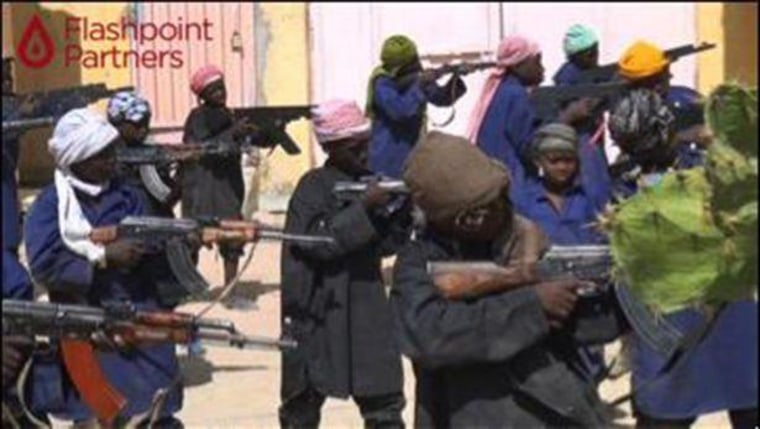 Chad has asked for U.S. help, but so far the U.S has been reluctant. "Do we want to get involved in yet another civil war within Islam?" asked Campbell. "Not small arms, not intelligence sharing? A war. Do we?"
On Monday in Johannesburg, South Africa, Undersecretary of State for Africa Linda Greenfield Thomas announced he U.S. was sending $5 million to help build the five-nation coalition, but that's seen as a token contribution.
The next steps militarily could be up to Nigeria's new government, which is headed by a former military dictator, Muhammadu Buhari. He said this week he will go to Cameroon soon to help make the multinational coalition happen, but previous talks were fraught with in-fighting based on past border disputes. And, said a U.S. official, "We have seen no big changes in the Nigerian military. They're still not a good fighting force."
Campbell says it looks like a long fight. "Boko Haram seem intent on recreating the pre-colonial Islamic Emirate of Borno," he argued. "Pieces of Nigeria, Niger, Chad and Cameroon were all part of that pre-colonial emirate."
How ambitious is that? Said Pham, "We're probably talking an area that's close to 100,000 square miles -- the size of Wyoming."