CAIRO —Three people were killed and 15 injured when a bomb exploded on an Egyptian tourist bus traveling to Cairo on Sunday, officials said.
The driver of the bus and two South Koreans lost their lives in the blast that hit the front end of the vehicle, Egypt's Ministry of Information said in a statement.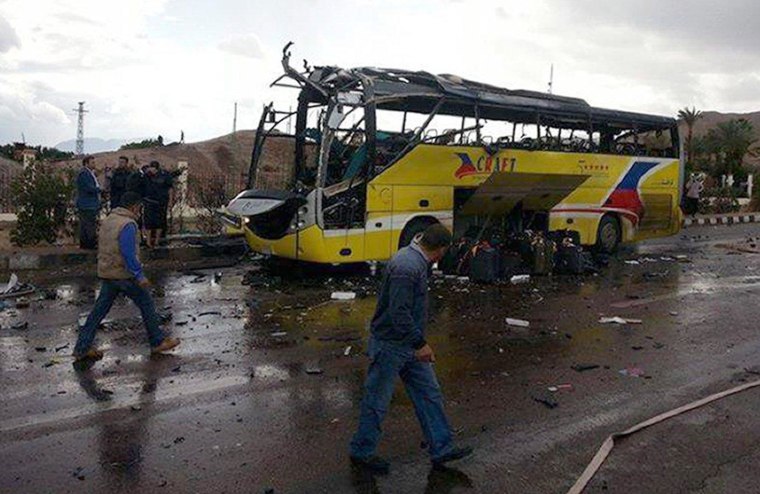 Fifteen additional Korean tourists were transported to hospitals.
The bus was bombed while stopped at a rest point in the Egyptian town of Taba, on the Israeli border, according to Egypt's Ministry of Information.
The general manager of the bus company, called Blue Sky, said it was carrying a 33-person tour group that was visiting Israel and had crossed the border to view St. Catherine's Monastery in South Sinai.
The investigation into the cause of the crash is ongoing, but Islamist militants have been active in Sinai since Mohamed Morsi and the Muslim Brotherhood were overthrown in July.
The Muslim Brotherhood said in a statement that the attack indicated the government's "negligence."
"It is sad to note that the military backed authorities have, once again, failed to uphold their duty of protection and care towards visitors and Egyptian citizens alike," the Muslim Brotherhood said.
"It was an act of cowardice that will only strengthen our resolve in our fight against terrorism. Our hearts go out to the families of the victims," a spokesman for the Egyptian president's office told NBC News.
NBC News' Elisha Fieldstadt in New York contributed to this report.