KHAR, Pakistan — A powerful bomb ripped through a rally held by supporters of a hard-line cleric and political leader in the country's northwestern Bajur District that borders Afghanistan on Sunday, police and health officials said. At least 55 people were killed and 135 were wounded in what one official said was a suicide attack.
Senior police officer Nazir Khan told NBC News that the religious political party Jamiat Ulema Islam, run by Maulana Fazlur Rehman, had organized a workers' convention in the town of Khar, headquarters of the Bajur District, a former tribal area, on Sunday, where the explosion took place.
While Khan said earlier there was "no information about the nature of the blast," Jalil Jan, a spokesperson for the political party, said it was a suicide attack.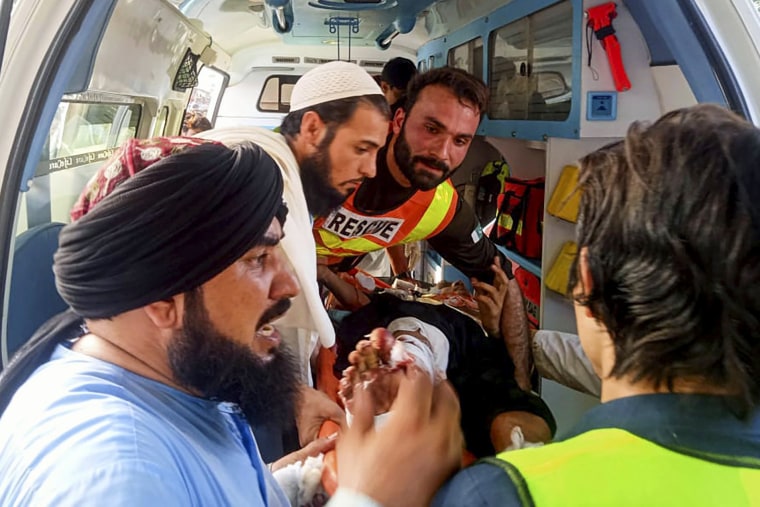 Azam Khan, head of the emergency room at Khar's main hospital, said previously that 35 bodies had been brought to the hospital, and while some had been released to relatives the number of wounded was more than 100, as those who had earlier been taken to nearby small clinics were later transferred to the main government hospital.
The number of dead and injured ticked up throughout the day. Jan, the party spokesperson, told NBC News the death toll had risen to 55, and that some of the 135 injuries were critical.
Government administrator Mohibullah Khan Yousufzai had also said previously that the death toll had risen to 35 and that the number of wounded was well over 100. He said those who had been seriously wounded were being airlifted to the provincial capital of Peshawar for more advanced medical care.
No one immediately claimed responsibility for the attack, but the Islamic State group operates across the border in Afghanistan.
Maulana Ziaullah, the local chief of Rehman's party, was among the dead. Senator Abdur Rasheed and former lawmaker Maulana Jamaluddin were also on the stage but escaped unhurt. Party officials said Rehman was not at the rally.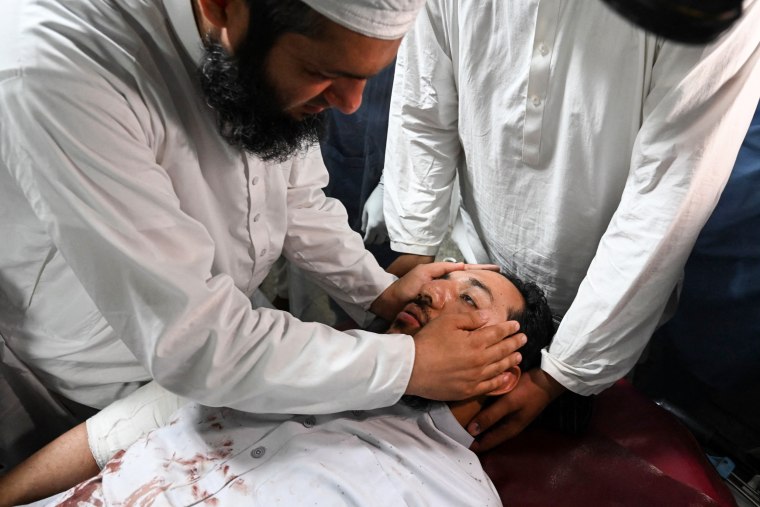 Rehman is considered to be a pro-Taliban cleric, and his political party is part of the coalition government in Islamabad. It is not known whether Rehman was present. Meetings have been organized across the country to mobilize supporters for the coming elections.
Bajur, once a tribal region but now a district, had been a safe haven for Islamic militants until recent years when the Pakistani military carried out massive operations to eliminate militancy from the tribal region. Militants still strike, attacking security forces and civilians often.
A statement from Zabihullah Mujahid, the spokesperson for the Islamic Emirate of Afghanistan, said officials "condemn" the blast.
"The Islamic Emirate expresses deep condolences to the affected families," the statement said, adding that officials pray for the "martyrs" to go to Islamic heaven and "for the speedy recovery of the injured."
"Such crimes are in no way justified or acceptable," Mujahid said.