SEOUL, South Korea — North Korea was silent Wednesday about the status of an American soldier who "bolted" across the inter-Korean border into the isolated communist country a day earlier, as more details emerged about the 23-year-old Army private.
Meanwhile, nuclear-armed North Korea launched two short-range ballistic missiles eastward from its west coast early Wednesday local time, South Korea and Japan said.
Pvt. 2nd Class Travis King is in North Korean custody after crossing the heavily fortified border "willfully and without authorization," Defense Secretary Lloyd Austin told reporters Tuesday.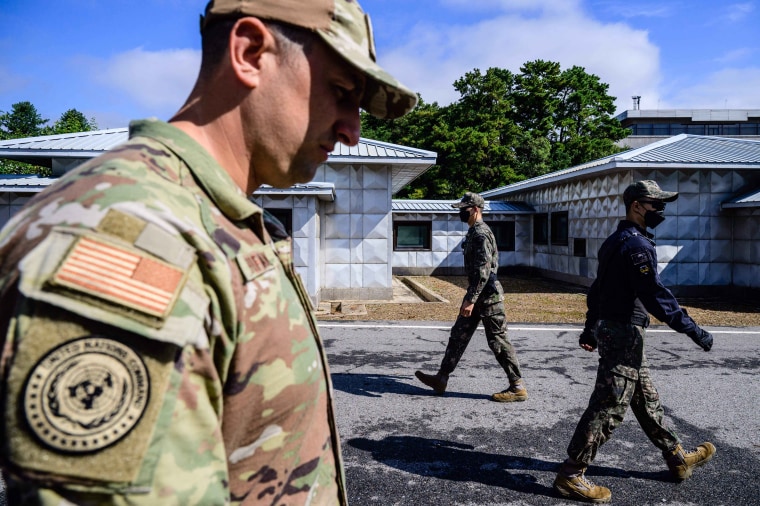 King, who had recently been released from a South Korean prison, had been escorted by the military to Incheon International Airport outside Seoul, the capital, for possible further disciplinary action in the United States.
But instead of proceeding to his gate, a senior administration official told NBC News, he joined a commercial tour group headed for the joint security area. The truce village, also known as Panmunjom, is about an hour and a half from the airport and is the only place along the approximately 155-mile Demilitarized Zone where North Korea and South Korea interact.
Sarah Leslie, a tourist from New Zealand who was in King's group, said the tour was nearing its end and the group was "sort of milling around" under the watchful eyes of South Korean and American soldiers, while soldiers on the North Korean side appeared to be inside a building.
Suddenly, she noticed a man "running what looked like full gas towards the North Korean side," she told The Associated Press.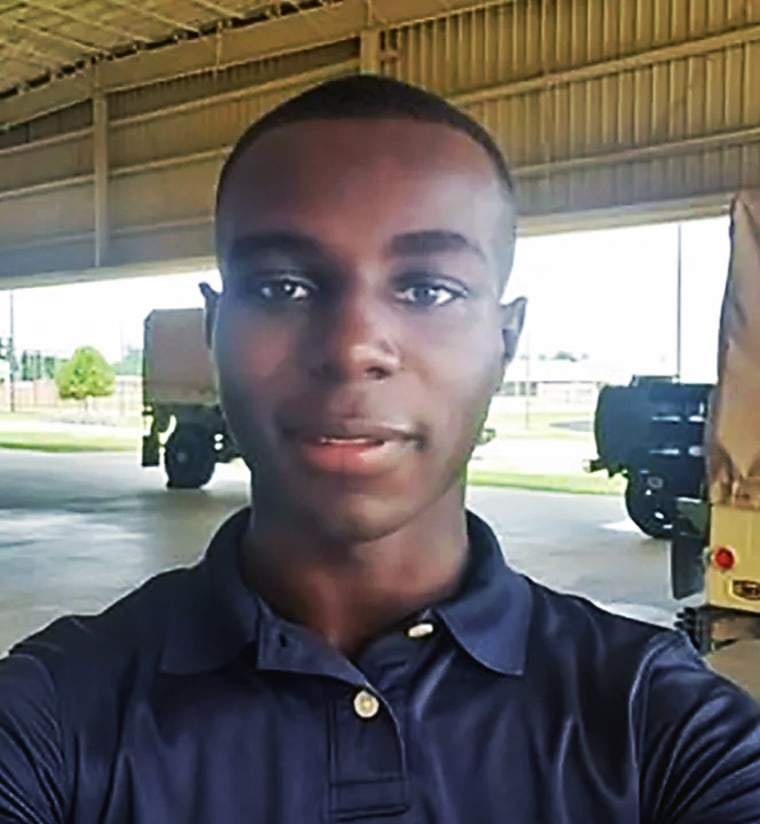 The South Korean and American soldiers ordered the rest of the group inside and chased after King but couldn't catch him.
"Everybody was stunned and shocked," Leslie said. "There were some people who hadn't even realized what was going on." 
King was initially reported to South Korean police after allegedly punching a Korean national at a night club in Seoul on Sept. 25 last year, but was not indicted because the victim did not want to press charges.
In February he was fined 5 million won ($3,950) in Seoul on charges that included damaging public property, according to South Korean court documents. He was accused of repeatedly kicking a police patrol car in Seoul last year, causing several hundred dollars in damage.
He did not cooperate when apprehended by officers at the scene and was shouting profanities about Koreans and the Korean army.
King has been serving in the Army since January 2021, according to U.S. Army spokesman Bryce Dubee. He was a cavalry scout assigned to the 1st Armored Division, The Associated Press reported, and served almost two months in a South Korean prison after declining to pay a fine in an assault investigation.
King is the first known American to be detained in North Korea since Bruce Byron Lowrance, who was caught after entering from neighboring China in October 2018 and deported several weeks later. King appears to be the first U.S. soldier to defect to North Korea in more than 50 years.
White House spokesperson Karine Jean-Pierre said Tuesday that the U.S., which does not have official relations with North Korea, was "engaging" on King with South Korea and Sweden, whose embassy represents U.S. interests in North Korea.
"Our primary concern at this time is ascertaining his well-being and getting to the bottom of exactly what happened," she said.
North Korea has not mentioned the border crossing in its state media but continued Wednesday with weapons testing that has accelerated since last year.
The missiles launched by North Korea from 3 to 4 a.m. local time (2 to 3 p.m. Tuesday ET) landed east of the Korean Peninsula outside Japan's exclusive economic zone and there were no reports of damage to aircraft or vessels in the area, according to the Japanese Defense Ministry. 
They reached maximum altitudes of about 30 miles and flew distances of up to about 370 miles, the ministry said.
North Korea has expressed opposition in recent days to plans by the U.S. and South Korea for a nuclear consultative group aimed at upgrading their coordination in the event of nuclear war with the North, as well as a rare visit to the South by a U.S. nuclear-armed submarine. The first group meeting and the submarine's arrival both took place Tuesday.
Despite international sanctions, North Korea has been ramping up its nuclear and missile programs amid stalled denuclearization talks. Last week, it tested the Hwasong-18, a solid-fuel intercontinental ballistic missile capable of reaching the continental U.S.
North Korea's missile launches Wednesday are "probably unrelated" to King's border crossing, said Leif-Eric Easley, a professor at Ewha University in Seoul, "but such an incident doesn't help matters either."
"The Kim regime is likely to treat a border crosser as a military, intelligence, and public health threat even though it is more likely that such an individual is mentally distressed and acting impulsively due to personal issues," Easley said in an email. "Such unexpected events highlight the need for diplomatic channels between governments and regular communication between militaries."
The U.S. has about 28,000 troops stationed in the South, a treaty ally that has remained frozen in conflict with the North since the Korean War ended in an armistice rather than a peace treaty 70 years ago this month.
The State Department has barred Americans from traveling to North Korea since 2017, when college student Otto Warmbier died days after returning to the U.S. in a coma following 18 months of detention in North Korea. He had been sentenced to 15 years of hard labor after being accused of trying to steal a propaganda poster from the wall of his hotel in Pyongyang, the North Korean capital, where he was on a group tour.
Stella Kim reported from Seoul, and Jennifer Jett and Larissa Gao from Hong Kong.
CLARIFICATION (July 20, 2 p.m. ET): This article has been updated to clarify that King served time in a South Korean prison after declining to pay a fine in connection with an assault investigation. An assault charge in a separate case was dismissed.