LONDON — To hear Prime Minister Boris Johnson tell it, his government has valiantly fought and is now conquering the coronavirus pandemic in Britain.
The country had managed to "avoid the tragedy that engulfed other parts of the world," the prime minister said as he held a Lazarus-like briefing Thursday, his first since he left the hospital after being treated for the disease himself.
The reality is that the United Kingdom now has the world's third-highest death toll from COVID-19 and is on course to be the worst-hit in Europe. Its 66 million people make up less than 1 percent of the world's population, but they have had more than 10 percent of recorded coronavirus deaths.
At least 26,000 people have died with the illness in the U.K. — second only to Italy in sheer numbers and around twice as high per capita as the United States.
Hajo Zeeb, a professor at the Leibniz Institute for Prevention Research and Epidemiology in Germany, is among a number of experts who say the British government was far too slow to act. Germany acted faster and carried out far more tests, for example, and has had around 6,600 fatalities, despite a larger population than the U.K. (about 84 million to 68 million).
"Time was lost in the beginning, and that has led to this high number of deaths," he said of the U.K.'s response.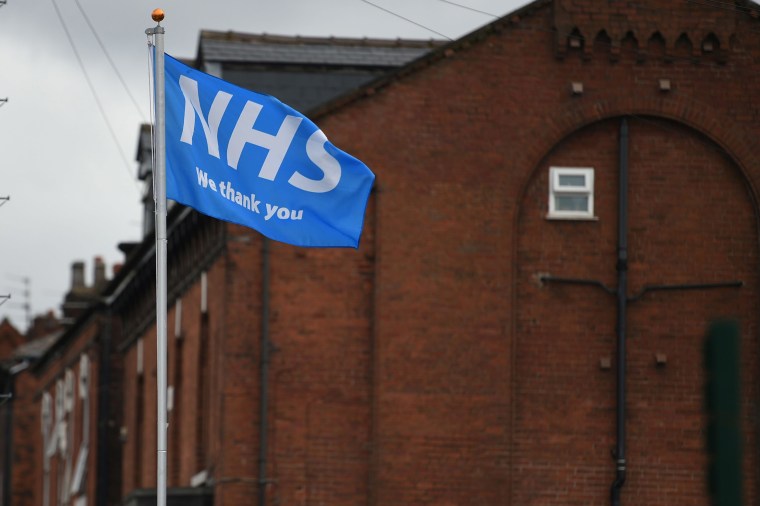 Italy was initially the sick man of Europe — hit hard and fast by the coronavirus before many knew what was happening — but now that unfortunate mantle belongs to the U.K., Zeeb said.
"The mortality numbers have gone up so much, and we have seen that the U.K. has taken on this position," Zeeb added. "I would be very worried about what has happened, and whether what the British government has done was really the right option to choose."
Johnson's government was slower than many other European nations in introducing social restrictions, and every day brings more stories from front-line British doctors who say their stock of personal protective equipment remain dangerously inadequate.
Britain's chief scientific adviser, Sir Patrick Vallance, initially spoke of how it was inevitable and even desirable for many young and healthy people to catch the virus to achieve "herd immunity."
The government disputes that herd immunity was ever official policy, but its strategy did change after expert advisers warned that a more relaxed course of action could bring 250,000 deaths. The country has been on strict lockdown since March 23.
Even when the government has taken action there have been problems.
Hundreds of ventilators it bought from China were discarded after doctors warned they were substandard and unsuitable, risking "significant patient harm, including death," if they were used in hospitals, according to a letter seen exclusively by NBC News.
In the U.K. the messaging is often more nuanced than in the United States, where President Donald Trump has often parted with his expert advisers when offering advice. Trump has backed the untested drug hydroxychloroquine and suggested exploring the use of disinfectants as possible treatments.
Whether Johnson or one of his team is delivering the daily briefing, they are always flanked by scientific and nonpolitical medical officials, and their messaging is rarely out of step.
On Thursday Johnson grabbed headlines by announcing that "we are past the peak and we are on the downward slope." He said that "at no stage" had the U.K.'s National Health Service "been overwhelmed," with no Briton being denied a ventilator or an ICU bed.
The front pages of Britain's national newspapers carried his messages of hope and optimism. The mood was further buoyed by the 100th birthday of World War II veteran, Col. Tom Moore, who has become a national hero by raising $37 million for the National Health Service by walking laps of his garden. Formerly a captain, he was promoted to honorary colonel on his birthday Thursday.
"So much to clap for tonight," tweeted Rishi Sunak, the U.K.'s finance minister, who has become a rising star during this crisis for his competent media briefings and sharp tailoring, which has earned him the tabloid nickname "Dishy Rishi."
He was referring to the weekly ritual that has millions of Brits standing at windows and porches at 8 p.m. every Thursday to clap for health care staff and other key workers.
But many are not clapping for the government.
Writing in The Daily Mail — a reliably conservative publication that backed the ruling Conservative Party in the nationwide election last year — Piers Morgan gave a rare scathing appraisal of Johnson's briefing. The headline called the prime minister a "breathless bulls----er," referring to his apparent difficulty breathing, perhaps a physical hangover from his trip to the ICU.
During Johnson's illness, the messaging appeared similarly detached from reality. His spokespeople and colleagues in the Cabinet had insisted he was in "good spirits"; Johnson would later reveal that he was fighting for his life.
While there have been mistakes, most if not all experts welcome Johnson's main message that the numbers of deaths and intensive care cases are falling.
"Major steps have been taken," said Zeeb, the German epidemiologist. "There are some signs that things are slowly getting under control. I think that the peak, while maybe not over, is perhaps coming to an end."