MOSTAR, Bosnia-Herzegovina — For more than three decades Semir Kazazic-Miro has been leaping from a bridge and plunging 70 feet into the ice-cold, fast-flowing waters of the Neretva River below.
Since the span was originally built in 1566, the Stari Most — or "Old Bridge" — Mostar's main attraction has been a place where residents show off their high-diving skills.
The Stari Most has also been a prominent symbol for the peaceful co-existence of Muslim Bosniaks, Christian Croats and mostly Orthodox Serbs.
Yet rising tensions between the ethnic groups following the collapse of Yugoslavia culminated in the 1992-1995 Bosnian War, that left an estimated 100,000 people dead and nearly two million others displaced.
Despite sniper fire and heavy shelling from the nearby hills, Kazazic-Miro and his fellow divers continued to jump from the landmark through the war.
As the country marks 25 years since the conflict began, nationalist politicians continue to aggressively exploit ethnic and religious sentiments.
In a stark warning to representatives of Bosnia-Herzegovina, the European Parliament wrote in a Feb. 7 report that reform efforts are often "hampered by ethnic and political divisions, caused by deeply-rooted disintegrative tendencies hindering normal democratic development."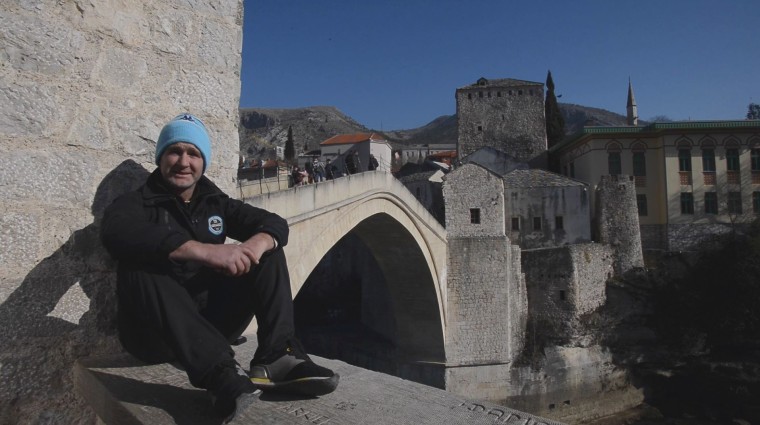 European Union (EU) officials say Bosnia-Herzegovina can only become a successful candidate for membership of the bloc if its political leaders make progress.
Ethnicity remains a deep fault line not only for Mostar, but across the volatile Balkans.
EU foreign policy chief Federica Mogherini earlier this month expressed "profound" concern that dangerous historic tensions could be flaring up once more and that the region could easily become a "chessboard" in a game between major powers.
Related: Real-Life 'Romeo and Juliet' Killed by Snipers Live On
Kazazic-Miro, 45, has developed a deep admiration for Stari Most, saying it "is one of the best places for diving and one of the most beautiful bridges" in the world.
"It is also a symbol of something that connects people," the father of two told NBC News.
The crossing was damaged and then destroyed by shelling on Nov. 9, 1993. Kazazic-Miro, who stood only 150 feet away on that day, said emotions ran high when his beloved bridge collapsed into the river.
"It felt as if half of me went missing when the bridge was gone, all of us shed a tear," the Bosnian Muslim said.
Risking their lives, daredevils including Kazazic-Miro refused to allow the conflict to interfere with tradition by running to the remains of the collapsed bridge on the east bank of the river and jumping as firefights continued around them.
After years of painstaking work, a replica bridge was opened in July 2004 and is now a UNESCO world heritage site.
But despite bridging the geographical divide, reconciliation remains a major challenge for the citizens of Mostar and for Bosnia-Herzegovina.
"Mostar still has problems with ethnic tensions, Bosnia-Herzegovina is still an unstable country," said resident Nino Zelenika, who comes from a so-called mixed-marriage family in which his father is Croat and his mother Muslim.
Zelenika, 32, warns that "some people are still mentioning war as a possibility."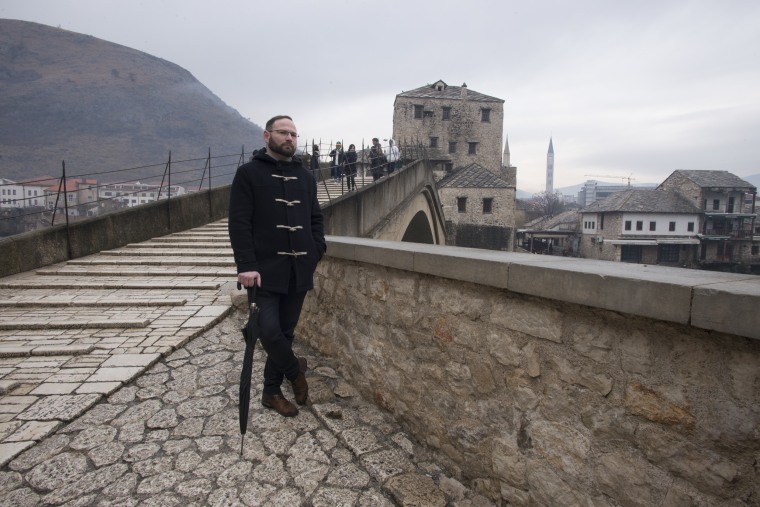 Despite attempts to foster integration, Bosnian Serbs are seeking greater independence within Bosnia-Herzegovina.
Earlier this year, relations between Serbia and Kosovo were strained when officials in Belgrade decorated a cross-border train with Serbian nationalist slogans. And in Macedonia, anti-government protests last month added to fears that the Balkans could see new clashes.
Mirroring these challenges and tensions, Mostar is still divided by duplicate institutions on each side of the Neretva River. The west side is inhabited mainly by Croats, the east mainly by Bosnian Muslims.
Both sides retain their own water plants, energy companies, colleges and transit stations. The city is also home to an education system of "two schools under one roof" in which children are separated into different classes, and taught different lessons, based on their ethnicity.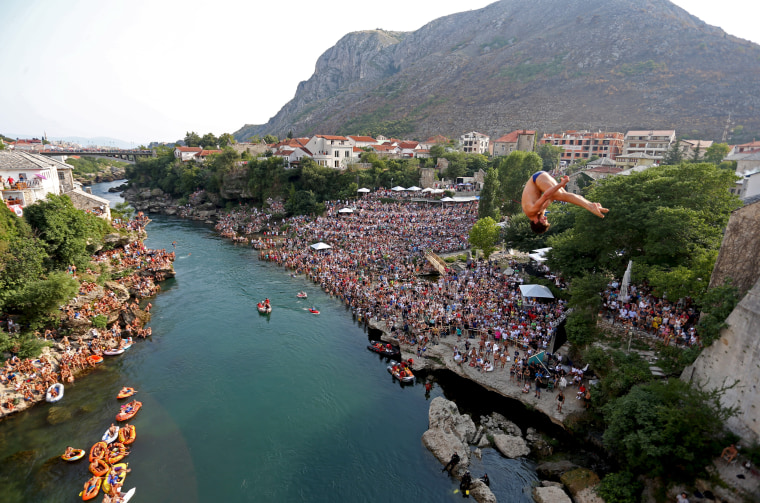 Zelenika says the segregated education and nationalistic mindset have created a "lost generation" as many young people leave the country once they finish school. A grim local economy adds to their disillusionment.
"I think for my generation it was not given to develop normally because we are somehow stuck in the 1990s," Zelenika added.
Many who experienced the war as children want change.
At a makeshift gym, located in the raw concrete shell of an unfinished building in western Mostar, Croatian boxer Damir Beljo teaches young athletes how to fight for medals, against hate and for reconciliation.
"I know how to fight, I have been fighting all my life," the European cruiserweight champion told NBC News.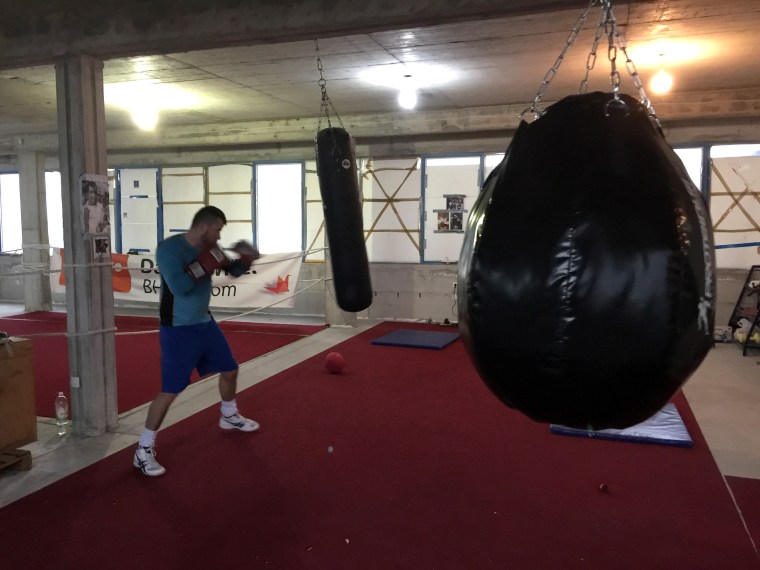 Through his sport, he "wants to unite" all sides in a country "worth fighting for."
As the 32-year-old slams old truck tires against unplastered walls to maintain his fitness, he has a peaceful message to the world.
"The economic situation here is not good, but if we polarize, if we hate each other, things will get worse," says Beljo, who holds a 22-win record that includes 18 knockouts.
For Zelenika, the history of his country sends a clear message to western powers: "Nationalism kills."
The rise of far-right and nationalistic movements in Europe and the United States shows that his country is a "hipster nation," he jokes. "We had war, ethnic cleansing, discrimination and racism before it was cool."