The driver of a Ferrari which crashed killing Boston Marathon bombing survivor Victoria McGrath and her college roommate in Dubai had been drinking before the incident, an official said.
The yellow Ferrari 458 Spider mounted a curb, split in two and then "lit on fire" early Sunday, Dubai's chief traffic prosecutor Salah Bu Farousha Al Falasi told NBC News.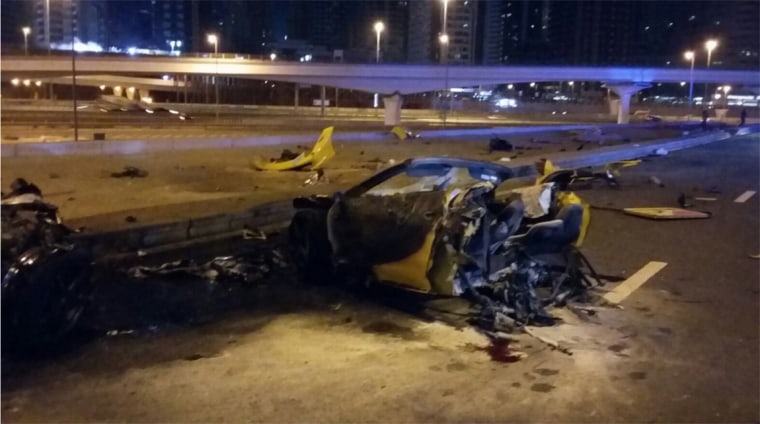 The car's four occupants were thrown from the two-seater vehicle during the crash, he added.
"All were drinking alcohol," Al Falasi told NBC News on Wednesday, adding that while police could not confirm the 562-horsepower Ferrari's exact speed "they were driving fast."
The victims likely died from the impact and not the subsequent blaze, he said.
Earlier, one witness said that the vehicle had slammed into a pole.
"There was a big ball of fire," the witness, who asked not to be identified, said Tuesday. "I saw Victoria and the other girl."
The dead men were Cody Nixon and James Michael, who was driving the car, according to Al Falasi.
Canadian newspapers reported that Nixon was a Toronto-based boxer.
Before the collision, Nixon Tweeted a photograph of himself with his rented sports car. He wrote, "Just landed into Dubai picked up the Ferrari! Don't worry I won't speed ;)"
According to a source at the rental car company, Michael had spent around $1,100 to drive the Ferrari for the day. Such vehicles have a base price of around $260,000.
The source added: "You don't expect a Ferrari with four passengers ... It was a very horrible accident. As a company, we don't care about the the car. We care about the souls. I was so sad when I read the news."
The revelations came as the families of McGrath and her roommate Priscilla Perez Torres at Northeastern University in Boston mourned their loss.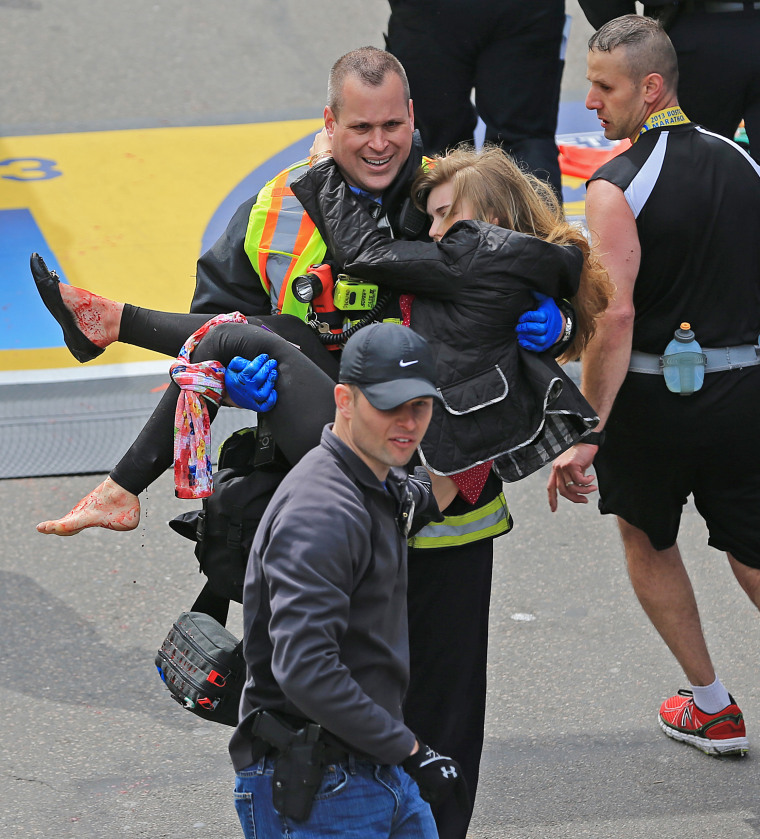 McGrath, a 23-year-old from Weston, Connecticut, was standing five feet away from the finish line at the Boston Marathon when the first bomb exploded on April 15, 2013 and an inch-long piece of shrapnel pierced one of her legs.
A photograph of McGrath being carried to safety became one of most iconic images from that terrible day — and the plucky college student became an inspiration to the other survivors struggling to recover from their injuries.
McGrath suffered nerve damage to her left leg and spent weeks recovering at Tufts Medical Center. Later, she was reunited with firefighter Jimmy Plourde and the three other strangers who helped saved her life.
There was no immediate comment from McGrath's family to the latest developments. Perez Torres's cousin, Javier Torres, confirmed to The Boston Globe that she was in the wrecked sports car.