Both sides in Syria's civil war committed repeated war crimes during the battle for Aleppo last year — indiscriminately killing men, women and children during months of "unrelenting violence," a United Nations report said Wednesday.
Airstrikes by the Syrian government and its Russian backers were responsible for "claiming hundreds of lives and reducing hospitals, schools and markets to rubble," according to U.N. investigators.
The Syrian government was also accused of repeatedly violating international law by dropping chlorine bombs on its own people, including children. The report said there was no evidence Russia had used chemical weapons in the conflict.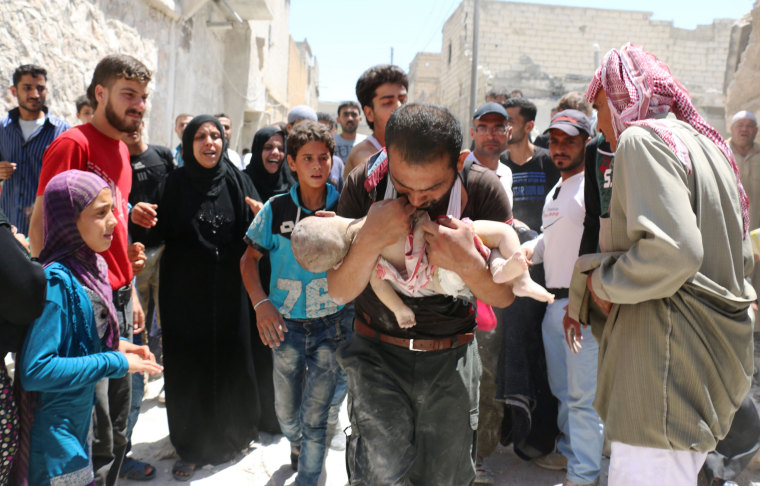 Similarly, the report said that that Syrian "and/or" Russian forces used cluster bombs — although it could not conclusively say which military force had used these weapons.
Nevertheless, the report agreed that "government forces and their allies employed brutal tactics to force the armed groups to surrender."
On the other side, some rebel groups "fired indiscriminately in attacks that killed and injured dozens, including women and children." These attacks were launched "without a clear military target" and "intentionally terrorized the civilian population," it said.
The rebels' use of an improvised mortar — known as the "hell cannon" — "terrorized" residents of government-held western Aleppo, according to the report. And it said that some armed groups also withheld humanitarian aid and restricted the movement of local residents, instead using them as human shields.
The battle to claim the city ended in December after the Russian-backed Syrian government besieged the rebels and thousands of civilians in the eastern part of the city.
President Donald Trump has suggested that the United States could work with Russia to defeat ISIS, which is fighting both the government and rebels in the complex conflict.
Syrian President Bashar al-Assad said earlier this month that Trump's stance was "promising."
However, this week Nikki Haley, the new U.S. ambassador to the U.N., criticized Russia and China after they voted new U.N. sanctions on Syria. She accused them of ignoring "defenseless men, women and children who died gasping for breath when Assad's forces dropped their poisonous gas."
As part of Wednesday's report, U.N. investigators described the "particularly egregious episode" when an aid convoy was bombed in the Aleppo countryside, killing 15 aid workers and denying civilians of vital supplies.
The investigators also said Syrian forces were responsible for the attack — something the regime has denied.
In addition, the U.N. report described as a war crime the mass exodus that followed the end of violence in December.
"As warring parties agreed to the evacuation of eastern Aleppo for strategic reasons — and not for the security of civilians or imperative military necessity, which permit the displacement of thousands — the Aleppo evacuation agreement amounts to the war crime of forced displacement," it said.