Calls for a boycott of Disney's live-action remake of the 1998 animated movie "Mulan" were trending on social media Friday after the movie's star, Chinese-born Crystal Liu Yifei, shared a message supportive of the police crackdown on Hong Kong protesters.
The actress shared a text image Wednesday from The People's Daily, a Chinese newspaper tied to the country's Communist party, that read "I support the Hong Kong police; you can beat me up now" to her nearly 66 million followers on Weibo, a social media service similar to Twitter that is popular in China.
Lettering below read in English, "What a shame for Hong Kong."
Liu's post had been liked 78,000 times in less than a day from when it was initially shared and retweeted nearly 69,000 times.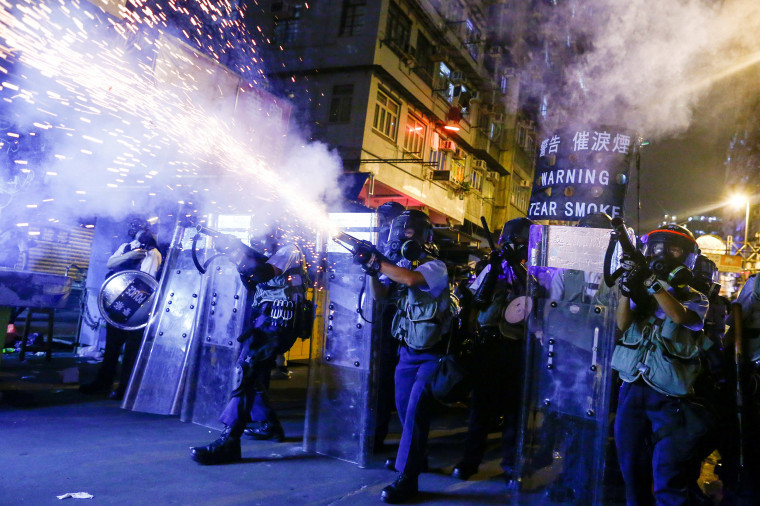 Liu's comments have prompted the rise of the hashtag #BoycottMulan on other social media platforms including Instagram, Facebook and Twitter — all of which are blocked by China's strict censorship regime. On Instagram, her comments have also become host to a showdown between pro-Beijing and pro-Hong Kong factions.
On Twitter, user Cheuk Ting Ho said she found Liu's lack of sympathy for protesters "disappointing," adding, "They are fighting for their homeland like Mulan." Another user earned over 1,300 retweets in less than 12 hours for the message, "How tone deaf do you have to be to support police brutality when you just filmed a character who is supposed to stand against oppression in its raw form?"
Hong Kong's protest movement, which began in June in response to a controversial extradition bill, has morphed into increasingly violent demonstrations over greater democratic freedoms. Clashes between police and protesters escalated earlier this week at the city's international airport, while images of mainland Chinese riot police conducting exercises across the border have been released.
Hong Kong's market of 7 million residents is vastly overshadowed by China's 1.4 billion. But those pushing for the boycott of the film could gain support internationally for those sympathetic with the pro-democracy movement.
Liu has not publicly responded to the boycott calls. Walt Disney Studios did not immediately respond to requests for comment from NBC News.
The increased political tensions and their economic ramifications also contributed to the resignation of the chief executive of Hong Kong's flag carrier Cathay Pacific Airways on Friday. Rupert Hogg announced he was stepping down on Friday while naming Augustus Tang as the new chief.
The airline faced scrutiny from Chinese aviation regulators over its commitment to flight safety and security after some of its employees took part in the Hong Kong protests. Cathay fired two pilots over their involvement in adherence to the regulator's order to suspend personnel engaged in illegal protests.
There have been some calls for peace. French "spiderman" climber Alain Robert scaled a 68-storey skyscraper in Hong Kong, hoisting a flag symbolizing reconciliation between China and the territory.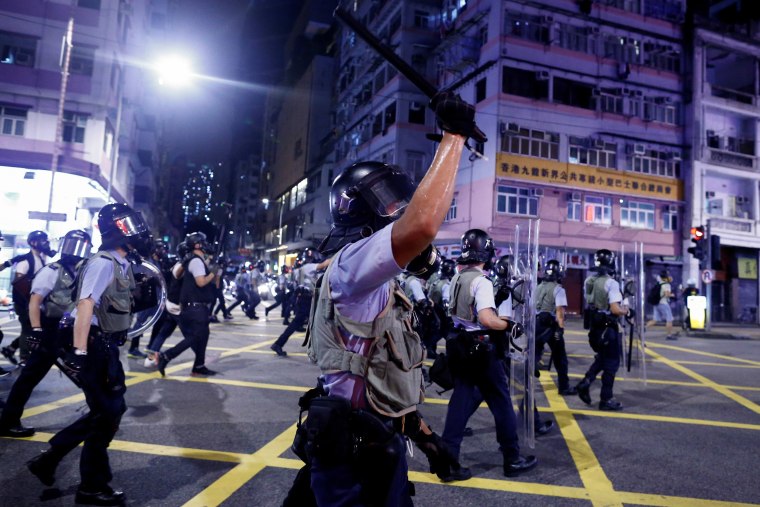 Robert clambered up Cheung Kong Center located in the central business district with just his bare hands and no harness. He secured the banner to the building that shows China's flag in the left hand corner with Hong Kong's flag on the right side. Underneath was a yellow hand shaking a red hand on a white background to signify peace.
Protesters and government appear far from reaching a truce.
Demonstrations were planned for Friday evening local time within a mile from the territory's legislative building in central Hong Kong. It will be the first of a series of demonstrations through the weekend involving teachers, pet owners and the Civil Human Rights Front — the group behind the million-strong marches in June.