A sports bra has sparked a renewed debate over hunting in Germany after it deflected a hunter's stray bullet and may have saved a woman's life.
The victim, who hasn't been identified but whom police described Friday as a 41-year-old woman on vacation from North Rhine-Westphalia, was struck Aug. 2 while she was on a bike ride with her husband in the town of Gadebusch, about 45 miles east-northeast of Hamburg.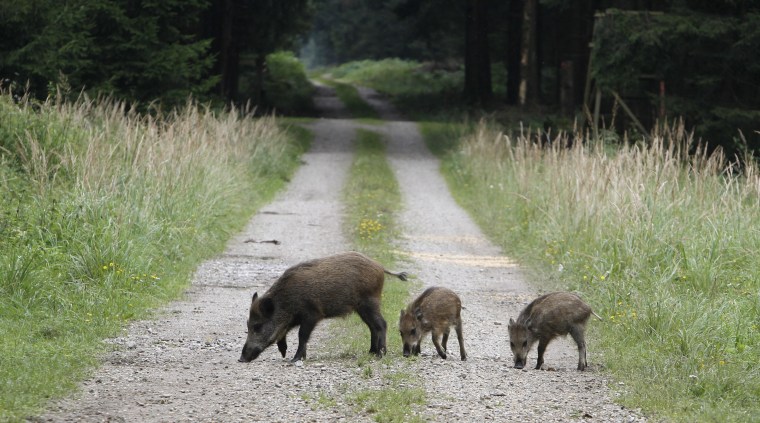 The cyclists had unwittingly headed into an area where a wild boar hunt was under way when they heard rifle fire and the woman felt a sharp pain in her chest, Gadebusch police spokesman André Falke told Gadebusch-Rehnaer Zeitung, the local newspaper. The metal underwire of her bra had deflected a bullet, leaving her with a nasty bruise, Falke said Friday.
The body of a young wild boar was found in the suspected line of fire, and police believe the bullet rebounded off the animal before striking the woman, he said. Regional police said Saturday that the hunter had been identified and was being investigated on suspicion of negligent injury.
Till Backhaus, agriculture minister for the Mecklenburg-Western Pomerania region, said Saturday that wild animals are often flushed from hiding during the summer harvest season this time of year, driving them into public spaces and making it imperative that hunters exercise "extreme caution in order to avoid human casualties."
Related: German Asparagus Pickers Mistaken for Armed Gang
The animal rights group PETA, meanwhile, renewed its call for a "long overdue ban" on sport hunting
"The incident in Gadebusch shows once again that when there is hunting, there is danger for every living thing nearby — whether human or animal," said Vanessa Reithinger, PETA Germany's technical officer for wild animals.
"Every year, there are dozens of incidents in which missed shots ricochets hurt or even kill people," she said.