JERUSALEM — Auschwitz survivor Branko Lustig, one of the producers of Schindler's List, presented his Academy Award to Israel's Yad Vashem Holocaust memorial on Wednesday, saying it had found its rightful resting place.
Lustig, 83 from Croatia, worked with director Steven Spielberg on the 1993 film that won seven Oscars. It recounts the tale of German industrialist Oskar Schindler's efforts to save Jews from Nazi death squads in World War Two.
"I'm very honored, I feel this is a good (resting place) for the Oscar," Lustig told Reuters before the ceremony in Jerusalem, also attended by Croatian President Kolinda Grabar-Kitarovic.
Lustig said he did not feel he was separating from one of his two Academy Awards - the other was as producer of "Gladiator"."I'm not parting with it, I am leaving it to the nation, for generations to come... All Yad Vashem's visitors will see it, at my home there is only my wife and my daughter," he said.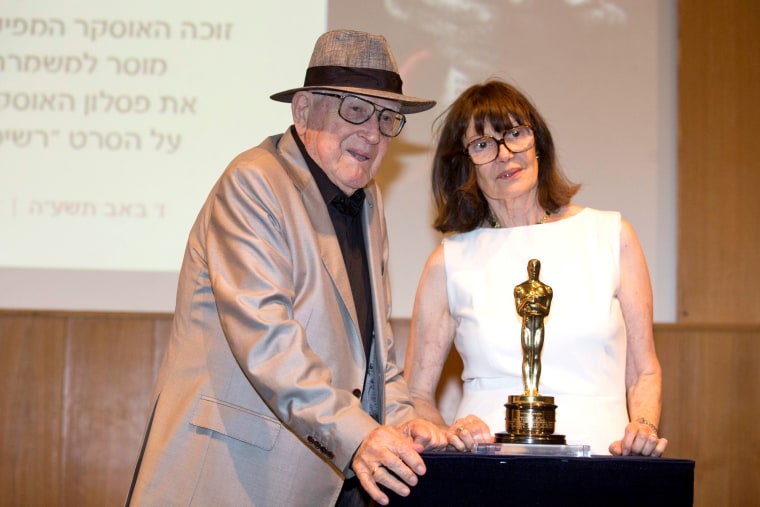 Yad Vashem's chairman, Avner Shalev, said Lustig's donation was added proof that the memorial site was "a natural center for commemoration and a universal symbol."
"His decision to separate himself from the award which means so much to a producer, to a creator, and to send it to Yad Vashem for eternity is very meaningful," Shalev said.
Lustig, a Jew born in Osijek, Croatia, was imprisoned in Auschwitz and Bergen-Belsen. At the end of the war he was reunited with his mother but many family members, including his father, were killed.
He returned to Auschwitz in 2011 to hold his Bar Mitzva, the Jewish boys' right of passage ceremony that was denied him because of the war.
Based in Croatia and Hollywood, Lustig has produced many prominent films and mini-series and has won a number of prestigious awards. He said with a smile that Yad Vashem had better treat the Oscar statue with care and polish it gently.
"They must look after it and not clean it too vigorously because it is a Hollywood Oscar and the gold is very thin."
Grabar-Kitarovic said the glistening statue was a "beacon of light" and a reminder, because of Schindler, of the sacrifices made by non-Jews to save Jews from the Nazis.