Brazil's far-right president-elect Jair Bolsonaro has reaffirmed a plan to move his country's embassy in Israel to Jerusalem, following in the path of his political idol, President Donald Trump.
The former army captain announced the switch — alongside other major shifts in domestic and foreign policy — on Thursday as he set about staffing his new administration.
He easily won Sunday's presidential race, overcoming his leftist opponent with a vow to kneecap violent drug gangs and end years of political graft.
Bolsonaro, 46, has expressed admiration for Trump and appears poised to follow his example with a number of policies including withdrawing his country, home to the lion's share of the Amazon rainforest, from the Paris climate accord.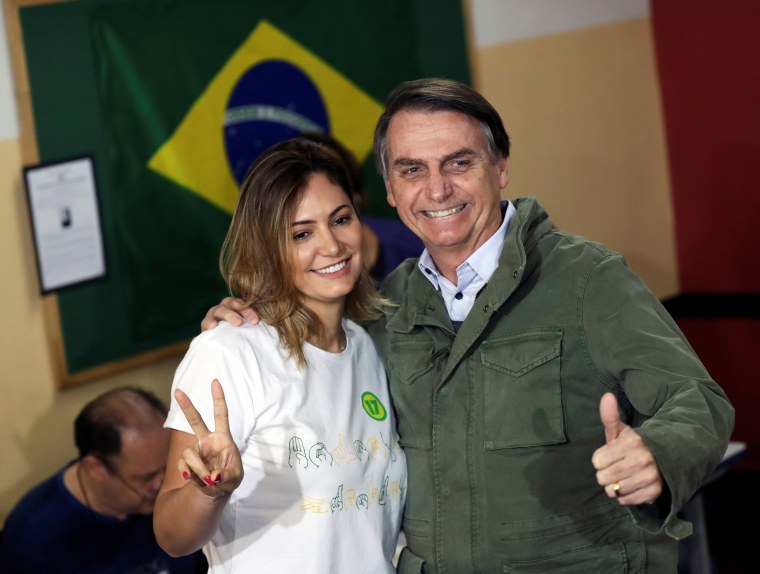 He has also frequently bashed China, Brazil's largest foreign investor, and vowed to scrap or renegotiate trade treaties, including the South American common market, Mercosur.
The broad brushes of his plans have diplomats, political analysts and former government officials warning that such moves could isolate the regional powerhouse instead of opening new markets, which Bolsonaro has said he wants to do by enacting widespread privatization of state industries.
He convinced crusading anti-graft Judge Sergio Moro to become his justice minister, delighting supporters and enraging critics by hiring the jurist who jailed Bolsonaro's chief political rival.
A deeply polarizing figure at home, Bolsonaro has also ruffled feathers abroad. He called refugees fleeing to Europe "human waste."
But there was an enthusiastic response from Israeli President Benjamin Netanyahu.
"I praise my friend the incoming Brazilian president, Jair Bolsonaro, for his intention to move Brazil's embassy to Jerusalem," Netanyahu said Thursday in a statement.
The new U.S. Embassy in Jerusalem was opened by Trump's daughter and White House aide, Ivanka, in May.
The contentious switch from Tel Aviv angered Palestinians, and some Western allies who are concerned that it will further destabilize the region and hamper the peace process. Dozens died in weeks of protests.
John Bolton, Trump's national security adviser, has described Bolsonaro and Trump as "like-minded" individuals.
Bolsonaro announced on Twitter this week that Marcos Pontes, a Brazilian astronaut who was the country's first person in space, would be his science and technology minister.
Some observers believe Bolsonaro's announcements may not come to anything when he takes office in January.
Rubens Barbosa, a former Brazilian ambassador to Washington, believes that Bolsonaro will backtrack on his most radical positions.
"In the case of recognizing Jerusalem as the Israeli capital, for example, it would be throwing away $6 billion per year in poultry sales to Arab countries," Barbosa said, noting that Brazil is one of the world's largest poultry and beef exporters.
"There will be people to advise him on the impacts and he will listen," he said.