Brazil's Senate voted to impeach embattled President Dilma Rousseff on Wednesday, the latest turn in a political saga that has gripped the country and left the government sputtering in a months-long crisis.
Rousseff, who took office in January 2011 and has been suspended since May, was stripped of her power by a 61-20 vote. Vice President Michel Temer was sworn in Wednesday afternoon as the new president for the remainder of her term through 2018.
Related: Brazil's Dilma Rousseff: 'I Haven't Committed Any Crimes'
Rousseff, 68, has been accused of breaking fiscal laws and mishandling the country's budget. Her opponents say that only exacerbated the recession in Latin America's largest nation, leading to 10 percent inflation and a growing tide of job layoffs.
"Today, the Senate made a decision that goes into the history of great injustices," Rousseff said in a statement. "The senators who voted for the impeachment chose to tear apart the Federal Constitution. They decided to interrupt the mandate of a President who has not committed a crime of responsibility."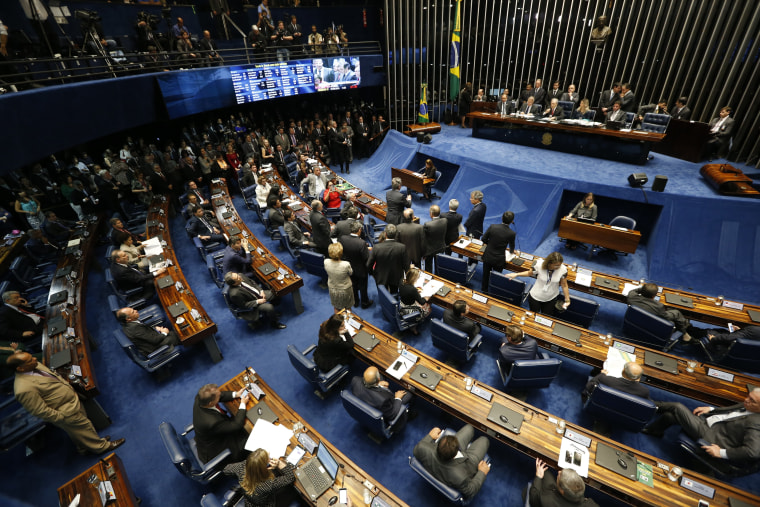 Rousseff has repeatedly denied all wrongdoing and described the proceedings as an attempted coup d'état — a characterization she earlier brought up during her speech at an impeachment trial this week in the Senate.
"The coup is against the people and against the nation," Rousseff added. "The coup is misogynist. The coup is homophobic. The coup is racist. It's forcing a culture of intolerance, prejudice, violence."
Rousseff had narrowly won re-election in 2014, garnering more than 54 million votes as she pledged to turn the economy around in the face of a recession.
"Today is the day that 61 men, many of them charged and corrupt, threw 54 million Brazilian votes in the garbage," Rousseff tweeted minutes after the impeachment decision.
On Monday, during her trial, she was questioned by senators in a session lasting over 14 hours. She struck back at her accusers during a 30-minute address.
"I'm here to look in your eyes and say with the serenity of someone who has nothing to hide that I haven't committed any crimes of responsibility," Rousseff said. "I have not committed the crimes of which I have been unjustly and arbitrarily accused."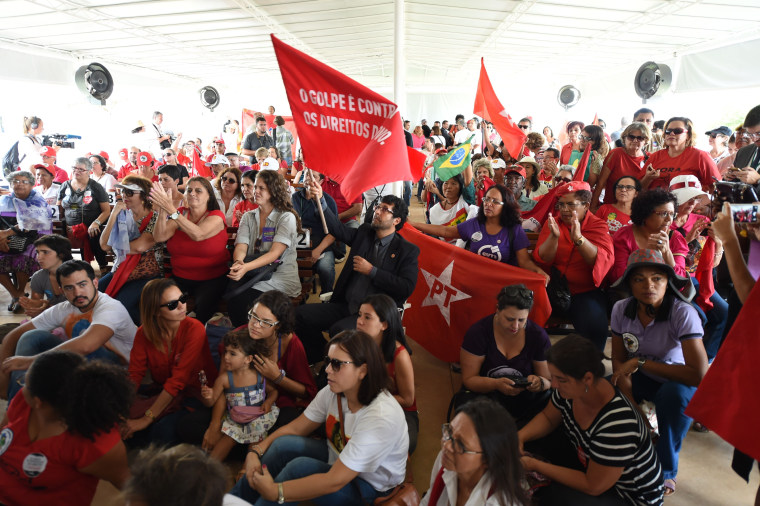 Brazil's first female president is a former guerrilla fighter who was jailed and tortured during the country's dictatorship in the 1970s, and she drew a connection between her past and the current situation.
"I can't help but taste the bitterness of injustice," Rousseff said of the impeachment effort.
Rousseff's removal from office ends 13 years in power by her party, the Workers' Party.
In a second vote Wednesday by the Senate, Rousseff won a minor victory as a measure to ban her from public office for eight years failed. The 42-36 vote fell short of the 54 votes needed for passage.
Related: Brazil Senate Indicts Dilma Rousseff, Opens Impeachment Trial
In the background of the entire fight was a wide-ranging investigation into billions of dollars in kickbacks at state oil company Petrobras. The two-year probe has led to the jailing of dozens of top businessmen and politicians from across the political spectrum, and threatens many of the same lawmakers who voted to remove Rousseff.
Rousseff argued that many opponents just wanted her out of the way so they could save their own skins by tampering with the investigation, which Rousseff had refused to do.
Many lawmakers and Brazilians nationwide, meanwhile, blamed Rousseff for the graft even though she has never been personally implicated. They argued that she had to know, as many of the alleged bribes happened while her party was in power.
Brazilians have already gotten a taste of Temer's leadership since he took over as interim president when Rousseff was suspended in May. The 75-year-old career politician named a Cabinet of all-white men, a decision roundly criticized in a nation that is more than 50 percent nonwhite.
When Temer announced the opening of the Olympics on Aug. 5, he was so vociferously booed that he remained out of sight for the remainder of the games.
Rousseff, meanwhile, has previously said that if she is ousted from office she would return to her home in Porto Alegre in southern Brazil to retire.