MAINZ, Germany — Telecommunications giant Deutsche Telekom and BMW were among a handful of German companies that this week blocked their ads from appearing on U.S. right-wing news website Breitbart.
The move came after the companies learned that their ads were automatically appearing on the site when internet users in Germany clicked on breitbart.com.
REWE Group, one of Germany's largest retail and tourism businesses, was one of the companies affected — saying it only learned through social media that its ads were appearing on the news site.
"Through social media and journalists we learned that our adverts appeared on Breitbart and immediately put the site on a so-called Blacklist," Marco Sandner, a spokesman for REWE, told NBC News Thursday.
The company blocked its ads on the site in less than two days. "In general, it is our policy not to advertise on sites with questionable content," Sandner told NBC News.
Other companies were more explicit when explaining their decision to pull ads. "Our ad reached the right-wing populist breitbart.com site by mistake," read a statement by Vapiano, a restaurant chain that offers Italian food in outlets across Europe.
Vapiano added that the positions held by Breitbart stand in "contrast with Vapiano's values, such as openness and tolerance".
The BMW Group also stated that it is "not in agreement with the content" of the American website and stressed that it "did not directly advertise on the site."
Breitbart did not respond to a request for comment.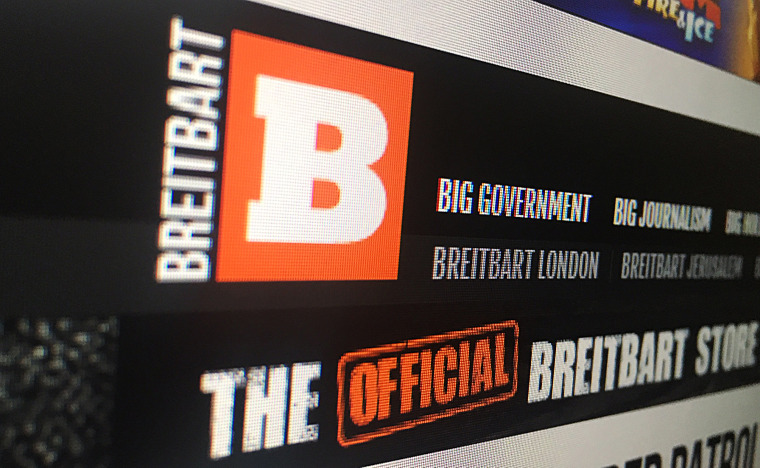 Most of the ads from Germany appeared on breitbart.com as the result of an automated algorithm on the web. Put simply, companies buy advertising spots on large numbers of unspecified websites and where they eventually appear is based on automated computer calculations.
Normally sites which contain sensitive or controversial material would be blacklisted, but because Breitbart is a news outlet, it would have not registered automatically.
Related: Analysis: Breitbart's Bannon Leads the 'Alt Right' to the White House
"In simplified language, the web hosts a trade network, where brands can advertise for certain groups of society based on demographics and other criteria," political scientist and communications expert Gerald Hensel told NBC News. Companies like Breitbart "deposit metadata" in the "advertising pipeline" and automatically receive the international advertisement in different markets unless they appear on a so called "blacklist" and are then geo-fenced.
"Generally, pornographic, anti-Semitic or clearly far-right sites appear on the blacklist," said Hensel. "But platforms like Breitbart are still in a grey area."
To combat ads inadvertently appearing on right wing websites, Hensel has created a new social media campaign which includes the hashtag 'No Money for the Right' (#KeinGeldFürRechts), where people can flag instances where they spot adverts appearing on certain websites.
The geo-fencing measure by German firms follows a dispute between Breitbart and Kellogg's in the United States, after the food manufacturer decided to discontinue advertising on the site. Breibart's response was to call for the boycott of Kelloggs products, launching the Twitter hashtag #DumpKelloggs.
"Kellogg's has shown its contempt for Breitbart's 45 million readers and for the main street American values that they hold dear," Breitbart president and CEO Larry Solov said in a statement.
"Pulling its advertisement from Breitbart news is decidedly cynical and an un-American act," Solov said.
The conflict with major international brands comes at a time when Breitbart has voiced international expansion plans.
In an interview with NBC's Matt Bradley, the editor-in-chief of the Breitbart News Network, Alexander Marlow said that in the short term, his outlet is planning to "expand in France and Germany," where national elections will take place next year.
Marlow says that an expansion in Germany and France would allow Breitbart to report on the "people who are sceptical of the global aristocracy."
"The [European Union] was not prepared for the migrant crisis and the financial crisis," Marlow said, adding that "a lot of those people need to be held accountable and we think Breitbart is the site to do it."