ISTANBUL, Turkey – Turkey's extraordinary corruption scandal deepened Thursday with the publication of a new audio recording purporting to show Prime Minister Tayyip Erdogan instructing his son to hold out for a larger bribe on a business deal.
The leaked conversation was the second of its kind this week and looked certain to fuel wider anger that has already led to violent street protests.
Although not on the scale of the deadly clashes in Istanbul's Gezi Park last summer, the demonstrations have been fueled by new laws imposing tighter controls on Internet use and the judiciary.
Police fired teargas and water cannons to disperse several hundred protesters at the main university in Ankara on Wednesday, and there are fears that demonstrations in Istanbul could escalate over the coming days.
The crisis is also taking its toll on the country's economy, sending the Turkish lira to a three-week low against the dollar in early trading Thursday. That was despite a massive rate hike in January aimed at shoring up the currency.
What is behind Turkey's corruption scandal?
Erdogan's conservative government was already battling its worst crisis since coming to power more than a decade ago.
Three ministers quit in January amid a widespread investigation into leading public figures, including the ministers' sons, accused of corruption in relation to construction projects and the transfer of funds to Iran.
In response, Erdogan fired several other ministers and removed or demoted thousands of law enforcement officials but the cloud of suspicion still lingers over his administration. Public interest in the case has been deepened by lurid details reported in local media, including the discovery of $4.5 million in cash stuffed in shoe boxes at the home of the director of a state bank.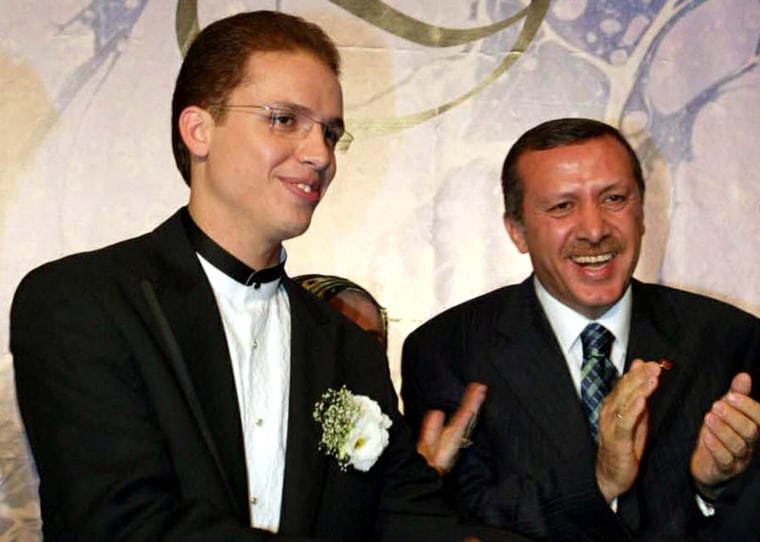 The crisis exploded again this week with the publication of a voice recording purportedly of Erdogan warning his son to hide large sums of money ahead of a planned police raid.
Erdogan, who has always dismissed allegations of corruption, has denounced the recording as a fake and promised a criminal investigation to find the culprit. A statement released late Monday claimed that the recording, released on YouTube, was an "immoral montage" created by editing his voice.
However, one U.S.-based expert asked by the McClatchy newspaper group to examine the recording said it appeared to be genuine. Joshua Marpet, who has testified in court on the validity of computer evidence in other Turkish criminal cases, said there was no sign that the individual conversations had been edited, according to a report in the Miami Herald. "If it's fake, it's of a sophistication that I haven't seen," he told the newspaper.
On Thursday, Turkey awoke to another twist - a second audio recording presented as Erdogan asking his son not to accept an amount of money on offer in a business deal but to hold out for more.
The authenticity of that new recording, which was also posted to YouTube, could not immediately be verified. "We are going to check whether the tapes are fake or not and no statement is planned at the moment," a senior government official told Reuters.
The government says the entire corruption scandal has been orchestrated by Erdogan's political enemies – most notably followers of an Islamic movement led by U.S.-based cleric Fethullah Gulen.
Will Istanbul see a repeat of last summer's deadly Gezi Park violence?
Several hundred members of Turkey's teachers' union marched in Istanbul Wednesday, chanting anti-Erdogan slogans. Similar marches were happening all across the country.
But despite the presence of black-clad riot police, positioned at strategic intersections around the city's Taksim Square, a protest organized there by the main opposition party, CHP, soon dispersed.
What else is fueling the street protests?
The government's response to the widening corruption investigation has been a set of new laws that tighten its grip on the courts and give it new powers to censor websites and snoop on private citizens.
"Erdogan has undermined the sacred rules [that govern] the life of the nation," said Gohkan Eseli, a 47-year-old businessman who is trying to get elected on the CHP ticket after being involved in last summer's protests.
Those "sacred rules" go far beyond the freedom of expression or the allegations of corruption.
Since the days of Ataturk, who founded the republic, Turkey has been a country where mosque and state were kept separate. Liberal Turks have long suspected that Erdogan, whose party has been in power for 13 years, is advancing an anti-secular agenda.
Can Erdogan survive?
Erdogan's supporters – and he still has deep support, mostly in the poorer, more conservative neighborhoods and villages - are proud of their tough-talking, Quran-quoting leader.
And despite the crisis engulfing his government, his opponents remain weak. "We need new faces, new ideas," said Eseli, who went to college in New York and is pictured in campaign posters with his sleeves rolled up.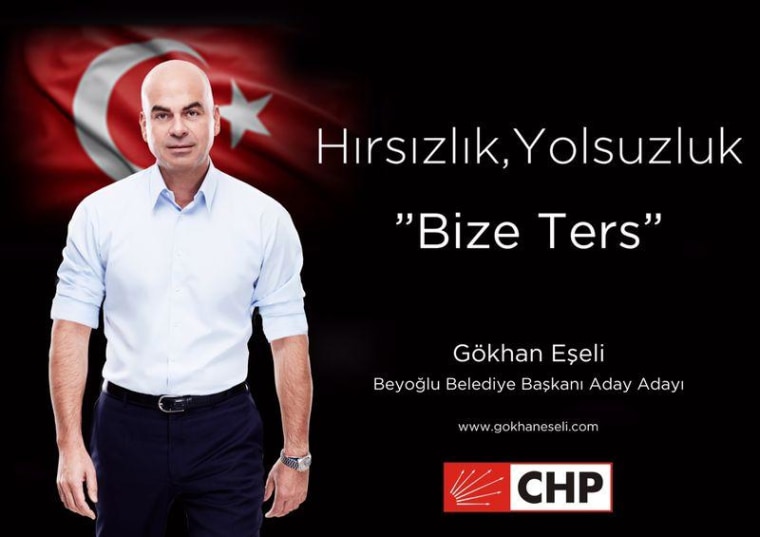 But allegations of corruption could hurt Erdogan more than accusations of populism or even anti-democratic tendencies, analysts in Turkey say.
His AK Party has always benefited from a reputation of piety and the wide-ranging corruption investigation, which involved some of Erdogan's closest allies, may be designed to shatter that reputation.
Opinion is divided in Turkey, a fact reflected in media coverage of the leaked recordings, according to Reuters. "A shameless montage," said headlines in the pro-government Yeni Safak and Sabah newspapers this week, echoing the government's line. "The recording which is shaking Turkey," said a headline in the liberal Radikal daily. "Flee or resign," said the secularist Cumhuriyet, quoting the main opposition leader.
"The sad truth is that we have become nation of warring tribes with very little common narrative, value or reason left," political commentator Mustafa Akyol wrote in the Hurriyet Daily News.
Would-be politician Eseli he has no doubt that the prime minister and the ruling party are corrupt. "I think he takes a kickback on every big project," he said. "I'm a businessman and when you're in business you know who is paying and who is getting paid."
He added: "Erdogan has broken every promise he made during the last election campaign. He is putting his personal interests ahead of the national interest and that is a dangerous thing for a prime minister to do."
Everyone in Turkey is wondering what comes next. "Whatever happens," Eseli said, "the next few months are going to be rough."
Alastair Jamieson reported from London. Reuters contributed to this report.