LONDON — A British woman who refused an employer's demand that she wear high heels has ignited a national debate over discrimination — not to mention a government inquiry and a demand that the prime minister herself kick off her heels as an example.
Nicola Thorp arrived for work at an agency that supplied temporary receptionists to other companies in December 2015, according to a parliamentary report issued this week.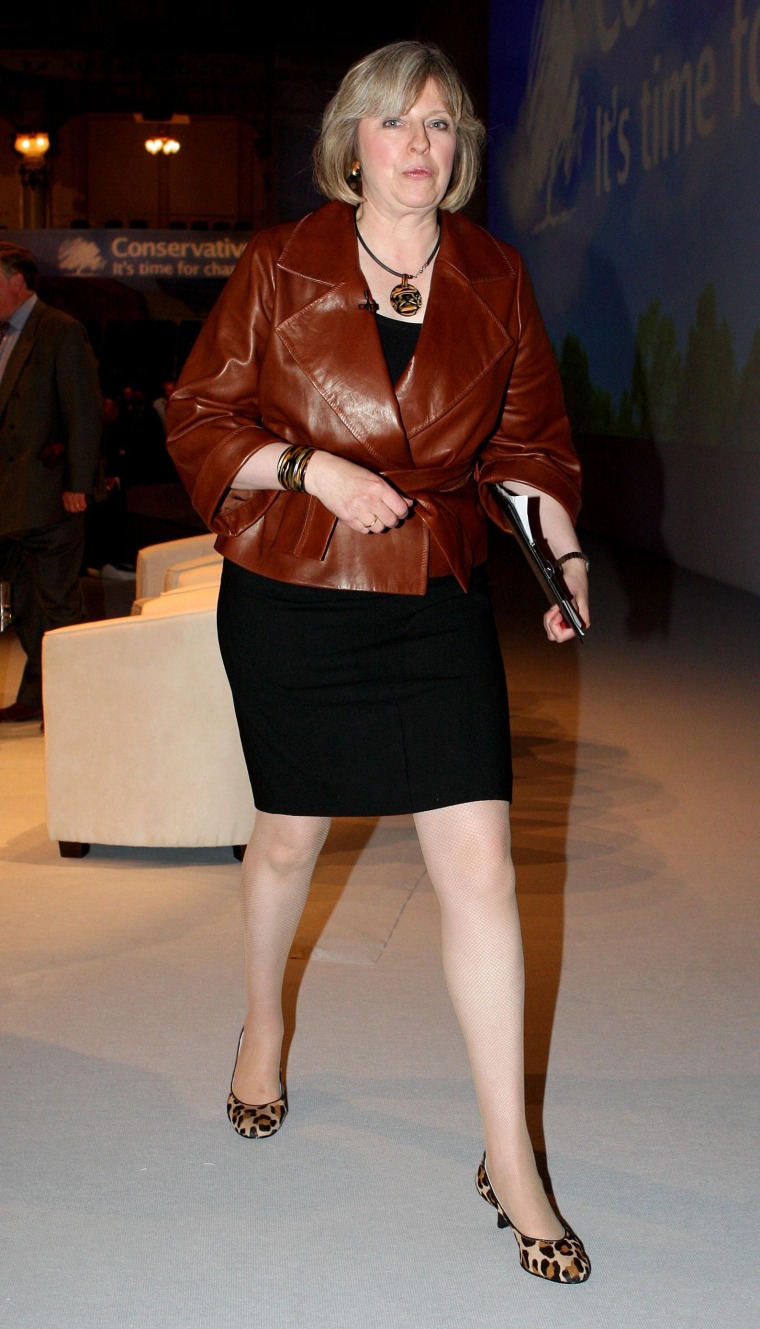 She was wearing dressy flats but was told that the agency, Portico, required women to wear two- to four-inch heels. Thorp could go out and buy some, she was told. She refused and was sent home without pay.
But that was just the beginning of the story.
In May, Thorp, who did not respond to NBC News' requests for an interview, started a petition to make it illegal for companies to require women to wear heels. Six months later, later the petition had 152,420 signatures.
The parliamentary inquiry was triggered — its report was issued this week. And it found that the problem went beyond high heels.
"We heard from women who had been required to dye their hair blond, to wear revealing outfits, and to constantly reapply makeup," the report said.
Women are weighing in on social media, where the topic #dresscode trended on Twitter.
It turned out Thorp — who is 28 — was wrong about one thing, though. It was already illegal for employers to discriminate in clothing requirements based on gender — and had been since 2010, Maria Miller, the head of the Women and Equalities Select Committee in the British parliament, told NBC News.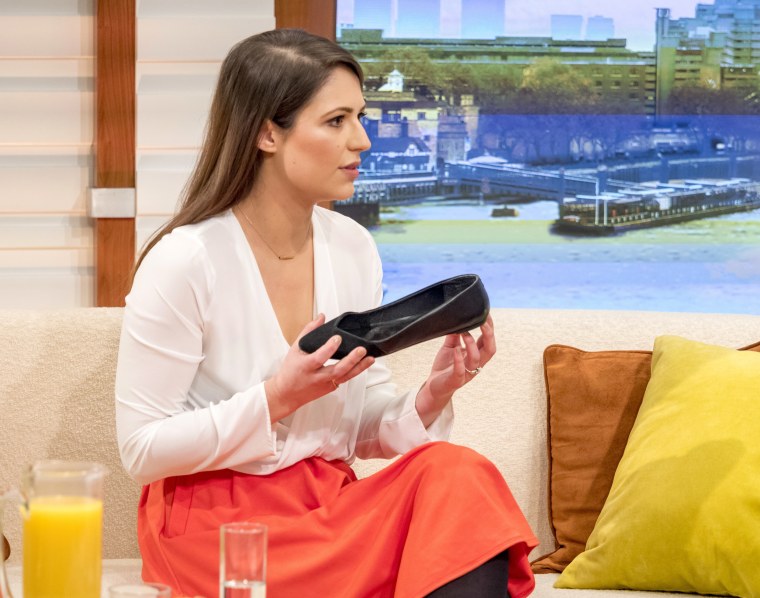 The trouble, Miller said, is that many employers are not aware of the law. And in any event, to get redress, an individual would have to bring a case against her employer, something she might well be reluctant to do.
"Businesses need a wake-up call on this," Miller said. "I think it's really important that there are consequences."
Simon Pratt, the managing director of Portico, the agency for which Thorp worked, issued a statement this week saying the policy had been changed.
"Portico has always been committed to being an inclusive and equal opportunities employer so when this issue was raised last year we immediately updated our uniform guidance," Pratt said.
Ouch
The issue of heels versus flats is more than one of style. Wearing heels too often and for too long frequently causes injury, said Adnan Nazir, a podiatrist at the London Foot Clinic.
They increase pressure on the bones in your foot and on the knees, and long-term use of them even shortens the Achilles tendon, resulting in tendinitis, Nazir said.
In a written statement to the inquiry, the London-based College of Podiatry said there was "evidence of foot pain, bunions …, painful skin lesions, lower limb pathology, falls and subsequent injury associated with wearing high heels."
And that's before we even get to "compression of the joints from the foot to the spine," not to mention "disabling lower back pain." Ouch.
The society said a survey it conducted showed that 41 percent of women had cut short an evening out or a special occasion because their shoes hurt.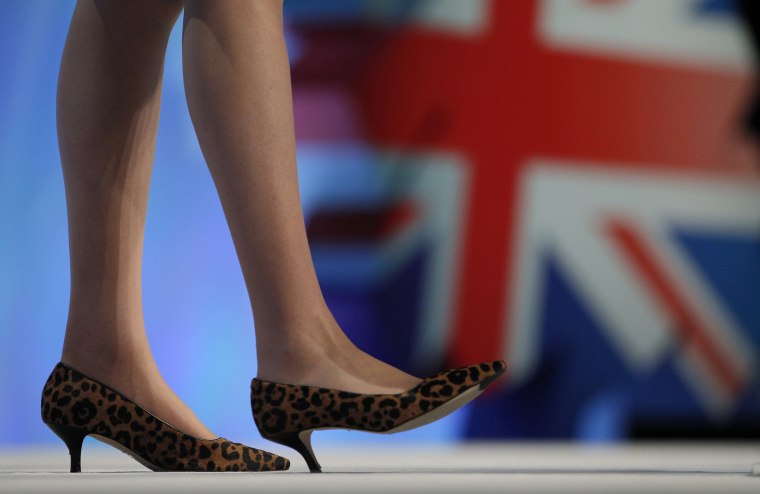 The controversy has touched even Theresa May, the British prime minister, who is famously fond of her leopard-print heels. Last fall the Trades Union Congress, which represents 5.6 million workers in 50 unions, voted at its conference that people should not be compelled to wear high heels at work.
And one delegate, Penny Robinson, who had seconded the motion, publicly called on May to ditch her heels and govern in flats instead.
Related: Will Trump, May Meeting Revive 'Special Relationship'
"Let the media see that you can be the most powerful woman in the country without needing to wear designer shoes to meet men's expectations," Robinson said.
May, however, continues to dress as always.
Women interviewed this week on the streets of London — even those wearing heels — were emphatic in their view that employers should not be allowed to require women to wear heels.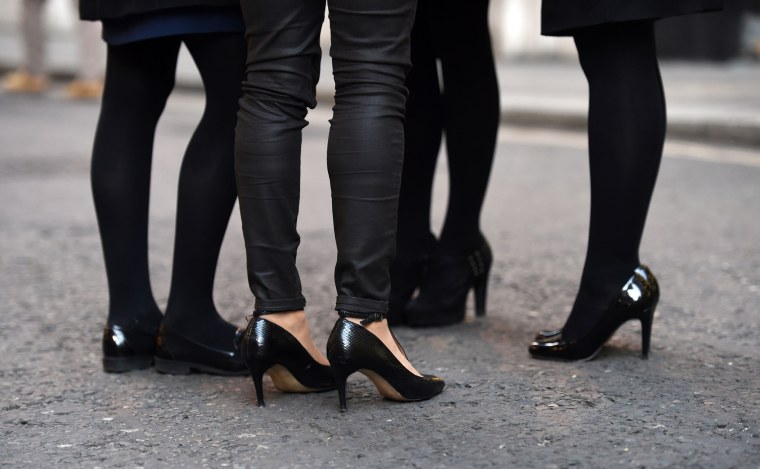 "Not heels," said Ellie Seehra, an accountant. "You can have flat shoes and be 'smart,'" she said, using a British term for well dressed.
"Definitely not," said Samira Mahmood, who works for an outdoor advertising company. If an employer tried that, she said, "I probably wouldn't work there."
And do heels really hurt? Usually so, the women said. But sometimes it's worth it if you want to add an extra bit of height.
There is, however, an essential secret — carrying a pair of trainers in your handbag.
Also weighing in on the issue was the Fawcett Society, a London-based charity that promotes gender equality.
"Sexist dress codes which objectify women and make LGBT+ employees feel excluded have no place in modern workplaces," Sam Smethers, the chief executive of the society, said in a written statement. "Employers need to focus on what drives productivity and enables their staff to feel part of a team. It isn't a pair of high heels."