LONDON — Britain is less than three weeks away from voting in its closest general election for almost a quarter of a century, with no obvious winner emerging despite clear differences on austerity, immigration and tax.
Polls suggest Prime Minister David Cameron hasn't done enough to secure an outright majority for his Conservatives after five years of power-sharing with the smaller Liberal Democrats — even after returning the U.K. economy to steady, if unspectacular, growth.
Nor has Britain's main opposition Labour Party, steered to the left by a faltering Ed Miliband, established enough momentum to secure the 326 seats needed for victory in the House of Commons, Britain's lower house of parliament.
Miliband himself said he was fighting the "tightest general election for a generation" and The Economist magazine called it "wildly unpredictable."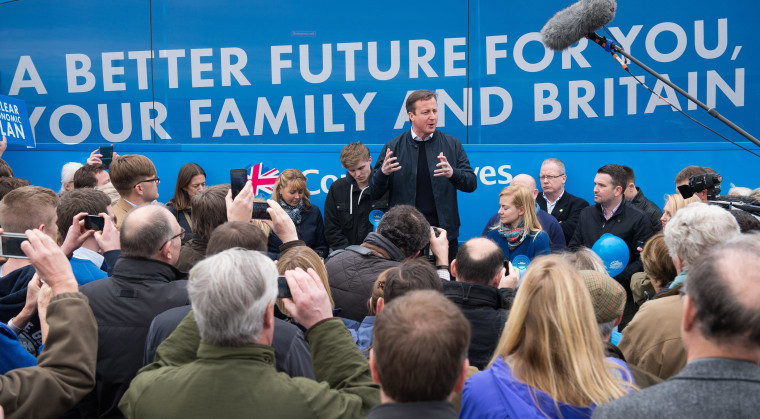 Britain appears divided between the Conservatives' plan to eliminate the national deficit and Labour's promise to balance austerity with measures to freeze energy bills and raise wages for the country's poorest.
Polls have so far put the rivals neck-and-neck. One carried out Thursday and published Friday found Labour and the Conservatives tied at 34 percent. The BBC's "poll of polls" on Friday had the same figure; its aggregated poll data has not placed the two parties more than two percentage points apart since mid-February.
In fact, the last time a race was this close was in 1992, when John Major's Conservatives scored an unexpected victory against Labour despite a tough recession.
On top of that, up to 50 percent of voters are open to changing their minds between now and May 7, according to polling company Ipsos MORI.
"Not only is the closest election since 1992, it is a lot more complicated," said Tom Mludzinski, head of political polling at consultancy ComRes. "Predicting this election is going to be a lot more difficult. The Liberal Democrats have been in government and are no longer the natural third-party alternative to the two main parties."
He added: "What happened in 2010 was quite simple ... it was obvious what the parties needed to do to get to the 326 seats for a majority. This time both Labour and the Conservatives look likely to fall short of 300 seats and the Liberal Democrats are likely to get 30 or fewer so the largest single party may actually need two other parties in order to form a coalition."
The campaign has so far lacked an obvious key moment or turning point. However, Thursday night saw a television debate of five of the party leaders. Cameron didn't take part because of disagreements over the format.
Seizing advantage of his opponent's absence, Miliband make a direct challenge, telling the prime minister: "David, if you think this election is about leadership, then debate me — one-on-one."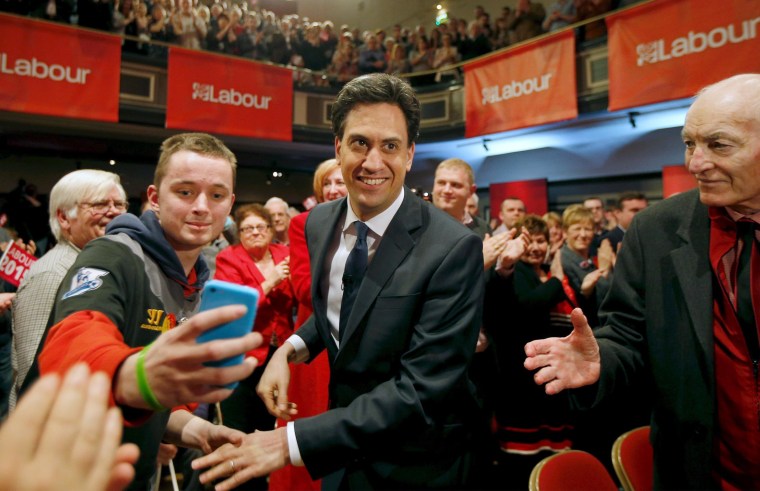 The deadlock means smaller parties, including Scottish and Welsh nationalists, could hold the balance of power — a contentious proposition less than a year after Scotland narrowly voted in a referendum to remain the United Kingdom.
Labour once dominated in Scotland, supported solidly in Glasgow and the industrial central belt, but it has been overtaken by the Scottish National Party. It lost control in the devolved Scottish parliament in 2007 and polls predict the SNP could end up with the third-largest number of House of Commons seats, weakening Miliband's prospects of winning an outright majority.
A key factor in the political fragmentation has been the U.K. Independence Party (UKIP), which began as a single-issue campaign to withdraw Britain from the European Union but has since emerged as a vehicle for populist causes including curbs on immigration, the scrapping of green energy subsidies and cuts to overseas aid.
Its charismatic leader, the beer-drinking smoker Nigel Farage, has won over disaffected supporters from both the two main parties — appealing to blue-collar Labour voters concerned about the influx of migrant labor as well as to traditional Conservatives who fear the erosion of "British values."
But despite polling an average of 14 percent — well ahead of the fading Liberal Democrats — UKIP has yet to win a general election House of Commons seat. (Its first two members of parliament were midterm defectors from the Conservatives who won the subsequent local by-election, or one-off vote triggered by the death or resignation of a sitting candidate.)
Underlying this pattern is dissatisfaction with Britain's main parties. "Voters are not hugely optimistic about what any party can bring and they are looking elsewhere," Mludzinski said.
"Scottish voters think that Labour doesn't represent them anymore and there is some anger that Labour campaigned alongside the Conservatives for a 'No' vote in the independence referendum. The feeling across the U.K. is that people do not like the choices in front of them."