LONDON — Tens of thousands of air travelers were delayed or stranded worldwide Saturday after British Airways suffered a system outage that forced it to suspend operations at its London hubs.
The airline announced later Saturday it was canceling all flights from Heathrow and Gatwick after frustrated passengers reported long check-in lines that snaked outside the terminal doors, while its CEO released a video apology for the "huge inconvenience."
The airline's phone systems and website were also down and many flights to London were also delayed or canceled.
"We are working hard to get our customers who were due to fly today onto the next available flights over the course of the rest of the weekend," the airline said in a statement. "Those unable to fly will be offered a full refund."
British Airways said that most of the long-haul flights expected to land in London on Sunday should still arrive as normal, but warned that there could still be delays through the weekend.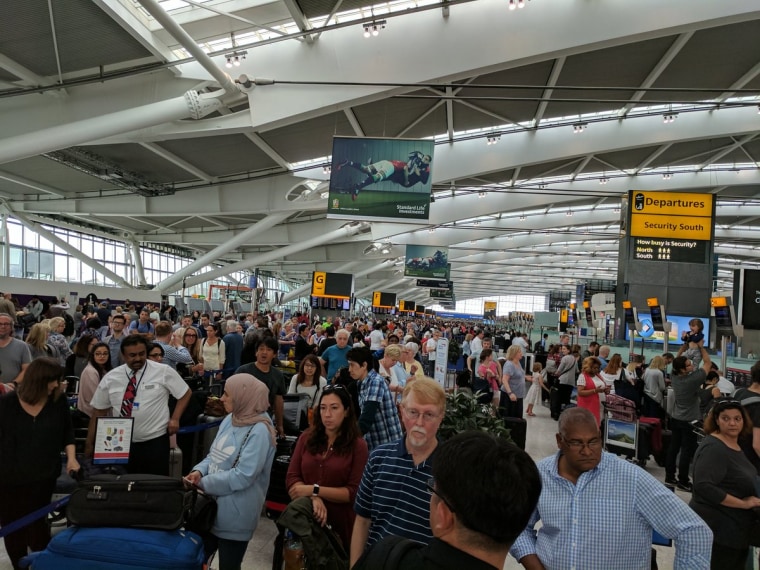 Leah Cohen of Saratoga, California, was on a European vacation when she got caught in the fallout from the delays.
Initially she had planned to fly from Hungary to London on British Airways, but she found herself stuck in a Budapest airport for more than eight hours before the airline announced it planned to cancel all of its flights.
"British Airways is doing nothing to help," she told NBC News via Facebook. "They printed out a piece of paper with what our 'refund' is entitled to, but hundreds of people are stranded and missing connections to get home and to family obligations."
"The problem isn't the IT issue," Cohen added. "The problem is that no one is telling us anything. They're giving us the runaround and not telling the truth."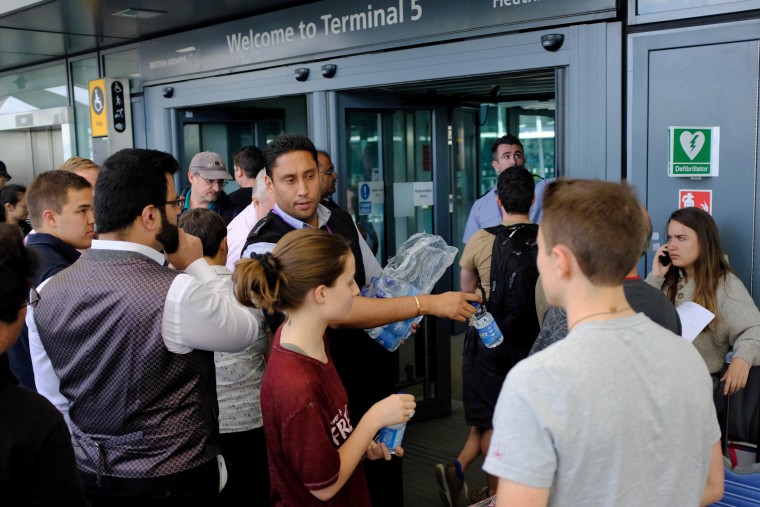 Later in the day, British Airways CEO Alex Cruz provided an update and an apology to customers on social media from an "operations center near Heathrow."
"We are extremely sorry for the huge inconvenience this is causing our customers and we understand how frustrating this must be, especially for families that are hoping to get away on holiday," Cruz said. "I want to thank all of our customers for the great patience they have been showing today."
Cruz said the problems seemed to stem from a power supply issue, and noted that there was no evidence of a cyber attack. He also warned customers that the airline's booking ability and contact centers were hampered by the ongoing technical problems.
While customers who no longer wished to travel could receive expedited full refunds, those who maintained their plans were told to look for updates on the British Airways Twitter account, the airline's website and the websites of Heathrow and Gatwick airports.
"I'm really sorry we don't have better news as yet, but I can assure you that our team is working as hard as they can to resolve these issues," Cruz said.
The system failure comes after a series of similar IT troubles for the British flag carrier, which is part of a transatlantic joint venture with American Airlines. Earlier this month, the British Airways website was offline for many hours, while its new "FLY" check-in and flight management system has also suffered major outages.
"We apologise for the current IT systems outage. We are working to resolve the problem as quickly as possible," the airline told angry customers on Twitter.
The problems came on a particularly busy weekend in Britain, with a public holiday on Monday and many children starting school mid-term breaks.
Alastair Jamieson reported from London. Phil McCausland reported from New York.