TEHRAN — Iran's Revolutionary Guard released video Saturday that shows masked commandos rappelling onto a seized British oil tanker in the Strait of Hormuz, according to Iranian state TV.
The oil tanker was seized by Iranian forces Friday while another was temporarily stopped and sent on its way, according to a U.S. official and the tankers' operators.
Iran's Revolutionary Guard claimed in a statement that it seized a British oil tanker named Stena Impero for "violating international regulations."
"After it was seized it was transferred to Iranian shores to undergo legal procedure," the IRG said in a statement.
The tanker arrived at the Bandar Abbas port on Iran's south coast early Saturday, according to the Iranian news agency FARS.
The 23 crew are to remain on board while an investigation is carried out, the head of the local Ports and Maritime Organization, Allahmorad Afifipour, told the agency. The crew comprised 18 Indian nationals and five others of other nationalities, he added.
Afifipour claimed the tanker had crashed into a fishing vessel and ignored its distress call.
NBC News could not verify the claim.
Britain's Foreign Minister Jeremy Hunt said Saturday that the seizure "shows worrying signs Iran may be choosing a dangerous path of illegal and destabilising behaviour."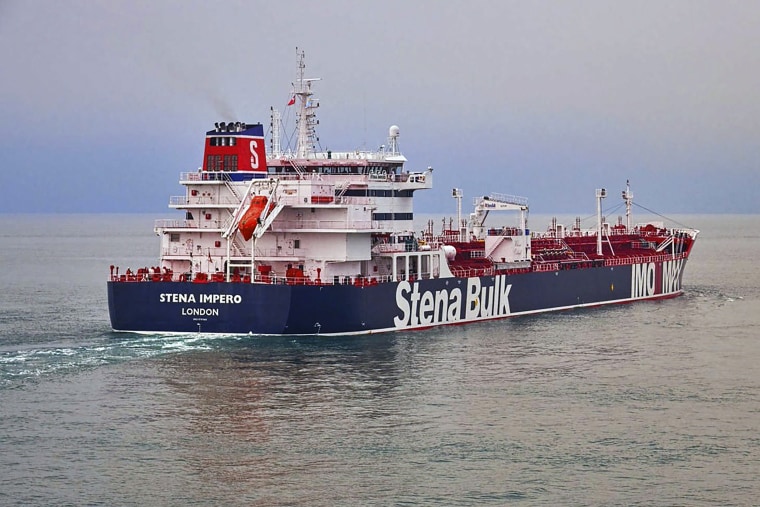 A second tanker reportedly changed its course in the Strait of Hormuz toward Iranian territory on Friday, FARS reported. The ship, called Mesdar, is Liberian-flagged but operated by a U.K-based company, Norbulk Shipping.
The Mesdar was temporarily stopped as armed personnel boarded but was later allowed to continue its voyage, Norbulk Shipping said in a news release. The armed guards departed and the crew members were not injured.
The Foreign and Commonwealth Office issued a statement that called Iran's actions "a clear challenge to international freedom of navigation."
"We have advised UK shipping to stay out of the area for an interim period," the statement said. "As the Foreign Secretary has said, our response will be considered and robust and there will be serious consequences if the situation is not resolved."
Earlier this month British Royal Marines seized a tanker believed to be carrying Iranian oil in Gibraltar under accusations that it was bringing oil to Syria in violation of EU sanctions.
The Grace 1 tanker was impounded in the British territory at the mouth of the Mediterranean Sea after sailing around Africa from the Middle East, Reuters reported on July 4. Shipping data reviewed by Reuters suggests it had been loaded with Iranian oil off the coast of Iran, although its documents say the oil is from neighboring Iraq.
Tensions between Iran and the United States have intensified in recent weeks after U.S. officials accused the Middle Eastern nation of a "blatant assault" on two burning tankers in the Gulf of Oman in June. Iranian officials denied any involvement in the attack on the tankers.
The National Security Council spokesperson, Garrett Marquis, said in a statement Friday that it was aware of the Stena Impero's seizure.
"This is the second time in just over a week the U.K. has been the target of escalatory violence by the Iranian regime," Marquis said. "The U.S. will continue to work with our allies and partners to defend our security and interests against Iran's malign behavior."
Lt. Col. Earl Brown, a spokesperson for the U.S. Central Command, said there are patrol aircraft operating in international airspace monitoring the situation within the Strait of Hormuz. He said the command has been in contact with U.S. ships operating in the area to ensure their safety.
Central Command added in a statement later on Friday that it is developing a "multinational maritime effort" called Operation Sentinel to increase surveillance and security in what it said were key waterways in the Middle East.
"This maritime security framework will enable nations to provide escort to their flagged vessels while taking advantage of the cooperation of participating nations for coordination and enhanced maritime domain awareness and surveillance," the Central Command statement said.
President Donald Trump said on the South Lawn Friday that U.S. officials will be working with the U.K. on the issue and that the two countries don't have a written agreement "but I think we have an agreement that is long-standing."
"They've been a very great ally of ours," Trump said. "We heard it was one, we heard it was two and we'll be working with U.K."
The British tanker's seizure comes just a day after the Guard seized a foreign oil tanker and accused 12 crew members of smuggling oil. Senior U.S. officials also said that U.S. Marines jammed an Iranian drone in the Strait of Hormuz on Thursday, bringing it down and destroying it.
The Guard said it shot down a U.S. surveillance drone last month. Iranian officials said they shot down the unmanned aircraft after it entered Iranian airspace, but the United States has disputed that and said it was in international airspace above the Strait of Hormuz.
U.S. and British officials accused several Iranian boats of attempting to impede a British commercial vessel sailing through the Strait of Hormuz on July 10, though Iranian officials denied any encounters with the boat.
Iranian Foreign Minister Mohammad Javad Zarif said in an interview with NBC Nightly News' Lester Holt on Monday that the door is "wide open" to diplomacy if Trump removes the array of sanctions he has imposed since 2017 that have slashed the country's oil exports and damaged its economy.
"Once those sanctions are lifted, then ... the room for negotiation is wide open," Zarif said during a visit to New York for a United Nations conference.
Zarif said he did not think the two countries were on the verge of war, saying neither his government nor Trump were seeking armed conflict.
"I do not believe that President Trump wants war. But I believe that people are around him who wouldn't mind," Zarif said.
Arouzi reported from Tehran, Kube from Aspen, Colo., and Madani from New York.