LONDON — A British prison officer on Tuesday became the first fatality linked to Irish republican terrorism in more than three years after dying in hospital following a bomb attack in Belfast 11 days ago.
Adrian Ismay, 52, was wounded when a device exploded under his van as he drove to work on March 4. The father-of-three had been released from hospital but was suddenly readmitted Tuesday and died, police said.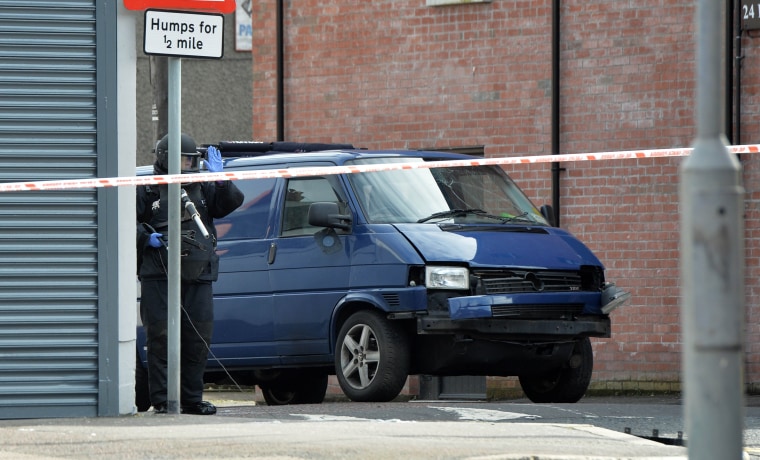 It comes amid police warnings of deadly terror attacks in the run up to next month's centenary of the 1916 Easter Rising against British rule.
Police Service of Northern Ireland Assistant Chief Constable Stephen Martin warned that dissident republicans who do not support the ongoing peace process could use the anniversary to target law enforcement or military personnel in Northern Ireland. One such group, the New IRA, later claimed responsibility for the attack on Ismay.
An autopsy will be held to determine the exact cause of Ismay's death. If it is confirmed to be linked to injuries suffered in the explosion, he will be the 31st prison worker killed in Northern Ireland since 1974.
He will also be the first security services worker killed in a sectarian attack in Northern Ireland since the shooting of another prison worker on a highway in County Armagh in November 2012.
Related: What Northern Ireland Teaches Us About War on Terror
PSNI Detective Chief Inspector Richard Campbell said in a statement: "One man has been charged with attempted murder and causing an explosion with intent to endanger life and the investigation is continuing. At this stage, we are working to establish the exact cause of Adrian's death."
Political leaders on all sides have condemned the attack on Ismay. Raymond McCartney, a lawmaker from republican party Sinn Féin, said Tuesday: "Those responsible for this attack, regardless of what they choose to call themselves, do not speak for or act in the name of the Irish people. They will not derail the progress that has been made in the peace process and they need to realize that and end these actions immediately."
The 1916 Easter Rising, an armed insurrection against British rule that led to the creation of the Irish Republic, will be marked by a series of public events in both Ireland and British-controlled Northern Ireland.