American basketball star Brittney Griner pleaded guilty to drug charges in a Moscow court Thursday, her lawyers said, leaving her facing the prospect of up to 10 years in prison as her family and friends step up their calls for the U.S. government to do more to free her.
Griner, 31, was detained in February at Moscow's Sheremetyevo Airport after Russian authorities said they found vape canisters with cannabis oil in her luggage.
Griner's lawyer, Alexander Boikov, told reporters outside the courtroom after Thursday's hearing that the basketball star admitted that the vape canisters were hers, but said she brought them to Russia unintentionally.
"She was in a hurry as she was packing, and it was just by accident that it ended up in her luggage," Boikov said.
He said that Griner is a "responsible person" in response to a question about why she decided to plead guilty.
"Considering her personality, that she is a role model to many people, to many young people — she just thinks she should be responsible for her actions," her other lawyer, Maria Blagovolina, told reporters.
In a statement, her lawyers added that because of the "insignificant" amount of the substance found and because of Griner's "positive contributions to global and Russian sport, the defense hopes that the plea will be considered by the court as a mitigating factor and there will be no severe sentence."
Griner's next hearing is scheduled for next Thursday.
Her latest court appearance comes after President Joe Biden sought to reassure Griner's wife, Cherelle Griner, that he was working to secure her release as fast as he could. Griner wrote an emotional letter to the president this week, pleading with him to bring her home.
Secretary of State Antony Blinken tweeted after the hearing that U.S. embassy officials attending the trial were able to speak to Griner and deliver a letter from Biden. "We will not relent until Brittney, Paul Whelan, and all other wrongfully detained Americans are reunited with their loved ones," he said.
National Security Council spokesperson Adrienne Watson echoed that sentiment.
In a statement, she said: "As we have stated before, we believe the Russian Federation is wrongfully detaining Brittney Griner under intolerable circumstances. At the President's direction, the U.S. government continues to work aggressively, pursuing every avenue, to bring her home safely to her family, friends, and loved ones as soon as possible. We will continue that work to secure Brittney's release, as well as the release of Paul Whelan and other U.S. nationals who are wrongfully detained or held hostage in Russia and around the world."
Whelan, a former U.S. Marine, is serving a 16-year sentence for espionage. In a tweet after the hearing, Whelan's twin, David, said he hopes "Griner's guilty plea will hasten the end of the injustice she's experiencing. Russia won't work to send her home until there's a conviction and sentence."
Boikov, Griner's lawyer, said the basketball star "appreciated" Biden's letter.
Elizabeth Rood, the charge d'affairs at the U.S. Embassy in Moscow, said after the hearing that she was able to speak with Griner in the courtroom and Griner said that she was eating well. "She is able to read books and under the circumstances, she is doing well," Rood said in a statement.
Griner's arrest took place just days before Russia launched its invasion of Ukraine, and has highlighted the frayed relations between Washington and Moscow.
The Kremlin has been accused of using Griner as a political pawn while the Biden administration has said she has been "wrongfully detained." Kremlin spokesman Dmitry Peskov has denied Griner was being held as a hostage.
Griner, a 6-foot-9 native of Houston, is a two-time Olympic gold medalist and a center for the Phoenix Mercury who played for a Russian basketball team during the WNBA's offseason. Her trial began last week.
She was led into the courtroom on Thursday in handcuffs, wearing glasses and a red T-shirt and pants. Griner was later joined in the courtroom by three U.S. embassy representatives and her lawyers, with no TV cameras and only a few journalists allowed in.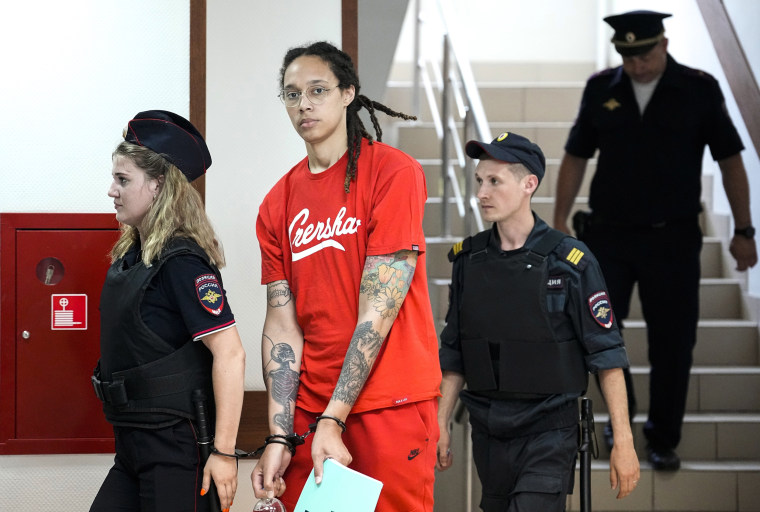 Experts in Russian criminal law say Griner faces at least a minimum of five years in prison given the charges, but her decision to admit guilt may have been done to help mitigate receiving the maximum 10-year sentence.
Her lawyers could also argue that she deserves less than the mandatory five years, said William E. Butler, the author of "Russian Law and Legal Institutions" and a professor at Penn State Dickinson Law.
"Sentencing here is now crucial," Butler said, adding that "the question will be whether there are grounds to give her less than five."
In a statement released to NBC News later on Thursday, Griner's lawyers said they expect the trial to finish in early August and were hopeful for a lenient sentence.
"Considering the nature of her case, the insignificant amount of the substance and BG's personality and history of positive contributions to global and Russian sport, the defense hopes that the plea will be considered by the court as a mitigating factor and there will be no severe sentence," the statement said.
Since her trial started, her family, friends and colleagues have increased their calls for the U.S. to do more to bring her home.
Her team held a rally in her support in Phoenix on Wednesday while the Rev. Al Sharpton urged Biden and Blinken on Tuesday to arrange for him and a group of faith leaders to meet Griner in Russia.
The White House said Biden and Vice President Kamala Harris called Cherelle Griner on Wednesday to assure her that the president is working to secure Griner's release. He also read her a draft of the letter he was sending Griner, according to the White House readout of the call.
It came after Griner said in the handwritten letter addressed to Biden this week that she was terrified she could be in Russian jail forever, imploring him to do all he can to bring her home.
In May, the State Department reclassified Griner as having been "wrongfully detained" and transferred oversight of her case to the State Department presidential envoy for hostage affairs. U.S. officials have said they are working behind the scenes to free her.
So far, Washington has not officially commented on any possible prisoner swaps, despite speculation in Russian state media in May that Griner could be exchanged for convicted Russian arms dealer Viktor Bout, who is serving a 25-year prison sentence in the U.S. NBC News wasn't able to confirm those reports. 
Russia's foreign ministry said Thursday that "publicity and hype" in the media and online around Americans detained in Russia impedes the interaction between Moscow and the U.S. on prisoner exchanges, according to the state news agency Tass.
Before Griner's guilty plea, deputy foreign ministry spokesperson Alexey Zaitsev said Wednesday that she was arrested for "a serious offense, confirmed by indisputable evidence." But he said she was free to file an appeal and to ask for clemency. As to a possible prisoner exchange, Zaitsev said the court would have to reach a verdict first, which he estimated could take at least a month.
"Brittney sets an example of being brave," her lawyers said in the Thursday statement. "She decided to take full responsibility for her actions as she knows that she is a role model for many people."