For 31 months, it was a desolate wreck off the Tuscan island of Giglio, a grim reminder of death in the blue waters of the Mediterranean. Now, the Costa Concordia is upright again — it wept rust as it was tugged into a port in northern Italy. The 100,000-ton luxury liner is being broken down into scrap, ending the most complex salvage operation in maritime history.
But for Kevin Rebello, the crisis goes on. His brother Russell was working on board as a waiter when the Costa Concordia — in an alleged bid to "salute" the people of Giglio — struck a submerged outcropping of rocks and collapsed on a reef. Nearly 4,000 people escaped the stricken vessel, but by dawn 32 were still missing and presumed dead. To date, only 31 bodies have been found. Russell Rebello remains missing.
"He must be inside the ship," says Kevin, speaking by phone from his home in Milan. "It's a big ship, but when I look at it, it's a big coffin and it's holding my brother's body inside."
Although he assumes the worst, Kevin says he hasn't begun to mourn his brother, because he doesn't have a definitive answer on his brother's condition. Instead he's in a painful state of emotional limbo, shuttling between mourning and hope. Psychologists call it "ambiguous loss," a term coined by the author Pauline Boss.
"It's the worst kind of loss to process," Boss recently told NBC News. "This is the kind of loss that creates suffering without closure. There is no closure — ever — if the bodies can't be found."
The condition has been particularly acute for the wider Rebello family, part of Mumbai's growing Catholic community. Without a body to mourn, Russell's mother, father, and wife have been cut off from the rituals of the church, the pattern of sacraments and Mass that have comforted Catholics for centuries. They haven't even begun to contemplate a funeral.
"If he's still alive, it's a miracle," says Rebello. "But at this moment, I won't say I'm in mourning. It won't make any sense to say I'm in mourning, because we're still waiting on an answer."
He added, "We don't know yet that he's dead."
For the same reason, the family has yet to tell Russell's 6-year-old son that his father is missing. The boy, although just 3 years old when the accident happened, was already accustomed to his father traveling for work. Today, he still thinks Daddy is traveling.
"Someday, we'll tell him that his father was a hero, that his father lost his life helping hundreds of other people to live," says Rebello, who has been on his own journey in the years since the wreck.
He lives in Milan, where he was working for a marketing company when he learned that his brother's ship had foundered off Giglio. He left the office that day, and never returned, losing his position as he embarked on a six-month search for his brother's remains.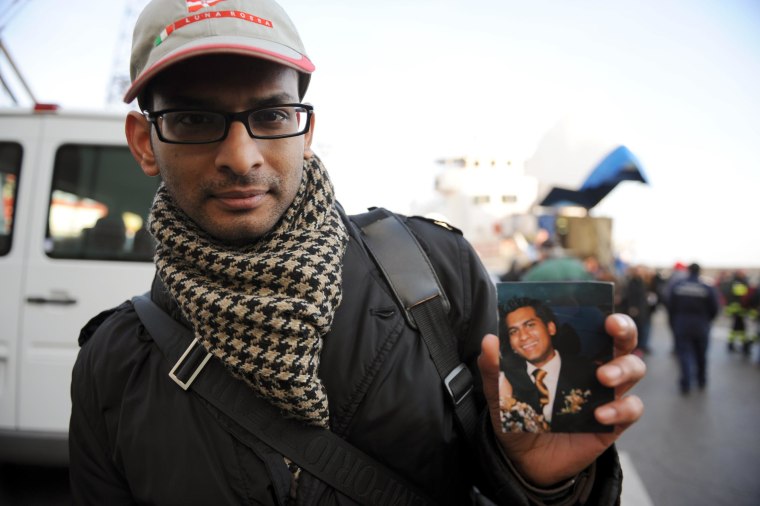 He played both rescue crew and true detective, he says, walking the entire 27 kilometers of the island. He peered into every cove and inlet. He also tried to knock on every door of the 1,500-person community, and he says he interviewed more than 500 people — many of them his brother's co-workers, who said they last saw the 33-year-old near the stern, helping passengers to safety.
As the days passed, and the number of unaccounted-for passengers dwindled, Rebello's mind began to wander toward fringe theories and freak explanations. Maybe his brother was unconscious somewhere? Maybe he awoke unsure of his identity and wandered away? Maybe he wasn't in the ship at all but under it, pulled there somehow when the gash opened in the hull?
By 2013, he was on a first-name basis with Italian authorities, Giglio merchants, and a menagerie of deep-sea divers and salvage workers. In September 2013, when workers righted the ship, he joined the dive team for 5 a.m. briefings, then dined with them at the end of their shift. After he landed a job with Herballife, the global supplement company, he even started to fuel their work with protein bars and diet aides.
Finally, there was a breakthrough. In early October, the divers found a body inside what had been the submerged third-deck, and there was a "laced shoe" on one of the feet. "I thought it was Russell," says Rebello.
But then he got another text from the scene. The shoe turned out to be a size 5, and there was something else on the body: a woman's necklace. The next day the ship began to cleave, and the search was called off until now.
All of Rebello's focus is on the ship, which was too unstable to explore safely while still in the water. He plans to take the hour-long train from Milan to Genoa, where the once-formidable vessel will be dry-docked and broken down.
He plans to greet it there on Monday, and to talk his way into the breaker's yard much as he talked his way into the salvage meetings. "I want to meet the people over there," says Rebello. "I want them to understand me and to know me, and to be careful with what they find."
Back on Giglio, as the Costa Concordia began its journey home, sirens wailed, church bells rang, and the workers who performed the trick began a well-earned celebration. They showered each other in Spanish sparkling wine, and took turns posing for pictures with the ship receding in the background. But amid the revelry, they also remembered the Rebello brothers — one missing, and the other in an anguished state of waiting.
Kevin says he got a text from Nick Sloane, the 52-year-old South African in charge of the vessel's safe transport. He was aboard the cruise ship as it glided slowly toward Genoa, where the Costa Concordia's owners are based, and where Rebello last saw his younger brother alive. They had dinner together in Genoa in 2008, just before Russell left for another long tour at sea, one that he's still on in Rebello's mind.
"Don't worry," Nick assured him. "We'll find your brother. We'll bring him home."