It was a glimmer of hope amid the vast human tragedy.
With tears streaming down his face covered in cuts and bruises, a Syrian teenage survivor of Wednesday's shipwreck that killed hundreds of people off the coast of Greece was reunited with Fadi, his older brother.
Fadi had traveled from the Netherlands to help Mohammed, 18, one of 104 people who was rescued from the Aegean Sea after the boat he was in went down. Hugging through metal barricades erected by Greek police around a warehouse in Kalamata, where survivors had been sleeping, Fadi kissed little brother's head.
Theirs was one of the few good stories.
Over 300 Pakistanis were killed, Pakistani Senate Chairman Muhammad Sadiq Sanjrani said in a statement Sunday. Greek authorities are yet to confirm the toll and if this number includes the 78 bodies recovered.
The migrant shipwreck — one of the worst-ever recorded in the Mediterranean — has sparked arrests, violent protests and questions about authorities' failure to act or find a long-term solution to the issue.
The victims drowned when the 65- to 100-foot fishing boat they were traveling on capsized and sank early Wednesday in some of the deepest waters of the Mediterranean.
Greek authorities have been criticized for not acting to rescue the migrants, even though a coast guard vessel escorted the trawler for hours and watched as it sank in minutes.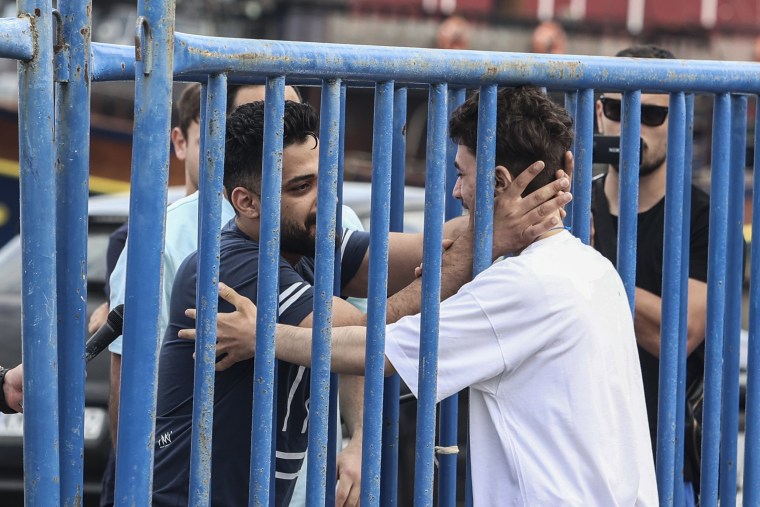 Under international maritime law, authorities are not only obligated to conduct immediate rescue operations, but they're also required to do so without any explicit plea for help.
Witnesses and the United Nations have said hundreds were aboard the boat, and the true scale of the disaster fueled mounting anger in Greece and beyond.
The tragedy prompted the South Asian nation to declare a national day of mourning, with Prime Minister Shehbaz Sharif vowing action against human traffickers who smuggle desperate migrants across the Mediterranean Sea.
Outside the shelter in Kalamata on Sunday, relatives clutched screenshots of loved ones on their mobile phones clinging to threadbare hopes of their survival.
In Jordan, Ayman Al-Shaabani, 50, told NBC News by telephone Sunday that he was praying for news about his younger brother, Khalil, 32, who he said was onboard.
"My brother told me that once the phone was switched off, it meant that they were at sea on their way to Italy," he said. "But his phone remains switched off until now, the boat didn't reach Italy and we didn't hear my brother's voice again."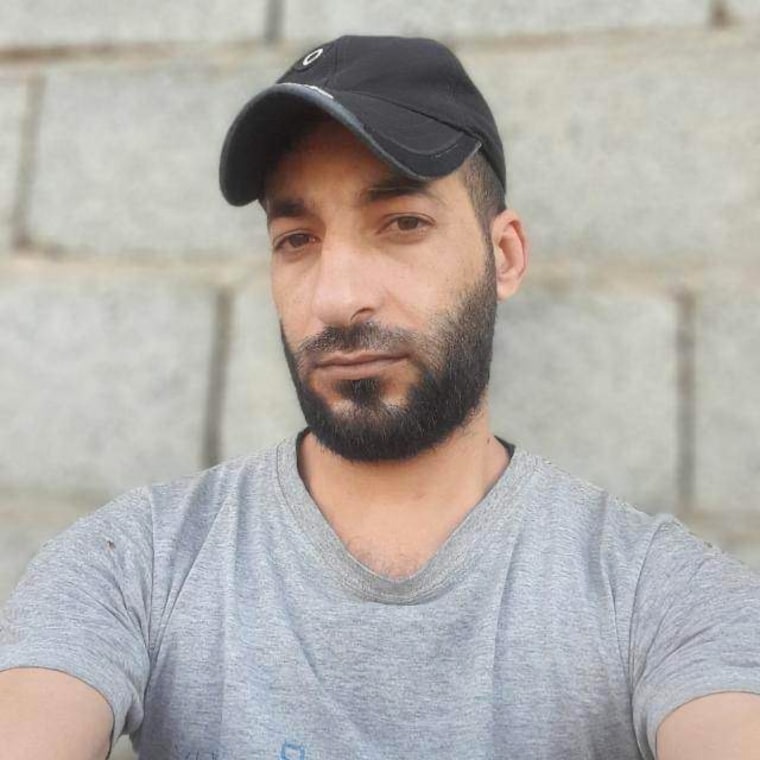 Had he known it was their last call, Al-Shaabani said he would have "told him how much I love him and how much I will miss him."
Khalil, he said, had left his wife and four children in Syria, where he had struggled to find work, in search of a better life in Europe.
He said that they had received better news about his cousin, Moaz Al-Shaabani, who was also onboard the ship and had sent them a voice message from a Greek hospital. Moaz started to cry when he asked them about Khalil, who he fears has died.
Speaking alongside families waiting at the barricaded warehouse in Kalamata, Anwar Bakri, secretary general of the Syrian Association of Greece, told Reuters Saturday he had received "hundreds of calls" from people in Germany, Turkey and other countries, who feared their Syrian relatives were on the sunken boat.
"I have numerous photos, at least 15 photos until now, of missing people, young children, 16-year-olds, 20-year-olds, 25-year-olds, whose parents are looking for them," Bakri told Reuters.
It is now feared that they perished when the fishing boat capsized and sank early Wednesday.
But Greece's coast guard said in a statement that the boat rebuffed several offers of help from both its ships and merchant vessels in the area, adding that the ship's captain "wanted to continue to Italy."
Unaware if his 40-year-old uncle, Nadeem Muhamm, was alive, Zohaib Shamraiz, a Pakistani man living in Barcelona, said he had spoken to him just five minutes before he got in the boat.
Muhamm was being herded on to the boat by smugglers carrying swords, Shamraiz told Associated Press. "He told me there were too many people but if the (passengers) didn't get on the ship, they would kill them."
On Monday, Pakistan arrested 14 people in connection with the alleged human trafficking, police officials told Reuters. A court in Kalamata also adjourned a hearing for nine Egyptians arrested earlier till Tuesday.
Italy is often a preferable landing point for migrants crossing the Mediterranean to Europe, as it allows refugees to avoid the perilous Balkan route into the prosperous northern part of the continent, which is heavily patrolled by both border guards and far-right vigilantes. 
Greece's failure to render assistance is part of a bigger anti-migrant European phenomenon, where states increasingly flout international conventions and knowingly risk lives of thousands of migrants fleeing poverty and persecution.
This is despite the growing number of people trying to get to Europe via the Mediterranean. Last year, more than 250,000 set sail from Turkey and the northern coast of Africa to seek asylum or to migrate to Europe, the most since 2017, according to the International Organization for Migration, a United Nations agency. 
Greek Prime Minister Kyriakos Mitsotakis has previously taken a tough line on refugees, pledging to lengthen border fencing across the entire length of Greece's 120-mile long border with Turkey. Meanwhile, in Italy, Premier Giorgia Meloni, who leads the far-right Brothers of Italy party, built popularity with promises to curb migration.  
The United Nations has recorded more than 20,000 deaths and disappearances in the central Mediterranean since 2014, making it the most dangerous migrant crossing in the world.
The deadliest recorded incident involved a vessel that capsized off the coast of Libya in 2015, claiming the lives of an estimated 800 migrants.