A wave of terrorist bombings in Brussels on Tuesday rocked the city's international airport and a subway station, killing at least 31 people in a chilling display of violence for which ISIS claimed responsibility.
The Belgian capital remained on lockdown as officials raised the terror threat level amid attempts to find and identify suspects, including at least two suicide bombers who detonated two of three suitcase bombs at the Brussels Airport, Belgium's federal prosecutor said. The third did not explode and was destroyed by Belgian authorities.
The blast that ripped through a morning rush-hour subway car less than an hour after the airport attack forced riders to flee in darkened tunnels. Public transportation was shut down and locals were advised to stay indoors amid the mayhem, which saw scores wounded — including several Americans.
FOLLOW LIVE: Latest Updates on the Brussels Explosions
World leaders swiftly pledged solidarity with Belgium as the small European nation tried to make sense of the bloodshed.
"What we feared has happened," Belgian Prime Minister Charles Michel told the nation. "In this time of tragedy, this black moment for our country, I appeal to everyone to remain calm but also to show solidarity."
In the aftermath of the coordinated carnage, anti-terror raids were reported across the country, including one in the Brussels neighborhood of Schaerbeek, where Belgium's federal prosecutor said an improvised explosive device with nails, chemical products and an ISIS flag were found.
ISIS claimed responsibility for Tuesday morning's attacks, according to a post by its affiliated Amaq Agency. The post was deemed legitimate by NBC News counterterrorism consultancy Flashpoint.
The deadly explosions followed a flurry of counterterrorism activity in Brussels and a raid Friday that captured Europe's most wanted man — Salah Abdeslam — in connection with the Paris terror attacks.
PHOTOS: Brussels Blasts Kill Dozens in Airport and Subway Attacks
The Associated Press quoted the city's mayor as saying the explosion at Maalbeek metro station, near the European Union headquarters, killed 20 people. The country's ministry of health confirmed that at least 11 people had been killed at the airport.
Three bombs were used in the attack at the airport, although one did not explode, said Lodewijk De Witte, the governor of Flemish Brabant province.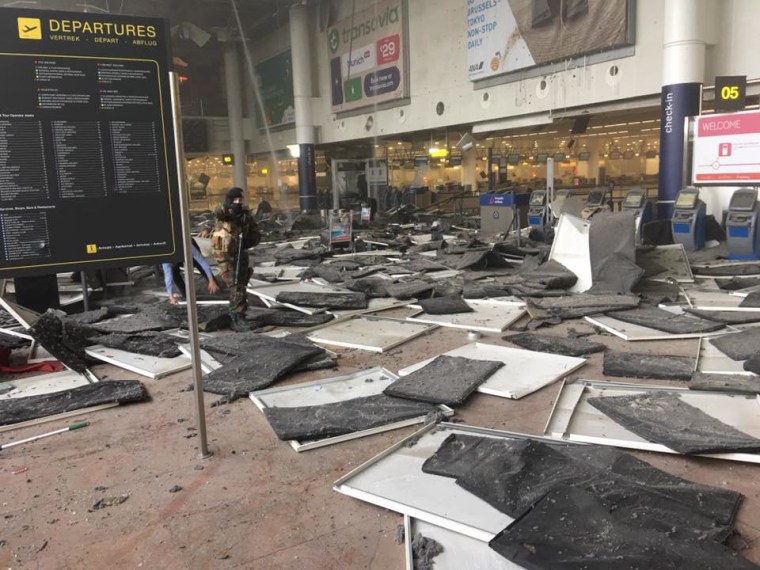 All of the bombs contained nails, added officials at the Hospital Gasthuisberg in Leuven, east of Brussels. Most of the 13 victims treated at the hospital had fractures, burns and deep cuts caused by metal objects, officials said. Five of them were seriously injured.
The first blast hit the airport's departures hall at around 8 a.m. local time (3 a.m. ET) and was quickly followed by a second explosion, sending passengers fleeing.
Pictures from the smoky terminal showed bloodied victims, shattered glass and debris.
A security source told NBC News that one of the airport explosions happened in Departure Hall 1, which is used by international carriers including American Airlines. The carrier said none of its employees or crew had been injured by the blasts.
Eyewitness Jef Versele was checking in for a business trip to Rome when he heard an explosion.
"Soon after that one, a second one hit — and everything came down," he told NBC News. "There was dust everywhere, glass everywhere, there was chaos. There were people on the floor everywhere. The roofing came down. It was quite a mess."
Related: Why Is This Brussels Suburb Home to So Many Extremists?
Versele added: "A lot of people were in panic. I saw a lot of blood, a lot of people were injured. People were crying, on the floor, covered by parts of the roofing. I saw a lot of leg injuries, a lot of people couldn't move anymore. There were quite a lot of people injured. In the departure hall — you saw people storming out. It was like run for your life."
American Mormon missionaries Richard Norby, 66; Joseph Empey, 20; and Mason Wells, 19, were among those injured. They were listed in critical condition after suffering non-life-threatening injuries.
In addition, U.S. military officials reported that a U.S. service member and four members of his family were injured during one of the attacks. The military did not release their names or conditions, but one military official told NBC News that their injuries are not believed to be life-threatening.
The Belgian army joined a massive emergency services response, which saw roads and public transportation leading to the airport closed and all incoming flights diverted.
Images posted on social media showed smoke pouring out of the Maalbeek subway station and injured people receiving medical treatment on the sidewalk outside.
New Jersey native Evan Lamos was on the train behind the one that was struck. The 30-year-old said he walked for several minutes in the dark underground after his train was evacuated.
"As soon as the metro stopped, everyone was talking about the blast at the airport, but there was no panicking when we were told to evacuate the train," said Lamos, who moved to Belgium as a teenager. "People were helping each other."
Michael Ryan, head of the EU delegation to Rwanda, was coming up the escalator at another station just a few hundred feet away when he felt a "soft boom."
"The air pressure from the explosion went up the line and rattled everything," he told NBC News. "Everything is tense here."
All trains, planes, trams and buses were halted in Brussels. The main Midi train station was evacuated and ambulances raced through the streets of the Belgian capital.
Sunita Van Heers had come to the train station after seeing the metro was on lockdown. Then police evacuated the station.
"Everybody started panicking, crying, not knowing what was happening," she said, describing how police ordered people away from the station. "It's scary."
Related: Paris Ringleader's Photos Show World of 'Gore Hero'
The rapidly unfolding crisis caused cellphone networks in Brussels to jam, with officials urging people to use WhatsApp or Twitter because the networks were becoming saturated. Belgium's crisis center advised locals to stay home or in their workplaces, and told schools to keep students indoors.
Alleged Paris attacker Abdeslam was taken into custody along with several others on Friday. His capture has been seen as a potential goldmine of information for intelligence services — if he cooperates.
The 26-year-old and several of the attackers who laid siege to Paris on Nov. 13 had ties to Belgium.
But Belgium's federal prosecutor said late Tuesday that it was not immediately possible to link Brussels with the coordinated carnage in Paris that was also claimed by ISIS.
On Monday, officials named another potential suspect and asked for public assistance in locating him.
Belgium's foreign minister said following Abdeslam's arrest that the suspect had been planning to "restart something" in Brussels — the suggestion of a new attack was taken all the more seriously given the large amounts of heavy weapons found during his arrest.
Meanwhile, other cities and countries said they would honor the victims of Tuesday's killings.
The Eiffel Tower in Paris was awash in the colors of the Belgian flag — black, yellow and red — as was Berlin's landmark Brandenburg Gate.
New York Gov. Andrew Cuomo said One World Trade Center would also be lit in Belgium's colors Tuesday night.