It looks like the "man in white" is still out there.
Belgian authorities posted a fresh appeal for information on Monday about the mysterious "man in white" pictured in surveillance footage pushing a luggage trolley alongside the Brussels airport suicide bombers.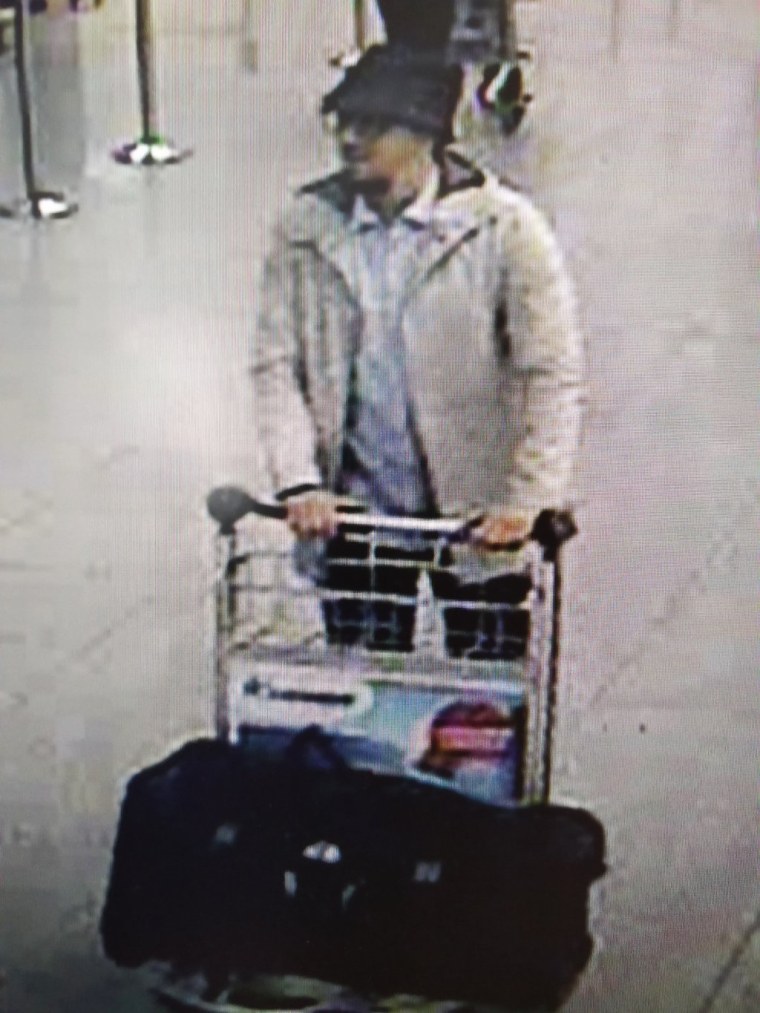 Only one person — Faycal Cheffou — had been charged directly in relation to the Brussels attacks, on counts of "terrorist murder," involvement in a terror group and attempted terrorist murder.
However, in a surprise turnabout Belgium's federal prosecutor said Monday that "Faycal C" had been released due to a lack of evidence. Further details were not immediately available.
Belgian media had cited police sources in saying Cheffou was the "man in white" on the right in the airport surveillance footage. NBC News has been unable to confirm that information.
However, police early Monday posted a new statement with video and photos of the "man in white" which said authorities are seeking to identify the man — who is suspected of committing Tuesday's attack at Brussels airport.
That appeared to call into question reports which said Cheffou was third man spotted captured on video at the airport and raised the possibility that a key suspect in the attacks might still be on the run.
Related: How Safe Are Airports?
It wouldn't be the first time the suspect was misidentified: Police sources had at one point named the man in the hat and light jacket as Najim Laachraoui, the suspected Paris attacks bomb-maker. However, officials later corrected that and said Laachraoui had died in the attack.
Belgian prosecutors last week said the "man in white" had fled the airport just before the two blasts hit and had left behind a large bag.
His bag contained the "largest" explosive charge, the prosecutor told a press conference last week, saying it detonated "just before the bomb squad arrived" due to the instability of the explosives. No one was hurt.
The 32-second video released Monday by police blurred out the faces of the other two men in the frame — who have previously been identified as Laachraoui and Ibrahim El Bakraoui. It showed the third suspect — in a dark bucket hat, glasses and light jacket — pushing a luggage cart loaded with a black bag.
El Bakraoui had been flagged to Belgian authorities as a suspected militant when he was deported by Turkey in June. He was also convicted in 2009 of shooting at police with an assault rifle. His brother Khalid blew himself up in the Brussels subway.