BUCHA, Ukraine — After hiding for weeks in the basement of her apartment complex in this community just outside of Kyiv with her mother and son, Inna Leschenko, 45, dashed out on March 19 to find clean water. She never made it home. 
Leschenko died after being struck by shrapnel when Russian forces shelled the area. Her family waited until it was safe and then retrieved her body from the courtyard hundreds of feet away. They later buried her there in a small grass island bordered by sidewalks. 
Once Ukrainian forces liberated the city, the police exhumed Leschenko and took her to the morgue. On Friday, her mother, Mariya Kovalenko, 66, identified her remains and finally laid her to rest about a month after she died. 
Kovalenko sobbed as she clutched a photo of Leschenko that she had kept in a plastic shopping bag to protect it from the heavy drizzle that fell Friday. There was at least some solace in knowing she would be able to bury her daughter properly.
"I came here three days ago, and we found her," she said.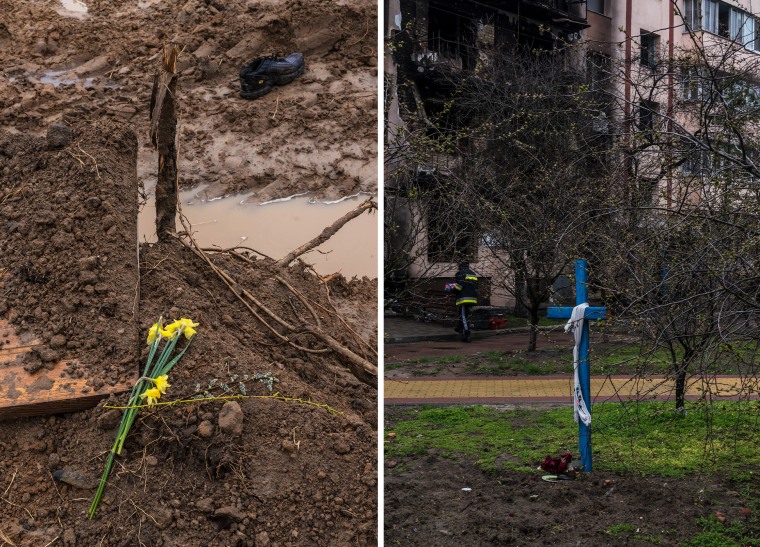 More than 400 people in this small suburb outside of Kyiv were killed or died when the Russians invaded. Some were buried in mass graves by the invaders; others were executed or died in bombing attacks. Bodies were left throughout the town: in the streets, apartments, homes, storage containers, basements, grocery stores and elsewhere.
Now local officials and families are going through the ghastly, heart-rending work of identifying the bodies. 
While authorities believe they may have found most of the dead, they are still going through the arduous process of exhuming people from temporary graves and organizing the corpses. They are also working with people to locate missing family members and friends, with the greater hope of bringing residents here some form of closure. 
Bucha is the current focus of these efforts now that it is liberated. But it is not the only location that was under Russian occupation, and the work contending with such killings and mass graves will take place elsewhere, too. Ukrainian officials said they have identified a mass gravesite in a village outside of Mariupol that they believe could contain as many as 9,000 bodies. Authorities also identified a second inaccessible mass grave in the Russian-occupied city on Friday.
But for now, much attention remains focused on the dead they can reach here, on the surrounding communities and on the inundated Bucha morgue, which once dealt with 14 dead bodies at most per month. 
Mykailyna Skoryk-Shkarivska, an adviser to the mayor of Bucha, pitched a tent next to the morgue three days ago. From a small wooden table and two simple chairs underneath, she and a group of volunteers meet with 20 to 30 families a day and take down descriptions of people killed or missing.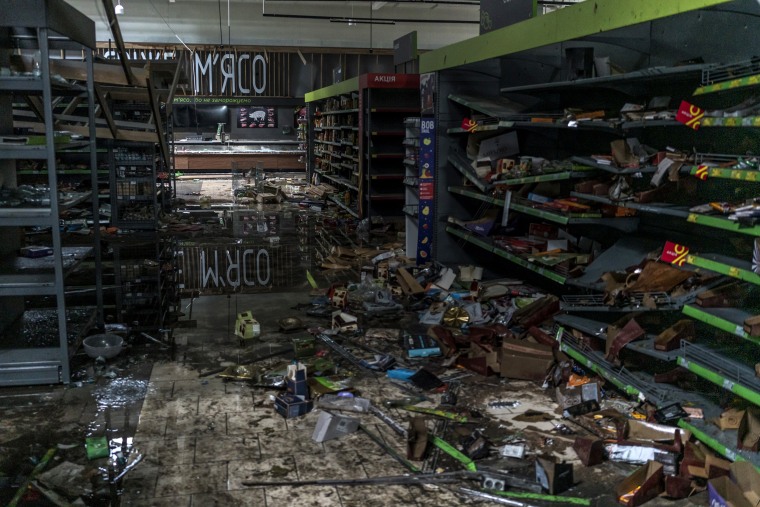 The work is personal to Skoryk-Shkarivska, who still bears the name of her dead husband. He was killed in 2014 in the Donbas region when Russian proxies seized Ukrainian territory. 
That's when the war started for Skoryk-Shkarivksa, and now she is committed to providing her neighbors some closure to the hell that has rocked this community and its families. Right now, she said they need at least 24 hours just to sort the names they have been given, but she hopes they can finish a week after Sunday, which is Orthodox Easter and when Ukrainians typically spend time memorializing the dead.
"It is very important to bury everybody in a proper way who was killed, but also we realize that that's part of a very important investigation," she said. "So the aim is to help police prosecute and investigate Russian crimes to fix that, because we are sure that it's war crimes. They were hunting men, they were killing kids and they were torturing women." Russia has consistently denied targeting civilians.
Still, this morbid work is an immense task. Small trucks, buses and vans regularly roll up to the morgue, a small building behind the hospital, to deposit more dead in the refrigerator trucks that now take up much of the parking area. 
More than 15 bodies in black plastic body bags stacked on mortuary tables were placed under an awning here to protect against the hard drizzle that slowly soaked mortuary workers, volunteers, family members and others gathered to contend with innocents killed under Russian occupation.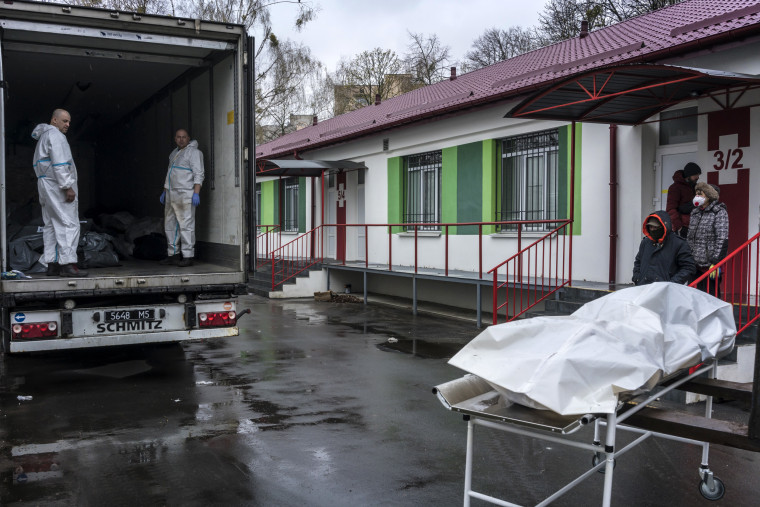 One woman wearing an N95 mask and garden gloves waited outside of a refrigerator truck filled with another 60 bodies wrapped in black plastic bags. She said she was waiting to identify her husband. Another man came by the tent in hopes of identifying a half-dozen dead or missing family members. He left disappointed.
The scene and the work takes a toll on everyone, and the atmosphere is thick with death. Crows fill the trees, and their caws are only occasionally drowned out by the barking of a pack of stray dogs that circle the area. 
Kateryna Balabukha, 22, who worked at a day care center until she started to volunteer during the war, served her first day taking down family descriptions Friday. She remained stoic about her assignment. 
"I came here because there was a need for people, and I realize that not everyone can do this job," she said. 
That resignation to macabre work runs through many here. 
Oleksandr Zamohylnyi, a 63-year-old retired serviceman, spends much of his time these days smoking cigarettes outside a boarded-up grocery store where he works as the head of security.
Russians, who used the store as a base, shot up the windows before they left, he said. They used the hood of Zamohylnyi's car as a defensive position for a machine gun and the parking lot as a staging area for artillery pieces while he and other Ukrainian employees hid in the basement. 
Russians looted the store during Bucha's occupation. Many of the shelves are empty except for half-finished beer bottles or rotting fruit. Some leftover ice cream has turned liquid in unpowered freezers. Live fish are dead and rotting in their tanks now, their heads rising just above the putrid water. The stench is overwhelming. 
Zamohylnyi uses a flashlight as he walks to the second floor, seemingly following a trail of empty vodka, wine, whiskey, beer, cognac and gin bottles to a depraved scene in the employee kitchen area. The floor is covered in champagne bottles and human feces. 
He shows a picture of the body he discovered there of a man, his head in a bag, pants around his ankles and bruises around his legs. He had been tortured before the Russians killed him, Zamohylnyi said, and authorities believed he had been sodomized with one of the bottles. 
"Then the Russians saw the security cameras and shot up the cameras," said Zamohylnyi, who noted that the Russians shot up his office while he was inside it when they first arrived. "They then shot up everything and all these windows, too."
While investigators work to identify possible war crimes amid such carnage, many residents are contending with a more existential question: Will they ever be able to call Bucha home again? 
Once a happy and comfortable suburb of Kyiv, Bucha now has many homes that are just piles of cinderblock, while portions of apartment buildings are blackened by missile strikes — the windows now just gaping wounds, begrimed by ash and explosives.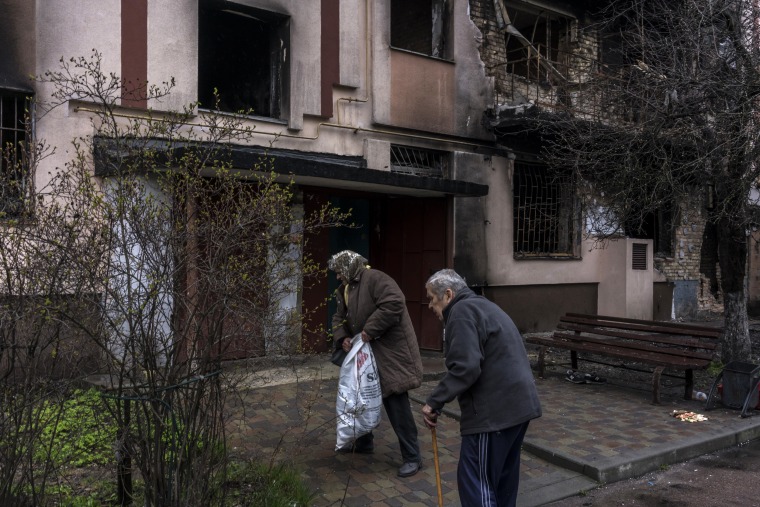 Halyna Vasylenko and her husband, Mykola, both 78, returned to their apartment for the first time Friday, the entrance just yards from where Leschenko's family buried her body.
They ran upstairs to the third floor of the building, where they once lived, filling bags with cutlery, small plates that hadn't shattered and any other mementos they could salvage from the rubble. 
Vasylenko, her hands stained black with soot, said she and her husband had nowhere to live, as they waited for a relative to pick them up from a nearby parking lot. She knew, however, that their apartment in Bucha was no longer their home. 
"Our house is destroyed," she said loudly in Ukrainian, tears welling in her eyes. "There is nothing there. That is not a home. It's just walls."