LVIV, Ukraine ⁠— Brothers-in-law Andrrii Lebeda and Nikolay Tkachov thought they'd be safe from Russian bombs and bullets when they first sheltered in the quiet town of Bucha outside Kyiv. Instead, they found themselves in the midst of what some are saying became the scene of a vast war crime.
When Russian forces first targeted Bucha early March 6 as part of their attempt to encircle and take Kyiv, the country's capital, Lebeda, Tkachov and their families found themselves under near-constant attack.
"It was just luck to survive, just luck. No less, no more," said Lebeda, 32, speaking of his days in Bucha, 35 miles northwest of Kyiv, as it was ravaged by war.
At first, Lebeda, who had lived in Kyiv before the war, and Tkachov said they heard bombing only in the distance. But it soon came much closer.
"The bombing increased, like, hour by hour," said Tkachov, 42.
It continued for days before they saw Russian troops move in.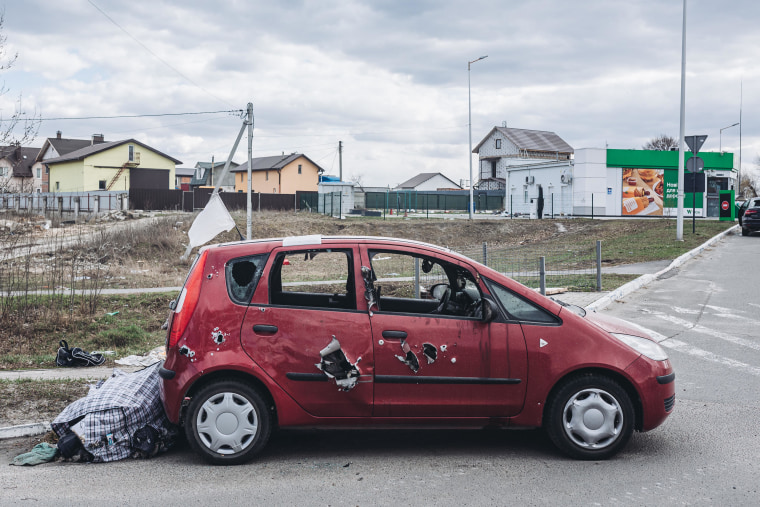 The family agonized over when they should flee, trying to come to a consensus. But "every day was worse than the previous," Lebeda said.
The Russian forces eventually found their way to where the men and their families had sheltered, looking around for about an hour and demanding that they hand over any weapons or hidden Ukrainian soldiers.
While they escaped the brutality that others appear to have suffered, a neighbor was not so lucky, the men said. He was shot as he was looking out his window as the Russian soldiers arrived.
As the fighting escalated, Lebeda, Tkachov and their families were able to escape as part of a convoy on March 9, witnessing the destroyed homes and civilian cars full of bullet holes as they made their way out of the city.
"I didn't expect that they're so heartless," Lebeda said.
Lebeda said he saw bodies strewn across grass, shot and killed. One of the dead men lay on the ground with a green bicycle on top of him, he said. The man's death was also captured in photographs from media coverage in Bucha. 
His wife told him to "just look straight" as they passed through the wreckage.
"We saw horrific things, like murdered people on the street outside, civilians who were killed," Lebeda said.
The men and their families remain in Ukraine; they have now moved to Lviv.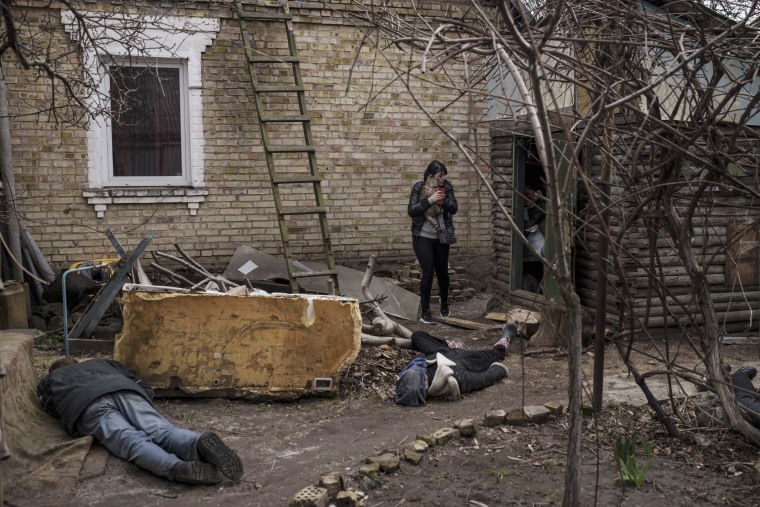 Over the weekend when Russian forces retreated from Bucha, the toll of the violence has become clearer, with Ukrainian officials saying hundreds of civilians were killed. Grisly images purportedly showing slain civilians throughout the city have emerged, including some who appear to have been shot at close range with their hands behind their backs.
The assault resulted in the deaths of more than 300 people before troops pulled out of the city, Mayor Anatoliy Fedoruk said. Russia's Defense Ministry has denied the claims, calling them a "provocation," despite photographs and video showing damaged city streets strewn with bodies.
President Joe Biden again called Russian President Vladimir Putin a "war criminal" Monday, saying the attacks reported on civilians in Bucha are "brutal" and "outrageous."
Ukrainian President Volodymyr Zelenskyy has said new sanctions from the West would not be "enough" to respond to the horrors Ukrainians say happened in Bucha.
Reflecting on everything he has seen, Lebeda said he is full of emotions, "a lot of anger, a lot of pain, a lot of hate."
"No one expects such terrifying murders. No one," Lebeda said.
Molly Hunter reported from Lviv, Ukraine; Daniella Silva reported from New York.