YANGON, Myanmar -- A monk has been dubbed the "Buddhist bin Laden" and the "face of Buddhist terror" after launching a campaign against Muslims.
U Wirathu has been accused of inciting violence against Myanmar's Muslim minority with fiery sermons claiming the growth of Islam is putting Buddhism and Burmese culture at risk.
About 200 people have been killed by violence since religious riots erupted in June 2012 and tens of thousands fled after homes owned were burned by mobs.
Wirathu, who says he once compared himself to the al Qaeda leader as "a joke," claims Islamic beliefs can encourage people to have "bad characters." As a key figure in a movement that encourages people to boycott Muslim businesses, Wirathu espouses a form of radical Buddhism which seems incongruous to those in the West who associate the religion with peace and acceptance.
However, the 46-year-old  monk insists he does not advocate violence against Muslims, who make up just 5 percent of the country's 60 million people.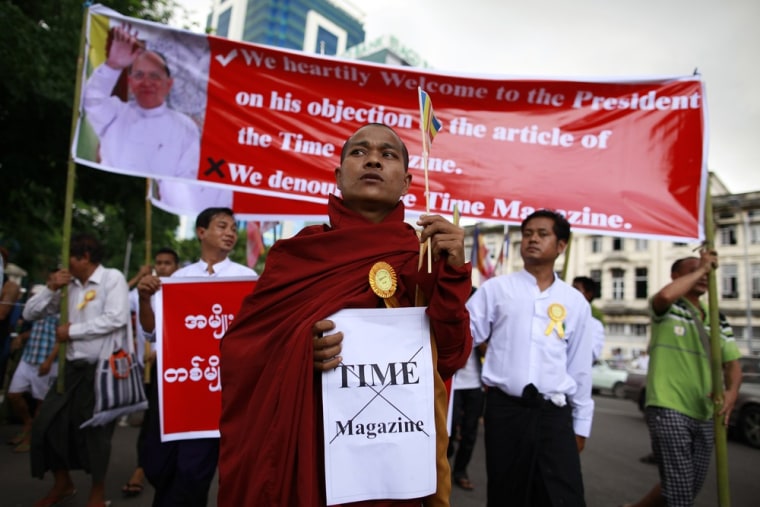 "I believe Islam is a threat not just for Buddhism, but for the people and the country and the religion," he said.
According to Wirathu, it doesn't matter that Muslims make up a small proportion of Myanmar's population. 
"When someone went into a school in Virginia armed and killed people there, it didn't matter that the teacher and the pupils were the majority," he offers as an illustration.
Last month, TIME magazine's portrayal of Wirathu as "The Face of Buddhist Terror" sparked widespread protests across the country.
But Wirathu laughs at reports that he even branded himself the "Buddhist bin Laden."
"People used to write things like that about me on Facebook, call me that, and the 'bald Bin Laden,' all sorts of names," he said. "I ended up calling myself that as a joke ... and it got reported from there."
In Myanmar, Buddhist religion and culture means monks are generally seen as beyond question because of their holy status, yet at the same time their role has long been political as well as spiritual.
Wirathu's notoriety has grown amid deadly violence between Buddhists and Muslims in Myanmar, which is in its second year on "the road to democracy" after decades of military rule.
Tensions are highest in the western state of Rakhine, which borders predominantly Muslim Bangladesh. Rakhine has long been the scene of conflict between rival ethnic groups but sectarian violence has increasingly been breaking out in other parts of the country. In May, Buddhist mobs burned Muslim homes in the northern city of Lashio.
Human Rights Watch noted that violence in June and October 2012 "resulted in countless deaths, destruction to property, large scale internal displacement and segregation within Rakhine state of Myanmar."
Other organizations have recorded incidents of mosques and Muslims being attacked in Rakhine state and elsewhere. Tens of thousands of Muslims have been effectively trapped in displacement camps after clashes saw an estimated 200 people killed and villages destroyed last year.
Wirathu is behind a pro-Buddhist movement, known as 969. Its badge has been appearing on businesses keen to promote their Buddhist credentials, and encourage other Buddhists to choose theirs over Muslim-run ones. The logo also increasingly appears at rallies and on pamphlets issued by religious and nationalist organizations describing Muslims as a threat.
Wirathu claims he came up with the idea of 969, numbers which represent Buddhist virtues.
He insists it is vital that Buddhist people keep their business, relationships and land dealings away from Muslims because he fears "their population will get bigger than ours" and "shariah law will take over."
Wirathu and others operating under the 969 umbrella highlight videos and images of butchered monks, violent crowds of people in Muslim dress and destroyed temples which they allege show attacks by Islamists targeting Buddhists.
Wirathu insisted he "does not believe that violence will solve the problems" and suggested many of the more inflammatory quotes attributed to him have either been taken out of context or are simply wrong.
"I don't believe that violence is the way forward and I do not want to see Buddhist people ganging up and taking revenge on Muslims," Wirathu said. 
To most Buddhists in Myanmar, the idea that a monk could be responsible for inciting violence is almost incomprehensible, yet many seem happy enough to accept his message of intolerance.
"The monk Wirathu is peaceful person and he is not a terrorist. Look around the world, at Afghanistan, Indonesia, who are the main culprits when it comes to terrorism?" asked Htway Maung Kyaw, an elderly Yangon bookseller, who having studied in the U.K. in his youth is proud to describe himself as "Philologist (London)"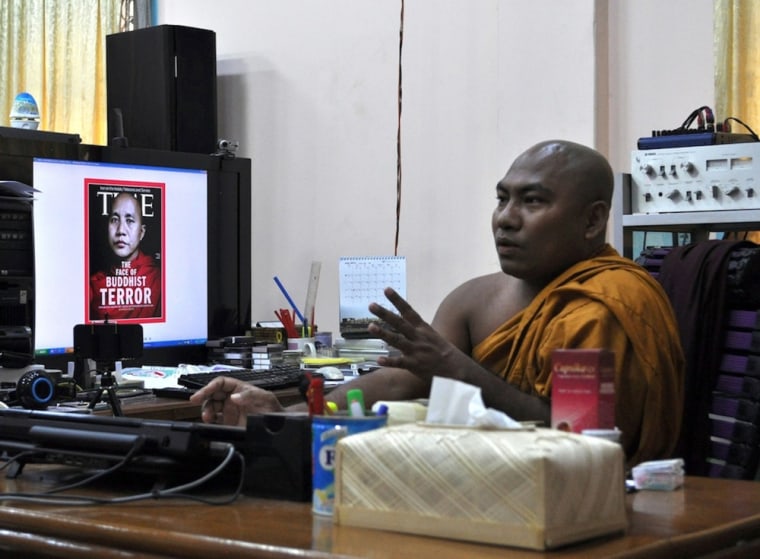 "It is true he was in prison," he said of Wirathu's detention in 2003 under the junta, reportedly for incitiing violence against Muslims. "However, that was under the military regime [when many people were imprisoned]. He was struggling on behalf of humanity."
The Venerable Ashinkumara, a fellow monk, said his controversial friend has "a tender heart."
Ashinkumara, who believes that Muslims are plotting to take over Burma and "are the ones who started all the fights," added: "I don't believe Wirathu has called for violence."
This view that Wirathu is somehow "misunderstood" is expressed by businessman and Buddhist charity founder Ko Moe whose maternal grandfather was Muslim and whose grandmother was he says "forced" to convert from Buddhism.
"Wirathu never told people to fight against Islam," Moe said. "He is trying to give the message that people should protect their own religion and race.
"Not to fight, but there is a big concern that the Muslim population is growing faster than the Burmese people, because they can have many wives and are told not to use birth control," he says, echoing a view heard over and over again in Burma's tea-houses.
Moe points to Indonesia, Malaysia and southern Thailand, which are now predominantly Muslim, as examples of what many in Myanmar fear is their country's future.
Many also express the feeling that they are a minority in their region: a nation of 60 million, dwarved by neighbors India at 1.2 billion and China at 1.3 billion, and conscious of the growing influence of Islam in other Asian nations.
Moe's Piti (Light of Truth) charity helps orphans and people living with HIV, but he has clear religious aims and the organization also works to promote "a proper understanding of Buddhism".
"What Wirathu talks about is patriotism," he said. "It is about protecting our nationality, our race and our religion."
For Muslims born in Myanmar, that is a hard view of patriotism to swallow. 
At a central mosque in Yangon, it's not something people like to discuss publicly, but they feel the discrimination against them is about more than religion.
"I don't believe this is really about religion," one imam said. "It is about certain people trying to gain political power. We Muslims have been here for 1,000 years and are Burmese too."
Related: