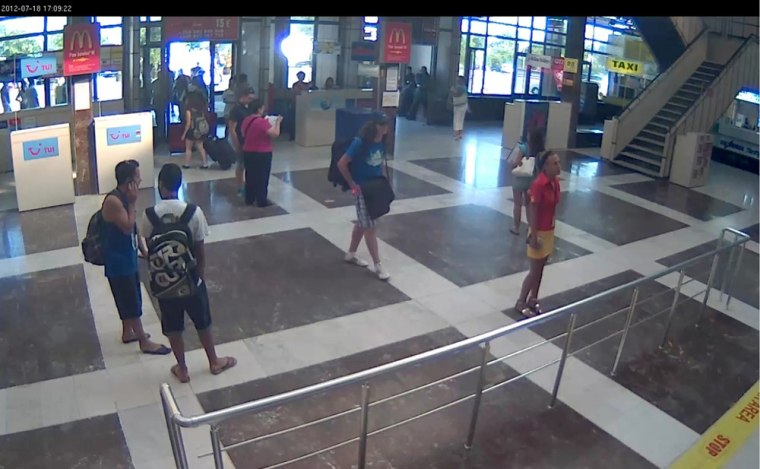 Updated at 6:56 a.m. ET: SOFIA, Bulgaria-- A bombing that killed at least seven people and injured dozens on a bus full of Israeli tourists was most likely a suicide attack, Bulgarian officials said Thursday. The suspected attacker was carrying a fake driver's license issued in Michigan, they added.
Interior Minister Tsvetan Tsvetanov said the suspect appeared on security camera tape near the bus for nearly an hour before the attack that gutted the airport in the Black Sea city of Burgas.
"We have established there was a person who was a suicide bomber in this attack (on Wednesday)," Tsvetanov told reporters. "This person had a fake driving license from the United States, from the state of Michigan. He looked like anyone else -- a normal person with Bermuda shorts and a backpack."
Video footage showed the suspect wearing a baseball cap. He appeared to be Caucasian and had shoulder-length hair.
Authorities had managed to obtain DNA samples from the fingers of the suspected bomber and were attempting to identify him, Tsvetanov said.
Prime Minister Boiko Borisov added: "We worked on this with colleagues from the FBI and CIA. They said that there is no such person in their database." Officials did not release the name that appeared on the driver's license. The suicide bomber's nationality also remained unclear early Thursday.
According to the Associated Press, officials lowered the death toll to seven, including the suspected bomber, after mistakenly reporting that someone had died overnight.
Bulgarian security services had received no indications of a pending attack. However, Israel accused Iranian-backed Hezbollah militants of responsibility.
Mangled metal
The tourists had arrived in Bulgaria on a charter flight from Israel and were on the bus in the airport parking lot when the blast tore through the double-decker. Body parts were strewn across the ground, mangled metal hung from the vehicle's ripped roof and black smoke billowed over the airport.
On Thursday, the airport in Burgas -- a city of some 200,000 people at the center of a string of seaside resorts -- remained closed and police prevented people from approaching.
Israeli Defense Minister Ehud Barak accused the Tehran-backed Lebanese Shiite Muslim group Hezbollah of carrying out the bombing. "The immediate executors are Hezbollah people, who of course have constant Iranian sponsorship," Barak told Israel Radio.
Israeli Prime Minister Benjamin Netanyahu also said Iran, the Jewish state's arch-enemy, was behind the attack and that "Israel will react powerfully against Iranian terror." There was no immediate Iranian reaction to the Israeli accusations.
Bangkok blasts wound Iranian attacker, 4 others
The blast occurred on the 18th anniversary of a bomb attack at the headquarters of Argentina's main Jewish organisation that killed 85 people and the Argentine government blamed on Iran, which denied responsibility.
Israeli officials had previously said that Bulgaria, a popular holiday destination for Israeli tourists, was vulnerable to attack by Islamist militants who could infiltrate via Turkey.
Israeli diplomats have been targeted in several countries in recent months by bombers who Israel said struck on behalf of Iran.
'Inexcusable'
Although Tehran has denied involvement, some analysts believe it is trying to avenge the assassinations of several scientists from its nuclear program that the Iranians have blamed on Israel and its Western allies.
Israel and Western powers fear Iran is working towards a nuclear bomb but it says its uranium enrichment work is strictly for peaceful ends. Both Israel and the United States have not ruled out military action against Iranian nuclear facilities.
"The attack is terrible and inexcusable," said German Foreign Minister Guido Westerwelle. "It is a time to act responsibly. We have no information of our own. We urge caution in starting to assign blame."
The Associated Press and Reuters contributed to this report.
More world stories from NBC News: