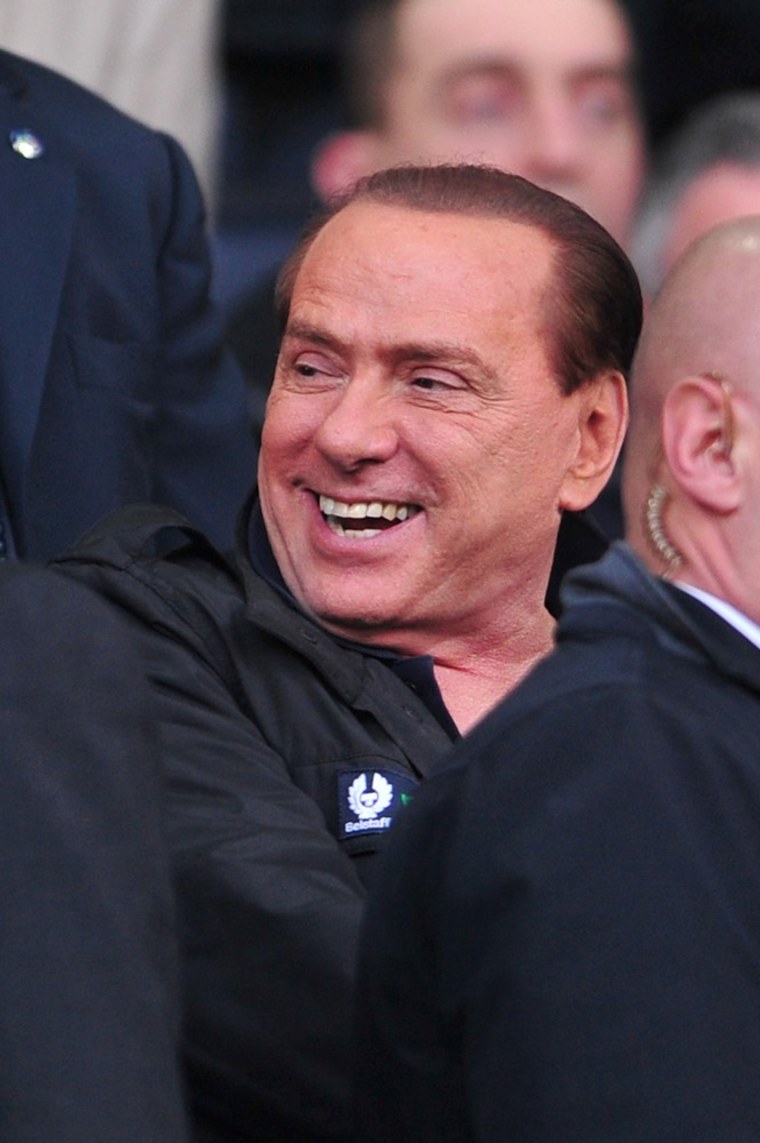 ROME – Among the many derogatory nicknames Silvio Berlusconi's detractors came up, one was "Burlesconi," a way to emphasize his propensity for gaffes and tendency to adopt sexist and inappropriate humor.
But as usually happens with the flamboyant former Italian prime minister, truth is stranger than fiction.
On Friday Berlusconi, 75, made a rare appearance at the trial in which he stands accused of having sex with an under-aged prostitute known as "Ruby the Heart-Stealer" during one of his now infamous "Bunga Bunga" parties, sex-fueled revelries that allegedly took place at his private residence in Milan.
And suddenly, burlesque had a lot more to do with him than his detractors could have ever dreamed of. 
While the trial officially started at the end of last year, it has already offered a fly-on-the-wall peek into Berlusconi's scandalous private life, with lurid details revealing an impressive partying lifestyle that would be trying for a man a third his age.
On Monday Imane Fadil, one of the models who was invited to Berlusconi's "elegant dinners," as he called them, testified in court. She said that she personally saw women dressed as nuns don their habits and crucifixes before they jumped on a pole where they performed some very unholy dance moves.
Another model, Fadil said, wore a mask of Ronaldinho, a famous soccer player from AC Milan, the Italian team owned by Berlusconi, before she kicked off her skirt down to her G-string.
Witness: Italian ex-PM Berlusconi hosted strippers dressed as nuns
Gifts from Gadhafi
On Friday, the former prime minister, and currently still the leader of the biggest political coalition in the Italian lower house of parliament, clarified once and for all some of what happened.
Speaking to journalists in Milan's High Court after the hearing, Berlusconi described what he saw in detail. "I remember seeing a woman dressed as a policeman, one as a nurse and another one as Father Christmas ... those were dresses that I received as presents from Gadhafi," Berlusconi said. (See a video published on the website of Italy's Corriere della Sera newspaper. He's speaking in Italian).
"[Gadhafi] gave them to me when I went to Tripoli for an expo on Libya's fashion. I saw those dresses and told him I liked them, so he sent them to me," he said.
A little later, he again spoke with journalists, this time outside the courtroom in Milan. "They were dressed up, some as policemen, but it was only a burlesque contest." 
He insisted that the girls were guests of innocent dinners dominated by an atmosphere of joy, serenity and conviviality.
"Sometimes," he specified, "the girls would follow me to the house theater room," a room formerly used by his sons as a private discotheque.
"Women are exhibitionists by nature," Berlusconi said. "And if they work in show business, they are even more exhibitionists. They like putting up shows and they decided to compete in a burlesque show."
When asked if he was a judge of the show, he replied: "No, but I watched with interest. I had a lot of fun, and will continue to have fun."
(See video of Berlusconi's comments to journalists outside the courtroom. He's speaking in Italian).
And there is the irony of it all.
While the admission by any current or former prime minister of a European country that they held a burlesque contest with half-naked women dressed as nuns and policemen would be enough to end their political career shamefully, Berlusconi seems somehow different. His list of alleged felonies, including sex scandals, tax frauds and abuse of office, has now become so long that confessing to organizing a strippers competition, at the end of the day, seems not so bad.
The trial continues, and with more revelations expected from witnesses, the former prime minister's private life will soon be stripped naked. Nothing more appropriate, for a man dubbed Burlesconi.