The intense, fiery power of the deadly U.S. bombing of a charity-run hospital in Afghanistan is laid bare in new images of the scene obtained by NBC News.
The extreme heat generated by the hour-long air raid is evident from the blackened wreckage inside the Kunduz trauma hospital, which was run by aid group Doctors Without Borders (MSF).
The Oct. 3 bombardment killed 22 people, including 12 charity workers, and has forced the closure of the facility just as fierce local fighting against the Taliban creates a flood of casualties. Those clashes have hampered previous attempts to access the scene.
The U.S. military has taken responsibility for the airstrike, calling it a mistake, and President Barack Obama apologized to MSF last week – but an independent, international investigation could yet take place.
"I have never seen that level of destruction before. They burned this place to pieces," said photographer Victor Blue who shot video and pictures inside the stricken facility earlier this week.
"The attack on the hospital was much more serious than anything I've seen in Afghanistan before. I've seen large IED attacks, but I've never seen that level of bombardment and, frankly, this was a very big building."
At least four sets of charred remains were still visible, along with an exploded shell still embedded in the ground and a green shoe that belonged to a nurse.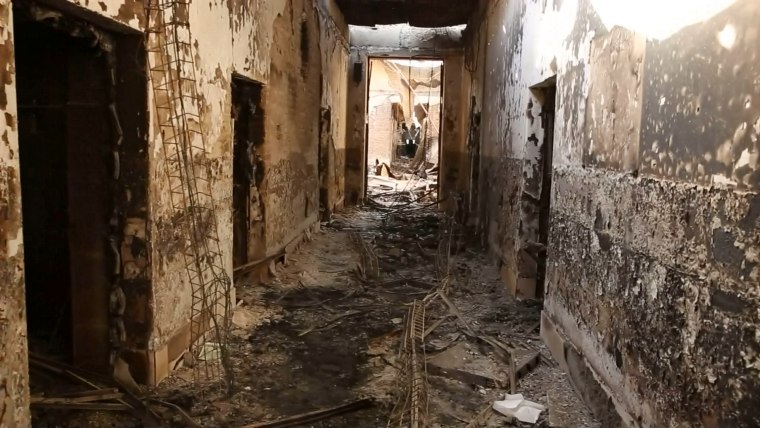 "The smell of human remains was still strong," Blue added. "The heat from the fire had to have been extreme. Most things we saw had been melted or blown apart. Pretty much anything that wasn't steel had melted. I saw oxygen tanks exploded from the heat of the crucible, inside the hospital the roof had caved in, walls of brick had crumbled. The amount of firepower directed at the hospital is pretty extraordinary."
Most of the rest of the hospital complex escaped serious damage, Blue said, indicating the main building had been clearly targeted.
However, workers were upset by the apparent targeting of a nearby guard house by a high-caliber weapon in an attack that killed two employees.
"It was a good distance away from the main building so it seemed that shack was targeted," Blue said.
He also explained how Taliban militants had wrecked many buildings in their path during their brief capture of Kunduz – private homes, NGO offices, even a local agronomy center that was used as a seed exchange for local farmers. In the daytime, the city was mostly secure with the occasional sound of gunfire in the distance. The road out to the north was still contested, and in the evening an artillery barrage lasted for more than three hours.
"They clearly wanted to leave their mark everywhere they could," he said. "They targeted anything that smacked of any kind of official function. There was a lot of vandalism and arson."