Thirteen international students died and dozens more were injured when a bus carrying students crashed in Spain's northeastern Catalonia province, officials said Monday.
Twenty-three people remained in hospitals early Monday, some of them in critical condition, according to the official Catalan News Agency, which reported that all of the dead were female. Their ages weren't reported.
The bus crashed near Freginals, about 90 miles south of Barcelona, on the AP7 highway, which links Spain to France. Jordi Jane, the Catalan home affairs minister, said the coach "hit the railing on the right and swerved to the left so violently that it veered onto the other side of the highway."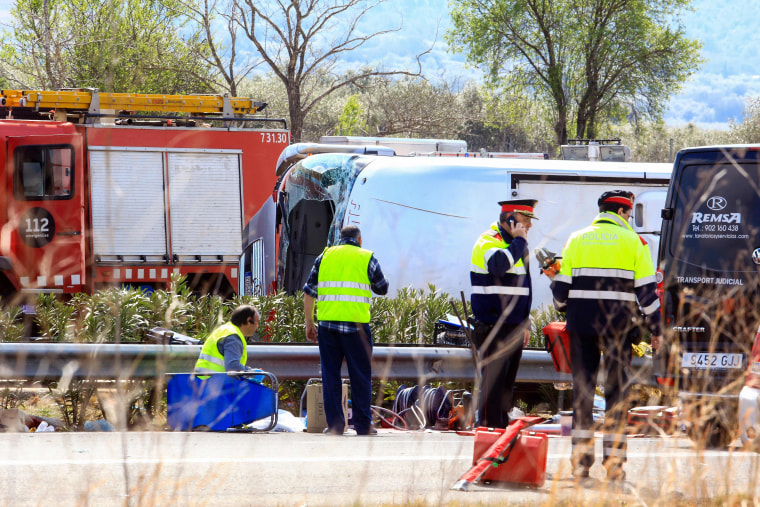 The bus was one of five transporting foreign and local students from the University of Barcelona back home after they attended the Fallas fireworks festival, said Jane and the Erasmus Student Network exchange program, which organized the trip.
The driver was being held at a police station in the city of Tortosa, Jane said. Although the cause of the accident remained unclear early Monday, an initial investigation indicated human error, he said, noting that road conditions were good.
CNA reported that emergency services confirmed that the students on the affected bus were from 19 countries or territories: France, the Netherlands, Finland, Hungary, Germany, Sweden, Norway, Switzerland, the Czech Republic, New Zealand, Great Britain Italy, Peru, Bulgaria, Poland, Ireland, the Palestinian territories, Japan and Ukraine.
They weren't immediately able to confirm the nationalities of the 13 who were killed.
The president of Catalonia declared two days of national mourning, and the University of Barcelona expressed condolences to the families of those affected on Twitter..