Former President George W. Bush and former first lady Laura Bush were back at the White House on Thursday for the unveiling of their official portraits.
President Obama and first lady Michelle Obama welcomed their predecessors to 1600 Pennsylvania Avenue for an event devoid of partisanship, setting aside the political differences between the two administrations.
"Mr. President, thank you for your warm hospitality. Madam First Lady, thank you so much for inviting our rowdy friends to my hanging," Bush said to laughter before an audience that included his two daughters, a number of former aides and his mother and father, former President George H.W. Bush and former first lady Barbara Bush.
Bush's laugh line was just one of many lighter moments in a ceremony that might have otherwise had the potential for awkwardness, given the frequency with which Obama often says his successor's policies are to blame for the nation's current woes.
Obama didn't shy away from addressing one of the biggest shared issue of their presidencies: the economic crisis that took hold in 2008.
"Over those two and a half months, in the midst of that crisis, President Bush, his Cabinet, his staff, many of you who are here today went out of your ways -- George, you went out of your way, to make sure that the transition to a new administration was as seamless as possible," Obama said.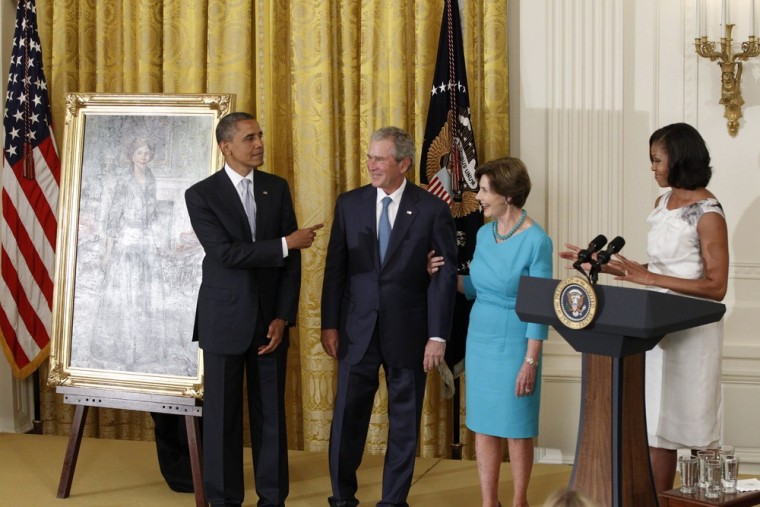 And Obama gave Bush his due for their shared role in hunting down Osama bin Laden:
"That's why my first call, once American forces were safely out of harm's way, was to President Bush because protecting our country is neither the work of one person nor the task of one period of time. It's an ongoing obligation that we all share."
Any of the weightier matters were dispelled, though, by Bush's laugh-out-loud performance. He started off saying how pleased he was that the White House portrait collection now begins and ends with a "George W." (or George Washington).
"When the British burned the White House ... in 1814, Dolly Madison famously saved this portrait of the first George W. Now Michelle, if anything happens, there's your man," Bush joked. (During her speech, First Lady Michelle Obama promised she'd go straight for his portrait.)
And former President Bush didn't spare the current president: "I am also pleased, Mr. President, that when you are wandering these halls as you wrestle with tough decisions, you will now be able to gaze at this portrait and ask: What would George do?"
The event was somewhat of a family affair; at least 14 members of the Bush clan were on hand for the official unveiling of the portraits, which were done by artist John Howard Sanden.
Noting everyone assembled, Bush joked upon introducing Laura: "It is my privilege to introduce the greatest first lady ever. Sorry, Mom. Would you agree to a tie?"
Laura Bush didn't miss a beat, either.
"It was really gracious of you to invite us back to the White House to hang a few family pictures. And I'm sure you know nothing makes a house a home like having portraits of its former occupants staring down at you from the wall," the former first lady said.
Bush's portrait, which was completed in 2011, depicted him standing in the Oval Office; Laura Bush's portrait has her in the Green Room. The former first lady's portrait was finished early this year. Bush 43's portrait will hang down a hall from his father's portrait in the White House, a point that made for a poignant moment.  "I am honored to be hanging near a man who gave me the greatest gift possible: unconditional love. And that would be number 41," he said, to sustained applause.