BEIRUT, Lebanon — A refugee dad who triggered a worldwide outpouring of compassion when he was pictured selling pens while carrying his sleeping daughter has spoken out for the first time, telling NBC News that the money donated will give his family a new life.
Exhausted Syrian entrepreneur Abdul Halim, 35, captured hearts around the world when images of him trying to make money on the streets of Lebanon went viral on Twitter.
He was identified and tracked down with the help of activists, and a crowdfunding page saw donations reach $125,000 within 48 hours.
In his first television interview, Halim said he would use the donations to ensure his 4-year-old daughter, Reem, and 9-year-old son, Abdalla, can go to school.
"My goal for their future is to teach them. I don't want them to stay with me on the streets," he told NBC News from the threadbare, 430-square-foot apartment in southern Beirut where he found shelter.
"I don't want my daughter to stay on the streets, and I want to teach my son. That is all that matters to me, us," he added.
Halim fled over the border from Syria three years ago, one of thousands entering Lebanon to escape the civil war in their own country. Like many, he has been unable to find permanent work.
"This campaign will change my life positively. I want to help my siblings and help the Syrians here in Lebanon. I want to help my parents, my siblings that live in Syria," he said.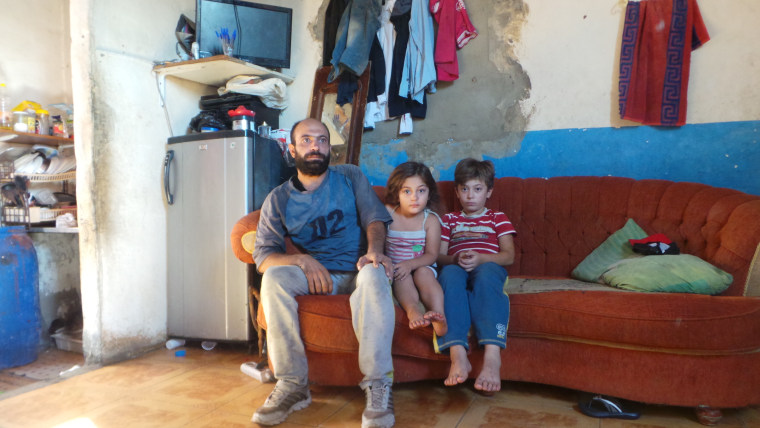 A poignant image of Halim carrying a sleeping Reem on his shoulder went viral after it was posted on Twitter and retweeted by Norway-based Gissur Simonarson.
Simonarson was flooded with requests to help, so he set out to identify the mystery man with the help of Twitter users in Beirut and the hashtag #buypens. Halim was identified within 24 hours by local activists who recognized him.
"He was a little spooked because of people were coming up to him on the streets and talking to him. He started going to different places (than) usual, so it took a while to find him even though we quickly knew who he was," Simonarson said.
"Somebody has bought him a phone so that we can call him and talk to him."
Simonarson is now working with local officials, including representatives from UNICEF, to ensure Halim and his family are safe now that they are in the global spotlight.
Halim and his family first fled Syria when their camp was bombed. "I was afraid for my children, so I traveled to Egypt immediately," he said.
"There are 1,500 kids on the streets. I hope that what happened to me with this campaign can happen to every kid on the street."
After eight months he returned, but one day he awoke to find his wife and wider family had disappeared. He went to Lebanon.
"They were giving me $17 a day but $250 was spent on living costs. So I just kept on selling pens, and thank god the pens have allowed me to eat, drink and pay my rent."
Why did he decide to sell pens?
"Because I realized pens are the only things that worked. Everyone uses pens. And thank God I have been selling pens for three years and a half."
He added: "I want my kids to learn something they will benefit from, but our country's situation is difficult, so we couldn't teach our kids."
"Syrians here are suffering. What can I say, thank God I am living in a room but there are Syrians living on the street," Halim said. "There are 1,500 kids on the streets. I hope that what happened to me with this campaign can happen to every kid on the street."
If his situation improves, he hopes to open his own shop. But he wants ultimately to return to Syria, which he called "the best country in the world."
"There needs to be a solution," he said. "We want peace. We want to solve the problems."
Alastair Jamieson reported from London.