A refugee dad who was pictured selling pens on the street to support his children has received almost $170,000 in donations — but will have to wait up to three more weeks before he can start a new life with the money.
Syrian Abdul Halim, 35, captured hearts around the world when images of him carrying his sleeping daughter while trying to make money on the streets of Beirut went viral on Twitter.
He was later identified and tracked down in the Lebanese capital. As of 11 a.m. ET on Tuesday, a crowdfunding page for him had attracted almost $169,000 in donations from more than 6,280 well-wishers in 105 countries in just five days.
Local activists have paid the rent on Abdul's shabby 430-square-foot apartment in southern Beirut for the next month, and bought him food.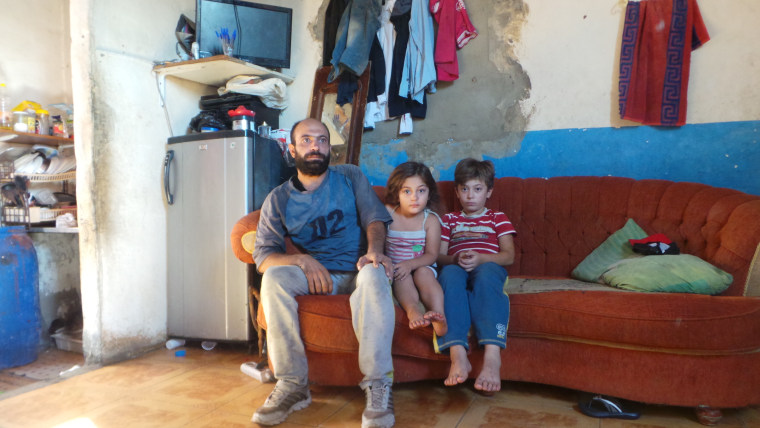 However, the money raised as part of the #BuyPens campaign cannot be passed on until the donation period ends on Sep. 11. It can take up to 15 days for the funds to be released.
"We are all very invested in this man's life now, and we want to make sure he gets help as soon as possible," campaign organizer Gissur Simonarson wrote in an update late Monday. "Unfortunately we need to wait for this campaign to finish, which will take 10 more days. Then Indiegogo can take up to 15 days to process the funds before we get them."
"The good news is that [local activist and journalist] Carol Malouf is on the ground with Abdul. She has helped him get food, paid for his rent ... and has been working on getting his paperwork in order in Lebanon."
In his first television interview, Halim said he would use the donations to ensure his 4-year-old daughter, Reem, and 9-year-old son, Abdalla, can go to school — and to help other Syrians.
"My goal for their future is to teach them. I don't want them to stay with me on the streets," he told NBC News. "I don't want my daughter to stay on the streets, and I want to teach my son. That is all that matters to me, us," he added.
Halim fled over the border from Syria three years ago, one of thousands entering Lebanon to escape the civil war in their own country. Like many, he has been unable to find permanent work.
"This campaign will change my life positively. I want to help my siblings and help the Syrians here in Lebanon. I want to help my parents, my siblings that live in Syria," he said.