JERUSALEM — A phone call from President Donald Trump interrupted a police inquiry into Israeli Prime Minister Benjamin Netanyahu, who was on Monday being questioned for a fourth time over suspicions of corruption.
Not long after sitting down with police investigators at his residence in Jerusalem, one aide said, Netanyahu briefly excused himself to speak with Trump.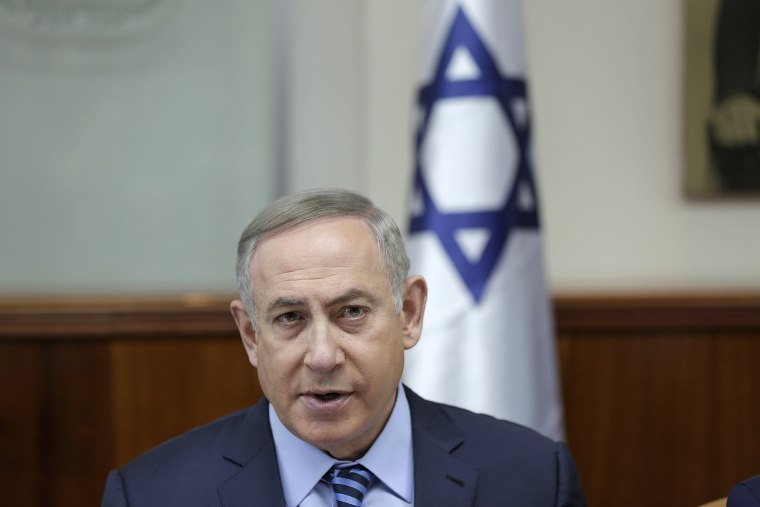 "The two leaders spoke at length about the dangers posed by the nuclear deal with Iran ... and about the need to work together to counter those dangers," Netanyahu's office said in a statement issued just before details of the police probe led prime time news.
Netanyahu, 67, is a suspect in two cases, one involving the receipt of gifts from businessmen and the other related to conversations he held with an Israeli newspaper publisher about limiting competition in the news sector in exchange for more positive coverage.
Related: Netanyahu Has Been Questioned by Police 'Under Caution'
No charges have been brought against Netanyahu, who has been in power since 2009 and has denied wrongdoing.
A police spokeswoman said a statement would be released after the session. "We are in the final stages," Police chief Roni Elsheich told reporters earlier about the investigation.
Once it is complete, police will decide whether to drop the case or recommend the attorney general bring charges.
As speculation bubbles, politicians from across the spectrum have begun maneuvering, believing early elections will probably have to be called if Netanyahu is indicted.
Such a move would most likely lead to his resignation — in 1993 the Supreme Court set a precedent for ministers to step down if they are charged with corruption.
It is possible someone from his Likud party could replace Netanyahu without a new vote, but many analysts think it unlikely, predicting an election would have to be called for September or November, depending on developments.
The opposition Labour party will hold primaries in July, former defense minister Moshe Yaalon has launched his own party and Avi Dichter, the former head of the Shin Bet intelligence agency and a senior member of Likud, said on Saturday he would consider running for the party leadership.
Related: Trump, Netanyahu Bond During Transition
"I am here to lead and will undoubtedly run for Likud leadership and the premiership," Dichter was quoted as saying, comments his spokesman said were not a challenge to Netanyahu and referred to future primaries.
To analysts, the rumblings are clear and foreshadow change after 20 years of Netanyahu dominating the landscape.
"Active politicians and those on the benches waiting to enter, all of them have concluded that early elections are coming because of the investigation," Menachem Klein, a politics professor at Bar-Ilan University, told Reuters.
"They are starting to prepare themselves."