The political movement of French presidential candidate Emmanuel Macron said it has been hacked and internal information leaked in a cyber-attack hours before polls re-opened in the country's hugely consequential election.
En Marche! said it "was the victim of a massive and coordinated piracy action" and emails, accounting documents, contracts and other materials were disseminated on social media. It said part of the leak involves false documents.
The timing of the leak, hours before the statutory final-day campaigning ban came into effect, means Macron will not be able to respond to any potential revelations before Sunday's second-round vote, in which he faces a challenge from far right populist Marine Le Pen.
The restriction on campaign activity and local media coverage came into effect at midnight Friday and remains in place until polls close at 8 p.m. (2 p.m. ET) Sunday.
France's electoral commission on Saturday told media outlets not to reproduce any information hacked from Macron's campaign, warning that doing so would be a criminal offence, Reuters reported.
Macron's team compared the leak to hacking during the U.S. presidential election in which Democratic Party institutions were breached. The email account of chairman of Hillary Clinton's campaign, John Podesta, was also hacked and emails were released. The U.S. intelligence community believes Russia was involved but Moscow has repeatedly denied the accusations.
It was not immediately clear who was behind the En Marche! cyber-attack. Last month, groups linked to Russia were accused of targeting Macron's campaign. At the time, spokesperson Laurence Haim said the campaign was the target of a "sophisticated" phishing attack, and the attack was "absolutely not successful."
France's Interior Ministry said it would not comment, citing the electoral rules.
Related: Emmanuel Macron: The 'Knight' Whose Job It Is to Slay France's Far Right
Some nine gigabytes of data were posted by a user called EMLEAKS to Pastebin, a document-sharing site that allows anonymous posting, Reuters reported. It wasn't clear if any of the documents were genuine.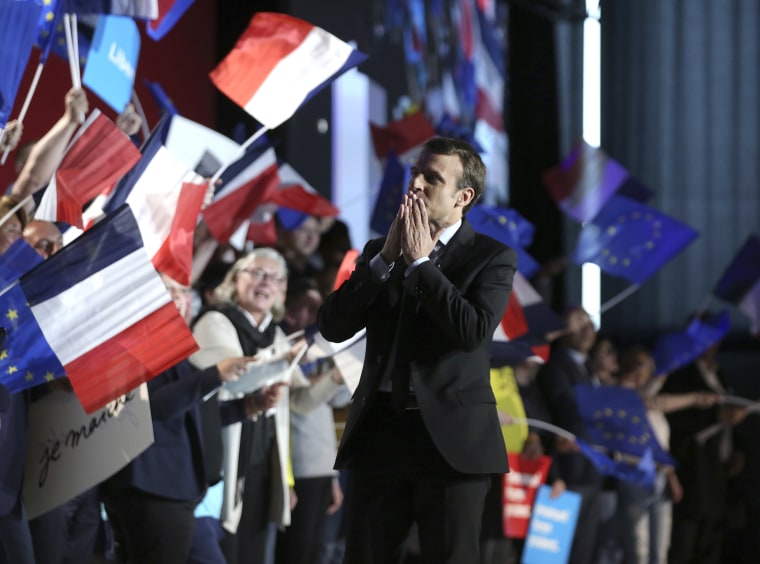 The Associated Press reported that that shortly before midnight French time, someone on 4chan — a message board known for, among other things, elaborate hoaxes and political extremism — posted links to a large set of data purportedly taken from the campaign of Macron.
En Marche! said Friday's leak was "obviously a democratic destabilization, as it has already been seen in the United States during the last presidential campaign."
"The aim of the authors of this leak is obviously to harm the movement En Marche! just a few hours from the second round of the French presidential election," En Marche! said in the statement.
Related: An Army of Women Quietly Backs France's Far-Right Candidate Le Pen
It said the documents "are all legal and reflect the normal functioning of a presidential campaign." It said the files were stolen several weeks ago.