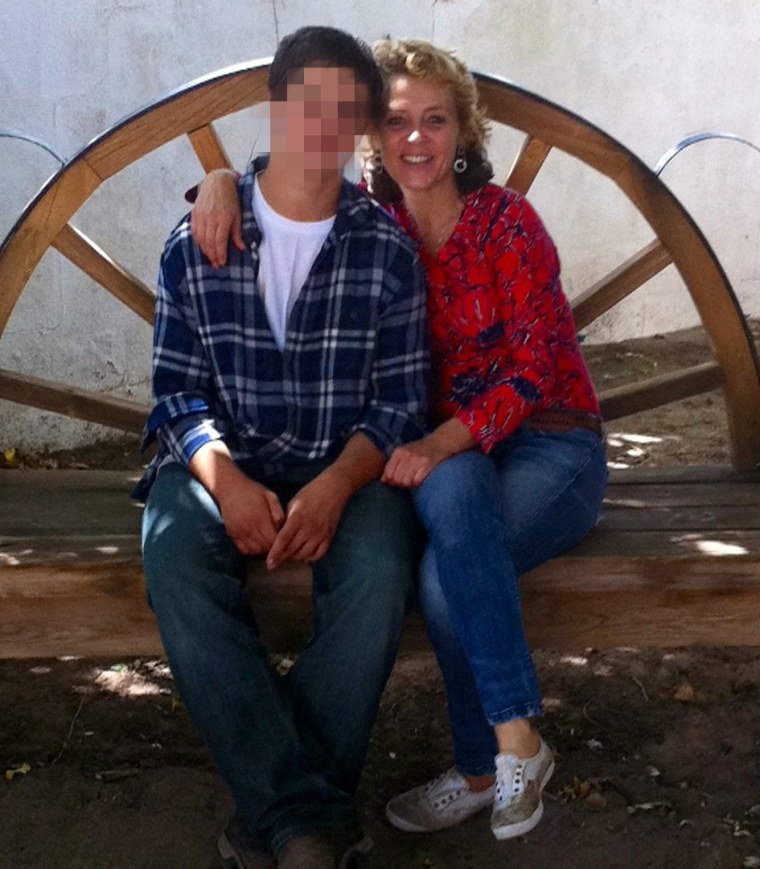 The mother of a former student at the New Mexico camp for troubled kids that was raided by police amid abuse allegations this weekend said she thought "John Wayne" had come to her rescue when she entrusted her son to ranch owner Scott Chandler.
"I was a desperate parent trying to get my kid help," said Barbara Holler. Tierra Blanca Ranch, the 30,000-acre spread in the high desert that the burly, cowboy-hat wearing Chandler extolled in online videos, appeared to offer a refuge. "I chose that place because it seemed like my son was going to do well there."
But now, says Holler, her son hates her "with all his heart," claiming that during his time at Tierra Blanca residents were beaten and forced to go without food and work 15-hour days.
Authorities are investigating Chandler's ranch, amid questions about why a facility where students have alleged abuse in police reports since 2006 has been allowed to operate without a license for nearly 20 years.  
Throughout the country, thousands of kids with behavior problems are spending weeks, months and even years at wilderness camps, boot camps and residential facilities with wilderness programs. According to federal data, about 6,000 kids are currently in camp facilities after being shipped there by the courts, while other kids with behavior problems are sent by their parents to expensive "private pay" centers like Tierra Blanca. Though figures for "private pay" facilities are scarce, the industry's main trade group, the National Association of Therapeutic Schools and Programs (NATSAP), says that its membership, which includes some wilderness camps but not boot camps, serves 4,500 youths.
The methods allegedly used at some treatment facilities for at-risk teens have been a regular source of legal trouble for their operators since the programs became common 30 years ago. A 2007 GAO report found thousands of allegations of abuse between 1990 and 2007, including reports of death and abuse recorded by state and federal agencies and in "pending civil and criminal trials with hundreds of plaintiffs."
"For example," said the GAO, "during 2005 alone, 33 states reported 1,619 staff members involved in incidents of abuse in residential programs." The report also said, however, that the GAO could not "identify a more concrete number of allegations" because no entity collects comprehensive data.
According to lists compiled by the Salt Lake Tribune and critics of the programs, three dozen kids died between 1990 and 2007 while enrolled in wilderness programs. They died from accidents and natural causes, but also from suicide, heat stroke and injuries sustained while being restrained by counselors. In a famous 1994 case, 16-year-old Aaron Bacon of Arizona died of peritonitis during a two-month wilderness trek conducted by North Star Expeditions. Seven staff members were convicted of or pleaded guilty to charges that included felony neglect and negligent homicide, and the program was shuttered.
Yet the industry has survived both legal problems and the increasing reluctance of private health insurers to help pay the hefty price tags, which can run up to $500 a day. In Utah, the state where many wilderness therapy programs took root, regulators have tightened standards to prevent further incidents, said Joanna Schaefer, a University of Utah professor who has worked on wilderness programs in both Utah and Colorado. Rules cover everything from calorie intake to maximum temperature allowed on hikes, "I hope [incidents] are not able to happen in Utah any more because state regulations have gotten so strict," said Schaefer, who also said that teens are more likely to be hurt playing football or in a car than in wilderness programs.
But there is still no overarching federal regulation of the industry, and licensing and standards vary widely from state to state. A second GAO report from 2008 said oversight gaps "may place youth in some facilities at higher risk for maltreatment and death," and that "inconsistent … authority" might have led to underreporting of "maltreatment incidents."
"We see widespread problems in the industry because it's an unregulated industry," said Sunny Linkfield, the former president of a national advocacy group for former residential program youths called CAFETY. She said that common issues include a lack of licensed professionals, and the restriction of food, water and toilet privileges, which she said she experienced first-hand as a two-year resident of a program in the 1980s.
"Many of these facilities that are taking children and trying to reprogram them will use techniques that are very scary and abusive," said Linkfield. "The Army will break someone down but then rebuild them into someone stronger and better. In these programs they break them down but don't build them up again."
Three former students from Tierra Blanca Ranch who made abuse allegations during an interview with NBC affiliate KOB of Albuquerque last week alleged that they were shackled and handcuffed, forced to work and exercise long hours, beaten by staff and forced to beat each other up for infractions. They also said that they had never met with therapists, counselors or substance abuse specialists while at the ranch.
During a press conference just days prior to Friday's raid on his ranch, Scott Chandler rebuffed questions about credentials.
"The proof is in the pudding," he said. "We do not claim to be a facility … We claim to be extensions of (the) parents."
He also disputed allegations of abuse and said the charges were baseless. "It's all been very exaggerated and blown out of proportion. … We did not do anything illegal," Chandler said.
After the raid last Friday, another former resident came forward to tell KOB about his alleged treatment at the ranch. Connor Griffoul ran away from the ranch in 2008, stealing a satellite phone so he could call his mother. In the interview, he alleged that he had worn shackles, handcuffs and an orange jumpsuit for three months straight, and had been allowed seven showers during his whole nine-month stay. When Griffoul was found by a police officer after running away, the officer reported that Griffoul was wearing shackles.
San Diego attorney Steve Cowen, the father of another former student, began prodding officials to investigate Tierra Blanca Ranch in late 2012 after what he described as a disturbing encounter with his son Jonathan.
According to Cowen, Jonathan, whom he'd sent to the ranch because he was a "low-level nuisance" who smoked marijuana, let his grades slip and violated curfews, turned into a skinny stranger with a "1,000-mile stare."
"He had been this long-haired beach skater kid," recalled Cowen. "When I saw him, he was crew-cut, dirty, and looked exhausted and scared." Cowen said Jonathan spoke of beatings and midnight calisthenics and living on rice and beans, and was so scared of the ranch staff that "he said, 'If there was a pile of dog crap over there and they told me to eat it, I would.' "
Cowen contacted former students via the Internet, and compiled a 28-page report that he sent to state officials last December, but said that "agency after agency" seemed uninterested.
Click here for KOB's ongoing investigation of Tierra Blanca Ranch
The Sierra County Sheriff's Department, however, began investigating the ranch, and then passed the investigation over to the state police. The police raided Tierra Blanca on Friday, armed with a search warrant, only to find Chandler and nine students missing on what a ranch lawyer called a preplanned outing.
The police issued an Amber Alert for nine boys aged 13 to 17. The boys were all reunited with their families before the end of the weekend, leading some to question the necessity of the alert.
On Monday, New Mexico Governor Susana Martinez said the search of the ranch had yielded evidence that "did corroborate some of the allegations" of some of the ex-students. Authorities are still seeking Chandler for questioning.
Prior to the raid, Chandler had filed a complaint with the state challenging the investigation and the closure of the ranch, and he continues to have defenders. Former students have offered testimonials. According to Steve Cowen, his son Jonathan appeared alongside Chandler at his pre-raid press conference in Albuquerque.
Chandler's attorney, Pete Domenici Jr., said that Chandler had made himself available for questioning "prior to the unnecessary escalation of this situation," but that he had now advised his client "not to make direct contact with the New Mexico State Police."
A spokesperson for NATSAP emphasizes that Tierra Blanca is not a member of the trade group and is not licensed. The spokesperson said that the group gets many calls from distraught parents searching for an appropriate program, and recommends that parents make sure a program is accredited and holds a therapeutic license. They should also check with state regulators to see if complaints have been lodged and how they were resolved.
"There are bad apples in any industry," said the spokesperson, "but for every complaint there are many success stories of kids who learn a different way to live and go on to have productive lives."
Mark Covall, president and CEO of a second trade group called the National Association of Psychiatric Health Systems, said that an unregulated facility is now "the exception versus the norm," and that almost all of the facilities the group represents are state-licensed and accredited by national organizations.
Covall also said that observers needed to understand that the youths sent to residential centers "have major behavioral health-care problems" that can include drug addiction and psychiatric conditions, and may not be happy about receiving treatment.
"The treatment that's provided can be viewed by the patient, the individual, as something that they would rather not (receive)," said Covall. "They would rather not be there, because of their illness. … This is a terrible situation for these young people, and they're struggling to make sense of it."
More from NBC News Investigations: