ROME — He has been nicknamed "Italy's Tony Blair" for his promise to modernize the country's center-left party. Others compared him to the "Fonz" from Happy Days, because of his youthful looks and penchant for leather jackets.
But to most Italians, Matteo Renzi is simply known as "The Scrapper," for his call to scrap the entrenched Italian political establishment, widely discredited as a corrupt, moribund institution that has consistently failed the people.
The charismatic 39-year-old Democratic Party leader and mayor of Florence formed Italy's newest government on Friday.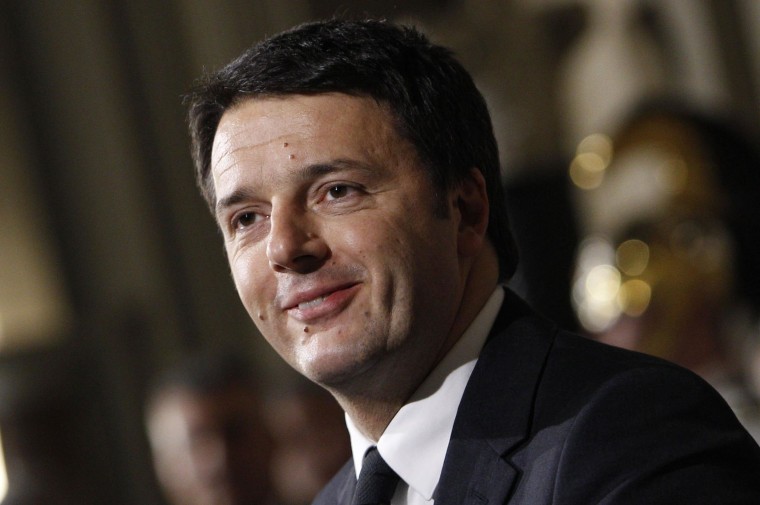 Even though he has never been elected as a member of parliament, he will become Italy's youngest prime minister when he is sworn in Saturday.
Despite his rapid rise to power and widespread popularity among Italian voters, many Italians wonder if the mayor of the Renaissance city is really ready to run one of Europe's biggest economies.
Unorthodox background
A former boy scout, Renzi made his first TV appearance on Italy's version of "Wheel of Fortune" in 1994. He won $30,000 on the show and luck has been on his side since then.
He entered politics as a young Democrat and quickly rose through the ranks to become Tuscany's governor. He then caught the nation's attention as the straight-talking mayor of Florence.
The "wildly ambitious" Renzi, in his own words, caused a split in the old political guard in Rome. Some liked his enthusiasm and charisma, while others accused him of being a mere self-promoter.
In 2012, in his trademark defiant style, he took a gamble and ran for his party's primaries against the experienced Pierluigi Bersani. He lost, but after Bersani failed to win the elections a few months later, Renzi came back with a vengeance.
He was elected leader of the Democratic Party just in December 2013, and said he would support the government led by Enrico Letta. To reassure his fellow party member, he even created the famous hashtag #Enricostaisereno ("Enrico, don't worry"). And he famously said "Nobody wants to take your place. Go ahead, do what you need to do. Do it."
Days later, he convinced his party to gang-up on Letta and literally pushed him out of the job to replace him with another member of the party with "more courage and energy": himself.
Italy's President Giorgio Napolitano asked Renzi to form a new government and urged expediency.
"We cannot afford the luxury of losing this occasion," Napolitano said, according to Reuters.
To make Renzi's quantum leap in Italian politics even more remarkable is the fact he was never even elected as a member of parliament. His unfamiliarity with the Lower House of Parliament became clear upon his triumphal arrival in Rome from Florence: "Where do I need to go?" he asked at the door.
'You are not credible'
But he has his critics, like Ornella De Zordo, an opposition councilor in Florence who told the BBC that Renzi is better at making promises than keeping them.
"He's used the slogan 'Said, Done!' many times," she told the BBC. "I would say 'Said, But Not Done!' because Matteo Renzi is very good at a communicational level - at making announcements. But when you look at his record, things are very different. He sells himself very well."
And Beppe Grillo, another unconventional Italian leader, is not a fan. Grillo, one of Italy's most famous comedians turned leader of the anti-establishment Five-Star Movement that won 25 percent of the popular vote in elections last year, was quick to criticize Renzi as inexperienced.
"You are not credible!" Grillo screamed at Renzi during a meeting on Wednesday that was streamed online, Reuters reported. "You represent banks and the 'poteri forti.' You are young, but also old."
The "poteri forti" is a loose term widely used in Italy to describe the establishment forces in the country - from the banks and major national companies like Fiat to the Roman Catholic Church.
One fan: Berlusconi
But Renzi has made a career out of presenting himself as the anti-establishment politician and has promised to stay away from the influence of the "poteri forti." He says the "energy and courage" he is capable of, as promised via twitter (@matteorenzi), are just as important as experience.
And he may need a good dose of both, as he promised Italians to do in the first 100 days what countless Italian governments failed to do in 30 years: to pass one major reform per month on labor, the economy and voting laws.
Among his many fans in parliament, the most unexpected is Silvio Berlusconi, the three-time prime minister who still leads the opposition despite being expelled from the Senate after a recent conviction for tax fraud.
"I had the pleasure today of meeting a prime minister-designate that is exactly half my age," Berlusconi said after meeting him on Wednesday. "This seems like a good signal for the renewal of the country."
His term may start under at least one dark cloud: He will become the third consecutive prime minister in Italy appointed directly by the president without an election.