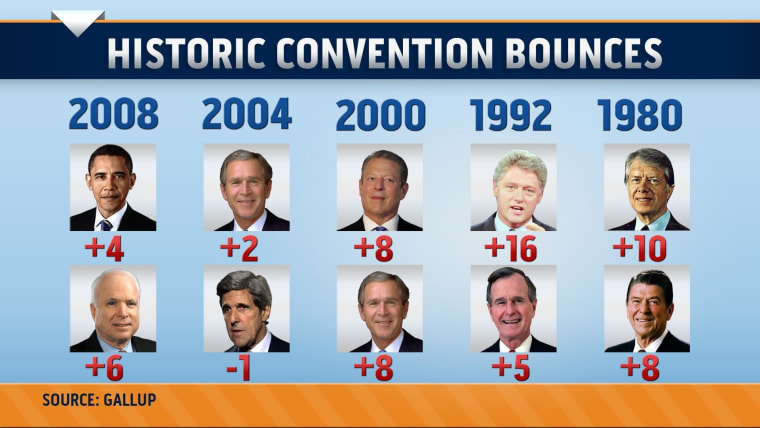 Each political party's nominating convention serves to promote its candidate for president, and history shows that all the speeches, balloons, and morale boosting really do work.
Republican nominees for president historically see a five point improvement in national polling, while Democrats average six points (inched up by an usual 16-point bounce from Bill Clinton in 1992's race that included third-party candidate Ross Perot), according to Frank Newport, editor-in-chief of the Gallup Poll, who appeared on Jansing & Co. Friday. 
Newport said to look for any "bounce" in Romney's performance to show up this weekend once the entirety of the Republican convention, which ended Thursday night, sinks in.
Democrats, though, will have a chance to offset any jump in the polls by Romney with their own convention that kicks off Tuesday, September 3.
The poll taken during the week after both party conventions have finished will be the more important one to track, Newport added. It "will really let us see has the race been fundamentally reset?... that sets the stage for the next phase through October 3 [the day of the first presidential race debate]."
A post-convention improvement by either Romney or Obama does not guarantee success, of course.
"Getting the bounce helps set the stage, but it doesn't necessarily mean that person is going to win," said Newport.