With fewer than 10 days until France casts its votes in the first round of the presidential election, Nicolas Sarkozy's poll lead is shrinking, suggesting his deft handling of last month's shootings in Toulouse won't be enough to protect him from anger at the state of the economy.
Three opinion polls showed the incumbent's narrow lead over challenger Francois Hollande is steady or shrinking for the April 22 first round, and Sarkozy is still expected to lose the subsequent May 6 runoff.
"He's been trailing Hollande in the second round pretty consistently," Justin Vaïsse, a senior fellow at the Brookings Institution, told msnbc.com. "It's hard to see where the reservoir of votes would come from to make him win."
Sarkozy saw his lead for the first ballot slip to half a percentage point from two points a week ago in a poll by Ipsos Logica, with 29 percent support to Hollande's 28.5 percent.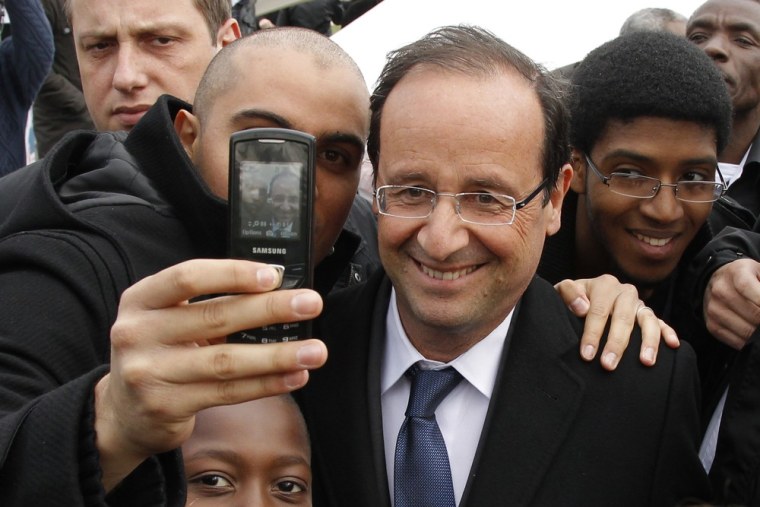 The same poll showed Hollande retaining a 10-point lead in voting intentions for the May 6 runoff with 55 percent to Sarkozy's 45 percent, unchanged from a week earlier.
An Ifop Fiducial poll showed Sarkozy with 28.5 percent to Hollande's 27 percent in round one, unchanged over the last month - but Hollande's lead in the run-off narrowed to six points from eight points two weeks ago.
A third poll by Harris Interactive gave Sarkozy a one-point lead in the first round at 28 percent to Hollande's 27, down from 3 points a week earlier. It too put Hollande ahead of Sarkozy 53 to 47 in the runoff.
All three polls indicated far-right candidate Marine Le Pen had strengthened her position in third place, ahead of hard left candidate Jean-Luc Melenchon in fourth.
The campaign kicked off on April 9, bringing political ads to radio and TV stations and giant posters to the streets. But the race started months ago for the 10 candidates, and some experts say the most interesting days are already behind us.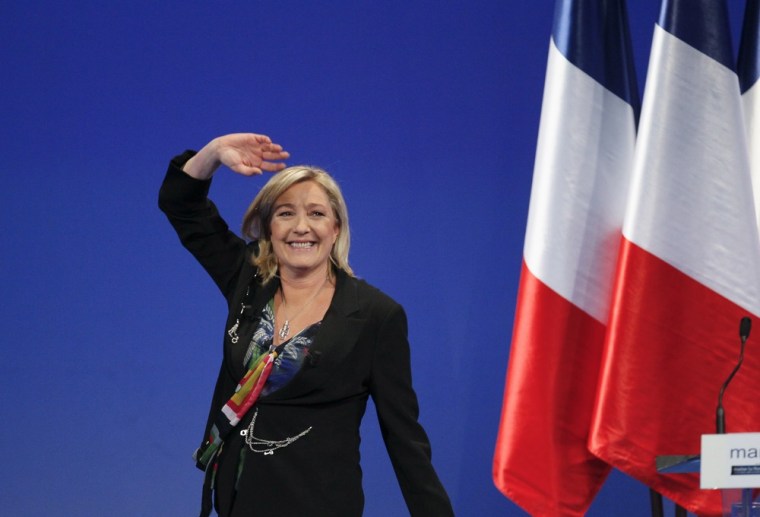 "Overall it's been a boring campaign," Vaïsse said, adding that over the past few weeks the race has been bogged down by small issues such as halal meat and the cost of earning a driving license. In comparison, the 2007 race that Sarkozy won focused on issues such as unemployment and European disunity, he said.
Polls show the electorate is growing weary of the rhetoric as well. A recent national survey found 32 percent of respondents don't plan on hitting the polls, a figure that Jonathan Laurence, nonresident senior fellow at Brookings and term member of the Council on Foreign Relations, says is atypical. The turnout in the 2007 elections was about 80 percent.
The shift in campaign rhetoric occurred early this year, when Sarkozy went from talking about his important role in the partnership with German Chancellor Angela Merkel in saving the Eurozone to discussing immigration and threatening to pull France out of Schengen, Europe's open border zone.
He went from being the "locomotive of Europe" to playing the anti-Europe card, Vaïsse said.
For voters, issues such as unemployment, the nation's debt and deficit and education are bigger priorities than Islam and immigration, Vaïsse added. But for the right-wing voters Sarkozy is trying to coax to his side, they are seen as essential.
That conversation took center stage following a deadly shooting in Toulouse, where Mohamed Merah, a 23-year-old Frenchman killed three Jewish schoolchildren, a rabbi and three French paratroopers in three separate attacks. The Toulouse shootings allowed Sarkozy to act presidential, Laurence said.
His handling of the crisis was reflected by a slight uptick in the polls, but Vaïsse said the Toulouse effect is unlikely to make a big difference in the long run.
In the end, the election is a referendum on how Sarkozy and his government handled the economic crisis, Laurence said.
With unemployment at a 12-year high and France stripped of its AAA status by one credit rating agency, the Bank of France offered no redemption for Sarkozy's economic record.
Figures for growth were revised downward, a trend that Hollande could benefit from. Sarkozy advocates financial discipline and austerity, but that's not enough to solve the growth problem, Vaïsse said.
Hollande has pledged to balance the budget in 2017, Bloomberg reported, while Sarkozy promised to reach the target a year earlier. According to the report, the country's public deficit stood at 5.2 percent in 2011.
"We will keep to the fixed plan of reducing our public deficit to 3 percent [of GDP] in 2013," Hollande said in an interview with La Tribune. "It's France's word."
Hollande said he would finance his plan of increasing spending by 20 billion euros by repealing 29 billion euros of tax breaks for the rich.
While the race for re-election is an uphill battle for Sarkozy, there remains a small possibility he can scrape his way to a second term in office if he wins in the first round and picks up some support from the centrist candidate's electorate, Vaïsse said.
"Frankly, apart from that scenario, it's hard to see how he'll be able to make it," he added.
Reuters contributed to this report. 
More from msnbc.com and NBC News:
North Korea's rocket breaks up after launch
Ex-spy chief looms over election in Egypt
'Fit as a fiddle' Mugabe returns to Zimbabwe after illness rumors
Aged-nun accused in Spanish baby-stealing cases
London bans 'gay cure' ads from buses
Follow us on Twitter: @msnbc_world