Tensions escalated between Canada and India on Tuesday over Ottawa's accusation that New Delhi may have been behind the murder of a Sikh activist on Canadian soil, with both sides expelling senior diplomats as India rejected the allegation as "absurd."
Canadian Prime Minister Justin Trudeau said Monday that his government was investigating "credible allegations" that Indian government agents had been involved in the death of Hardeep Singh Nijjar, whom India had branded a "terrorist" over his advocacy of an independent Sikh state. Nijjar, 45, was shot and killed in June outside a Sikh cultural center in Surrey, British Columbia, a suburb of Vancouver.
"Any involvement of a foreign government in the killing of a Canadian citizen on Canadian soil is an unacceptable violation of our sovereignty," Trudeau told Parliament on Monday. "In the strongest possible terms I continue to urge the government of India to cooperate with Canada to get to the bottom of this matter."
Hours later on Monday, Ottawa announced the expulsion of a top Indian diplomat from Canada, identified by Foreign Minister Mélanie Joly as the head of Indian intelligence.
New Delhi responded Tuesday by saying a senior Canadian diplomat had been asked to leave India within the next five days. The Indian foreign ministry said the expulsion reflected the government's "growing concern at the interference of Canadian diplomats in our internal matters and their involvement in anti-India activities."
India has long accused Canada, which has an influential Sikh community that makes up about 2% of the population, of supporting a movement to establish an independent Sikh nation known as Khalistan.
The separatist movement is outlawed in India but has supporters among the Sikh diaspora in countries such as Canada and Britain, many of whom protested earlier this year when Indian authorities arrested a popular Sikh separatist leader they had been pursuing for weeks.
The Indian foreign ministry dismissed the Canadian allegations regarding Nijjar's killing as "absurd and motivated."
"Such unsubstantiated allegations seek to shift the focus from Khalistani terrorists and extremists, who have been provided shelter in Canada and continue to threaten India's sovereignty and territorial integrity," it said in a statement earlier Tuesday.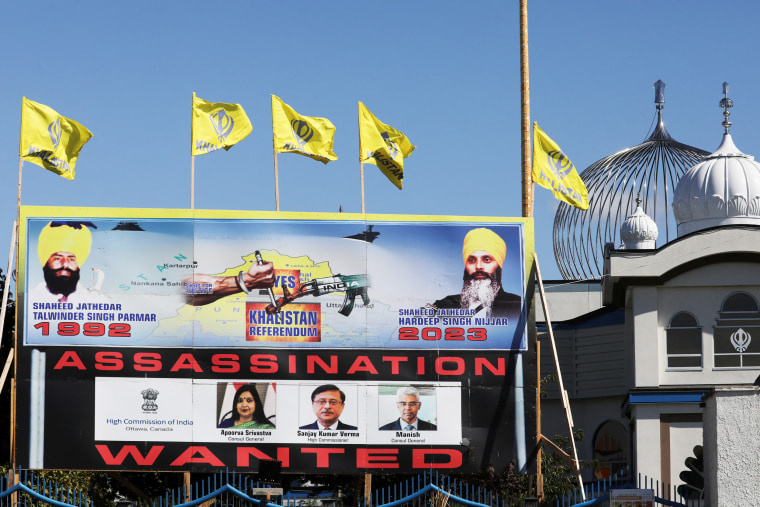 The ministry said the allegations had also been rejected when Trudeau raised them with Indian Prime Minister Narendra Modi, who hosted Trudeau and other world leaders in New Delhi this month at the annual summit of the Group of 20 economies.
The White House said it was "deeply concerned" by Trudeau's allegations.
"We remain in regular contact with our Canadian partners," National Security Council spokesperson Adrienne Watson said in a statement, according to The Associated Press. "It is critical that Canada's investigation proceed and the perpetrators be brought to justice."
Relations between Canada and India were already tense, and unlike other world leaders Trudeau did not have a formal bilateral meeting with Modi during the G20 summit. The two countries have paused talks on an initial trade agreement that they said in May they hoped to seal by the end of this year, and Canada has also postponed a trade mission to India that was planned for next month.
During a brief meeting on the sidelines of the G20 summit, Modi raised concerns with Trudeau over recent protests in Canada by pro-independence Sikhs.
"They are promoting secessionism and inciting violence against Indian diplomats, damaging diplomatic premises and threatening the Indian community in Canada and their places of worship," the Indian foreign ministry said in a readout of the meeting.
The protests in Canada flared up again this summer after Nijjar's death.
The World Sikh Organization of Canada, a nonprofit group, described Nijjar as an "outspoken supporter of Khalistan" who "often led peaceful protests against the violation of human rights actively taking place in India and in support of Khalistan."
"Nijjar had publicly spoken of the threat to his life for months and said that he was targeted by Indian intelligence agencies," it said in a statement on Monday.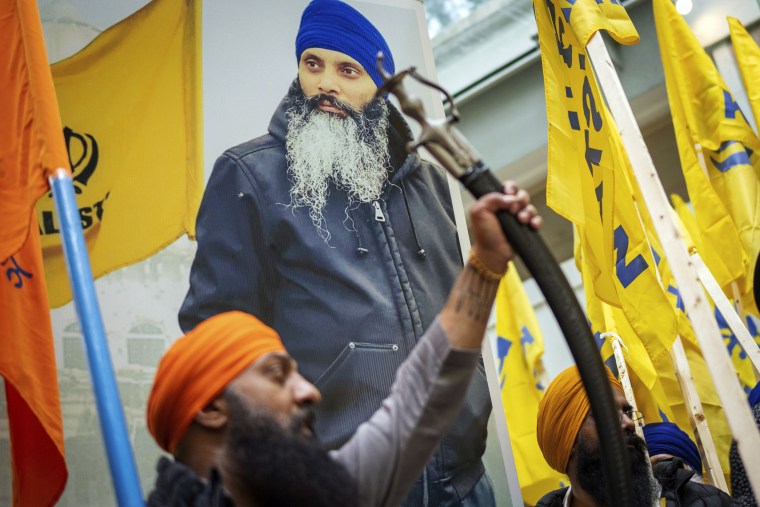 Canadian Public Safety Minister Dominic LeBlanc said Nijjar's death was being investigated as a homicide by the Royal Canadian Mounted Police.
Experts say it will be difficult for Canada and India to restore trust.
"It's very rare in international affairs. It is huge that one big country accuses another large country of interfering in its internal affairs, and especially accuses them of killing their own citizens," Robinder Sachdev, director at the Imagindia Institute, a think tank based in New Delhi, told NBC News.
The trade deal was "extremely important," he said, adding that the dispute is "not good for anyone."
"Things could get worse and end up in a downward spiral. The positions Canada has taken, I think they have made up their mind to go aggressive against India. I don't see much scope of thaw," Sachdev said.
The Khalistan movement traces its roots to 1947, when the partition of India by its departing British colonial rulers divided the Punjab region between India and the newly established country of Pakistan. The northern Indian state of Punjab is home to the majority of India's Sikhs, who make up less than 2% of the country's 1.4 billion population.
Over time the movement turned into an armed insurgency that killed tens of thousands of people in the 1980s and early 1990s, drawing a forceful response from the Indian government. In 1984, Indian armed forces stormed a temple in Punjab where Sikh separatists had holed up, killing about 400 people, according to the Indian government.
Indian Prime Minister Indira Gandhi, who had ordered the raid, was later killed by two Sikh bodyguards, setting off anti-Sikh riots in which thousands were killed.
In June, Indian officials criticized Canada for allowing a parade float depicting Gandhi's assassination that they saw as glorifying Sikh separatist violence.