Canadian Prime Minister Justin Trudeau on Wednesday accepted that he breached ethics rules by trying to influence a corporate legal case after a watchdog's report, but refused to apologize, saying that he was trying "to stand up for people's jobs."
The scathing 63-page report comes just months ahead of a general election in October, in which Trudeau will be seeking re-election.
Conflict of Interest and Ethics Commissioner Mario Dion earlier said Trudeau, 47, and his team attempted last year to "circumvent, undermine and ultimately attempt to discredit" a decision by federal prosecutors that construction company SNC-Lavalin Group Inc should face a corruption trial.
The latest development in the SNC-Lavalin scandal continues to tarnish Trudeau's image as a progressive politician who vowed to make politics more transparent and could dim his chances of winning a second term come October.
The scandal involving Montreal-based SNC-Lavalin made headlines in February.
The firm, a major employer in the politically important province of Quebec, wanted to take advantage of a 2018 law allowing it to escape with a fine rather than be prosecuted for bribing officials in Libya.
Trudeau has admitted he tried last year to persuade former Justice Minister Jody Wilson-Raybould to reconsider the prosecutor's decision to press ahead with a trial.
Wilson-Raybould refused to overrule the prosecutor's decision and was demoted in a cabinet shuffle in January.
Both she and Treasury Board President Jane Philpott, widely regarded as one of the most respected and competent ministers in Trudeau's government, resigned in response.
In a statement released on Wednesday, Trudeau said he accepted the report and took full responsibility for everything that happened.
"The buck stops with me," the prime minister said.
However, Trudeau said he disagreed with some of Dion's conclusions, adding that "many people's jobs were at stake."
Dion found Trudeau had contravened conflict of interest rules forbidding public office holders from trying to improperly further another person's private interests.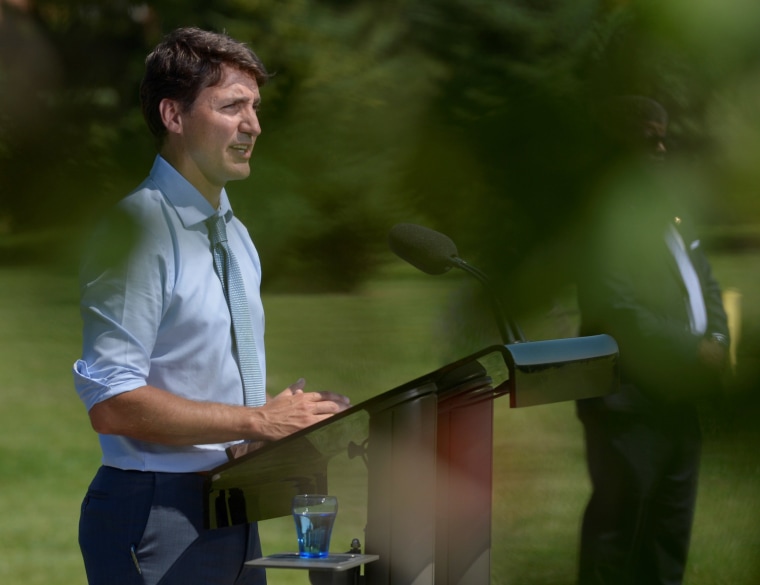 "Because SNC-Lavalin overwhelmingly stood to benefit from Ms. Wilson-Raybould's intervention, I have no doubt that the result of Mr. Trudeau's influence would have furthered SNC-Lavalin's interests. The actions that sought to further these interests were improper," he said.
"The report confirms critical facts, consistent with what I shared with all Canadians and affirms the position I have taken from the outset," Wilson-Raybould said in her own statement on Wednesday.
"There were multiple attempts to improperly influence my decision," she said.
Meanwhile, the Royal Canadian Mounted Police said it was examining the matter carefully and would take appropriate action as required.