/ Source: Associated Press
TORONTO — The first Canadian government plane carrying Syrian refugees arrived in Toronto late Thursday where they were greeted by Prime Minister Justin Trudeau, who has pledged to resettle 25,000 of them by the end of February.
The welcome given to the military flight carrying 163 refugees stands in stark contrast to the United States, which plans to take in just 10,000 Syrian refugees over the next year.
Even that is provoking opposition. Republican presidential candidate Donald Trump caused a worldwide uproar with a proposal to temporarily block Muslims from entering the U.S.
Trudeau greeted some of the families to come through processing. The first family was Kevork Jamkossian, a gynecologist from Aleppo, his wife Georgina Zires, a lab technician, and their 16-month-old daughter Madeleine.
"We really would like to thank you for all this hospitality and the warm welcome," the father said to Trudeau through an interpreter. "We felt ourselves at home."
"You are home. Welcome home," Trudeau responded.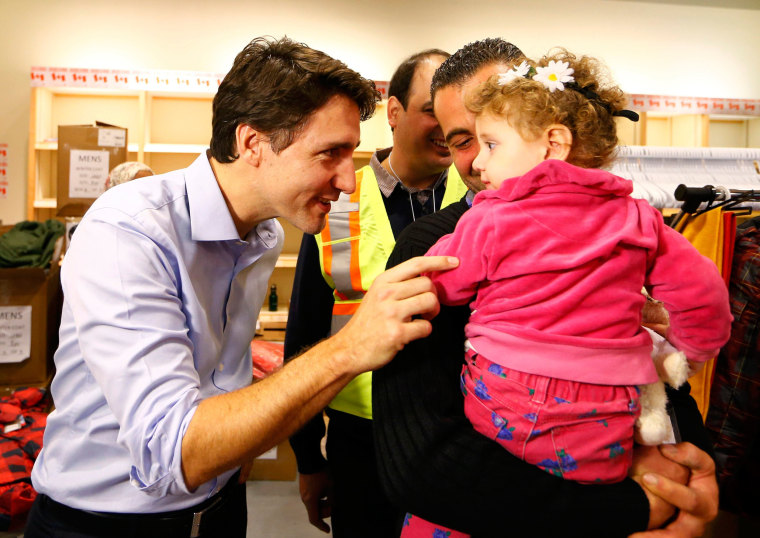 "We suffered a lot. Now, we feel as if we got out of hell and we came to paradise," Jamkossian said later.
Families were given teddy bears and winter clothing. Trudeau earlier thanked staff and volunteers who were processing the refugees.
Photos: Canada Welcomes First Plane of Sryian Refugees
"This is a wonderful night, where we get to show not just a planeload of new Canadians what Canada is all about, we get to show the world how to open our hearts and welcome in people who are fleeing extraordinarily difficult situations," Trudeau said.
Canadians eager to show their support for the newcomers weren't deterred by the fact that they couldn't do so face-to-face as the refugees were processed in a secure area. A handful of people gathered at the international arrivals gate at Pearson airport bearing signs and gifts.
Canada has long prided itself on opening its doors to asylum-seekers. In times of crisis in decades past, Canada resettled refugees quickly and in large numbers. It airlifted more than 5,000 people from Kosovo in the late 1990s, more than 5,000 from Uganda in 1972 and resettled 60,000 Vietnamese in 1979-80. More than 1.2 million refugees have arrived in Canada since World War II.