Canadian politician Jim Prentice and three friends were killed when their plane crashed in British Columbia, authorities confirmed Friday.
A former premier of Alberta and government minister, Prentice was heading home to Calgary from a golfing trip when their twin-engine Cessna Citation crashed around 10 p.m. Thursday local time (1 a.m. Friday ET) shortly after taking off from Kelowna, CTV reported, citing sources.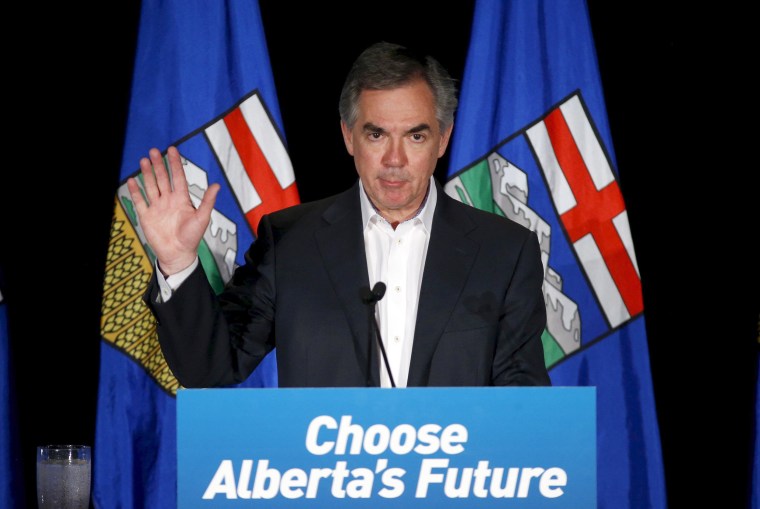 "Our police officers and police dog reached the crash scene shortly after midnight, but unfortunately they were not able to locate any survivors," Royal Canadian Mounted Police Cpl. Dan Moskaluk said in a statement. "There was catastrophic damage at the crash site."
Canadian Prime Minister Justin Trudeau also issued a statement about Prentice's death. "Today, we mourn the passing of a great Canadian," Trudeau said.
A team of investigators from the country's Transportation Safety Board was en route to the crash site to inspect the plane and begin probing the deadly crash, a TSB spokesman told NBC News. The RCMP did not immediately release the identities of those killed in the crash.
Prentice, 60, was a Conservative who bucked his own party in 2005 and voted to support gay marriage. He was also a married father of three daughters and a grandfather of two.
"He was broadly respected in the House of Commons — across all party lines — for his intelligence, commitment, and honest straightforward approach on tough issues," Trudeau said. "I greatly enjoyed the time I spent working closely beside Jim in the House, and know that he will be missed by his colleagues on both sides of the aisle."
"On behalf of all Canadians, Sophie and I offer our deepest condolences to his family and friends and to the loved ones of all those who perished in this tragic accident," Trudeau said.
The son of a professional hockey player, Prentice was born July 20, 1956 in Ontario and moved as a child with his family to Alberta. He toiled in a coal mine to put himself through law school.
Prentice rose through the ranks of the Conservative Party and was tapped in 2008 to be Minister of the Environment. He resigned two years later to go work for a bank.
In 2014, Prentice was elected premier of his home province. But less than a year later Prentice called for an early election and was voted out of office.
His successor, Rachel Notley, said Prentice "deeply loved Alberta."
"He worked tirelessly for all of us, in the true spirit of one who is committed to public service," Notley said in a statement. "I benefited from his advice, and the Government of Alberta is continuing to pursue many of his initiatives. All Albertans are the better for this."
The RCMP has not released the names of the other crash victims. But Notley in her statement identified one of them as Ken Gellatly, whom she described as "Prentice's good friend, and father of his son-in-law."