Incoming Canadian Prime Minister Justin Trudeau joined an elite global club Wednesday by appointing women to 50 percent of his Cabinet positions.
The self-proclaimed feminist made good his campaign promise that his governmental inner circle would be gender-equal. After initially trailing in the polls, the 43-year-old defeated incumbent Conservative Stephen Harper last month. His government was sworn-in Wednesday.
The appointment of a gender-equal Cabinet means Canada enjoys double the female representation of the United States; women make up just 25 percent of Washington's Cabinet of 16.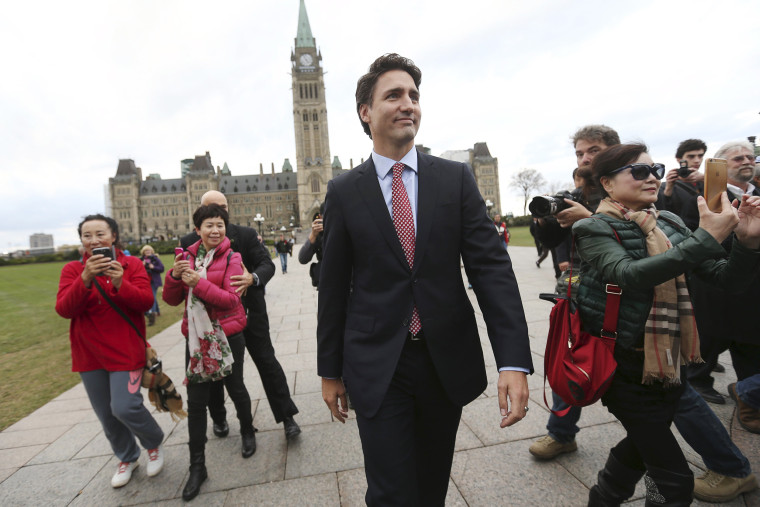 "Canada has never really had a gender-parity moment before so it's a big leap for us," said Jonathan Malloy, an associate professor at Ottawa's Carleton University. "Canadian politicians often talk about parity while running campaigns but it's a big deal to actually do it."
Malloy also noted that Canada "has jumped from about 20th to 3rd" in the world rankings of governmental gender equality.
The female half of Trudeau's cabinet included Jody Wilson-Raybould, appointed justice minister and attorney general, Jane Philpott, the new health minister, and Catherine McKenna, who was given the role of environment and climate change minister.
Men still held the portfolios of finance, foreign affairs, and transport, among others.
"It's a historic day for women," Sheila Copps, the former Canadian deputy prime minister, told CBC News. "Gender parity in the national Cabinet is huge. It sends a great message to our daughters and sons."
However, Canada does not quite top the global pile in terms of gender equality.
Finland enjoys the best female representation at the top table of government. The Nordic nation has 10 women among its 16 ministers, according to the Inter-Parliamentary Union, a trans-national body whose latest figures were released on January 1.
Close behind were Sweden and the Atlantic archipelago of Cape Verde, with 52.9 percent female representation apiece, according to the IPU. Canada ranks in joint-third place, alongside France and the European principality of Liechtenstein.
While women make up just one-third of the United Kingdom's cabinet, Scottish First Minister Nicola Sturgeon unveiled a gender-equal 10-strong cabinet last year.
At the other end of the scale, U.S. allies Saudi Arabia and Pakistan have no women in their Cabinets.