The human urgency is high, the terrain foreign, and the intel hazy. In other words: routine working conditions for 19 U.S. veterans performing search-and-rescue missions Wednesday while en route to a field hospital in the heart of the typhoon-tattered Philippines.
Most members of that coordinated "strike team" – which includes at least four women – were seasoned by combat during tours of Iraq or Afghanistan. The group was deployed on Veterans Day by Team Rubicon, a nonprofit, 8,000-person all-volunteer force of ex-service members that previously offered its battle-hardened help during catastrophes at home in the wake of Super Storm Sandy and abroad after the 2010 earthquake in Haiti.
"A lot of us, we just can't be bystanders," said Peter Meijer, a Team Rubicon member who served in Iraq during 2010 and 2011 as an Army reservist. From New York City, he's monitoring "Operation: Seabird," Rubicon's effort to link those 19 men and women with volunteer American doctors now caring for hundreds of ill and injured locals at an aid station in Tanauan, a city south of Manila reportedly heavily damaged by Typhoon Haiyan. The national death toll stands at 1,798, according to the latest estimates.
"You see a crisis and you want to go establish order," said Meijer, who helped save a flood-stranded man and his dog trapped in a Brooklyn attic after Sandy made shore in October 2012. "You go for the sake of the victims – but also because you've been in a similarly trying experience and you know you're capable of going to give the help that's needed."
The Rubicon members are tasked with "patient extraction and medical triage" at the field hospital in Tanauan, where doctors already have performed nearly 100 operations, including numerous limb amputations. A large share of the hospitalized locals also are said to be carrying infections. The U.S. veterans – wearing work boots, hardhats and harnesses – also plan to establish a supply chain while delivering tourniquets and trauma kits containing gauze, pressure dressings, and nasal tubes meant to open airways, according to the group's Facebook page.
On Thursday, NBC News will embed with a group of Team Rubicon members as the veterans work to bring aid and supplies to the storm-stricken country.
The rescuers include several female veterans who are pivotal, Rubicon members say, to bridging cultural gaps that the Americans may encounter as they enter smaller villages to offer aid.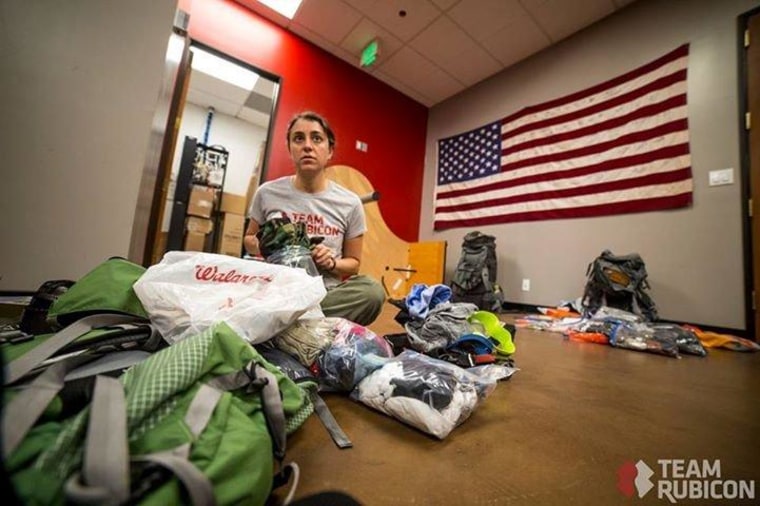 There is Elana Duffy, 33, a former Army Sgt. 1st Class and a graduate of Cornell University who works in New York City with a disaster-relief group. She served in Iraq and Afghanistan, and has a background in intelligence gathering.
"She's friendly, easy going. But in a disaster zone, when the pressure's on, you see that intensity, that discipline and that hard work of a senior non-commissioned officer in the way she acts," Meijer said.
"She's completely capable of understanding the situation when things aren't the clearest, finding out the best message and best ways to get things done efficiently when you lack information, when it's all ambiguity," added Shaun So, who spent eight years in the Army Reserves, working in counter intelligence. He deployed to Afghanistan in 2005 and volunteers for Team Rubicon in the New York City area.
Duffy flew to the Philippines with Kristen Rouse, 40, who deployed to Afghanistan in 2006, 2010 and 2012 as an Army captain. She works as a logistics planner with the New York City Office of Emergency Management.
"Kristen was in Afghanistan during [Super Storm] Sandy, and I can only imagine how frustrating that was as her hometown was getting hit," Meijer said. "She has this depth of character and a leadership style that's paired with a profound empathy."
The team also includes Lourdes Tiglao, 38, an Air Force veteran originally from Fort Wayne, Ind. who speaks Tagalog, the first language for a quarter of the people in the Philippines.
"She barely breaks 5 feet [tall]. She's a sweetheart but when you get down to work, you flip that switch, and it's all business," Meijer said.
The presence of those female veterans on the Rubicon strike team is a key element to winning the trust of local residents, even in the most desperate moments, according to So.
"When I was in Afghanistan, my [intelligence] partner was a woman. We needed a woman there because the population is 50 percent female. When you're out there, doing humanitarian support, that cultural [connection] is very, very important," So said.
But as the veterans dole out bandages and pull off rescues in yet another foreign land, they are simultaneously reclaiming a part of themselves, So said.
They are continuing to salvage themselves as they save strangers.  
"By virtue of being in the military, we all know how to do the job given to us. We are all fast learners under duress. But more so, there's a void, like a hole there, and [this work] allows us to feel whole again," So said.
"Integrating back to the civilian world is sort of tough. We don't all know how to translate our skills into what the civilian world does. Team Rubicon allows us to do those things again – but without people shooting at us. It opens up the adrenal glands like a faucet. It's extremely therapeutic. And it helps everybody."