LONDON — A car plowed through pedestrians and cyclists outside Britain's Houses of Parliament Tuesday in a rush-hour incident police are treating as a terrorist attack.
Officers swooped in on the wrecked, sliver Ford Fiesta after it crashed into a security barrier.
Its driver, a man aged in his late 20s, was arrested on suspicion of terrorist offenses.
Two people who suffered non-life threatening injuries were taken to a hospital, and another person was treated at the scene, officials said.
There was no one else in the vehicle and police said no weapons were found at the scene.
The incident happened at the same location as a March 2017 terrorist attack.
Metropolitan Police Assistant Commissioner Neil Basu told reporters that there was "no intelligence of further danger to Londoners or the rest of the U.K. connected to this incident."
Basu said the suspect was not cooperating with police.
British counterterrorism officials carried out searches at three addresses in central England, police said in a statement.
President Donald Trump referenced the incident in one of his early-morning tweets.
Authorities closed the nearby Westminster subway station, diverted buses and cordoned off a large area around the political heart of the British capital.
Several eyewitnesses said they saw the car drive into a group of 10 or 15 cyclists waiting at a red light.
Robert Nicholson, 36, was on his way to work when he saw the chaotic scene play out.
Nicholson, who works in digital marketing, said the car ran into the group of cyclists "head on." He said the driver "made no attempt to slow down as he hit the cyclists."
"There was a bike flying into the air," he added. "I would say it was deliberate."
Another witness, Ewelina Ochab, said she saw the car driving at a high speed.
"I heard some noise and someone screamed, I turned around and I saw a silver car driving from the crossing, very fast and close to the railings," she told Euronews.
"There was a loud bang from the collision and a bit of smoke," said Ochab, who works as a legal researcher and human rights advocate. "The driver did not get out. The guards started screaming to people to move away."
Jason Williams, 45, told NBC News he saw the car "driving really fast" before it "screeched" and hit the barriers.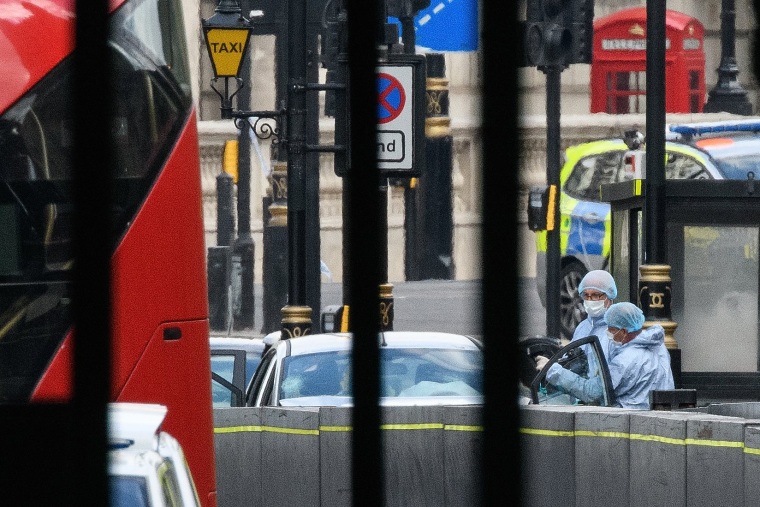 Earlier, he told "Good Morning Britain" that police told passersby to "get out of the area."
The crash occurred at 7:37 a.m. local time (2:37 a.m. ET).
In a statement, London Mayor Sadiq Khan said: "All Londoners, like me, utterly condemn all acts of terrorism on our city."
Prime Minister Theresa May added on Twitter: "My thoughts are with those injured in the incident in Westminster and my thanks to the emergency services for their immediate and courageous response."
Last year's terrorist incident saw a man drive his car across Westminster Bridge and stab a police officer to death. Five people were killed, including the officer, and more than 50 injured.
The attack, as well as several similar ones across Europe, resulted in more security barriers being erected across the British capital to try to stop vehicle-based terror attacks.