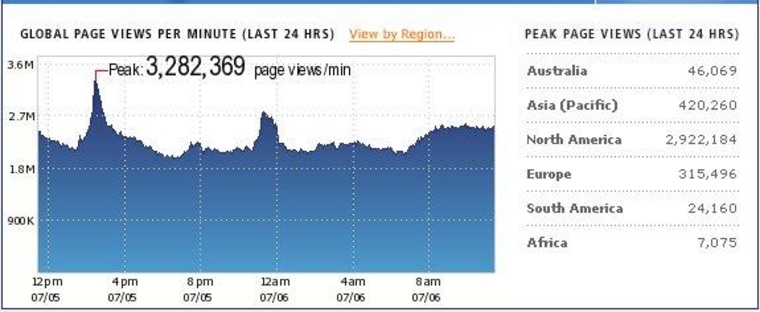 Where were you when a jury of her peers declared Casey Anthony "not guilty?" Probably on the Internet.
Our obsession with the murder-charged Florida mom who partied for more than a month before telling her family that her 2-year-old daughter Caylee missing peaked on the Internet just before 3 p.m. ET Tuesday. The live verdict did indeed inspire a notable spike in Internet traffic. Notable, but not record-breaking.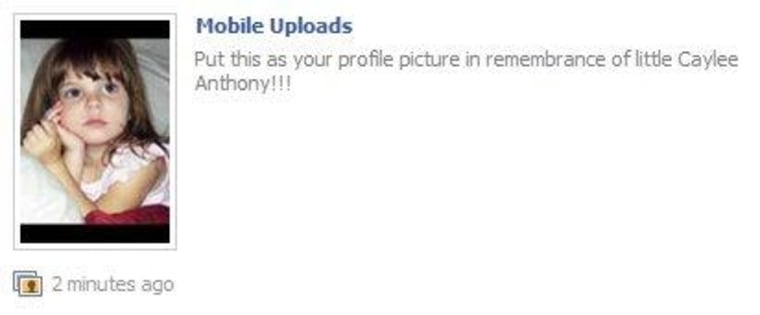 At the time of the verdict, traffic to news websites jumped abruptly from less than 2 million views to more than 3.2 million, according to content delivery network  Akamai. Most of that traffic came from the United States. It looks dramatic when you see those numbers on a graph (above), but compared to the highest news peak Akamai's recorded since 2005, it doesn't come close — more than 10 million at noon, June 2010, during ssimultaneous World Cup qualifying matches and the longest ever Wimbledon match. (Oh, we saw the Fail Whale on Twitter that day, my friend!)
That double sports event tops a list of 15 highest peaks since 2005 (when Akamai started monitoring), most of which revolve around sporting events — most of them soccer-related. President Barack Obama announcing the death of Osama Bin Laden is at the bottom of the list, and at 4.1 million, still has a pretty good lead on the Anthony verdict.
Meanwhile on Facebook, US users ask their friends to use a photo of Caylee Anthony as their profile picture, but Twitter seems to have lost interest. Following the Tuesday verdict, trial-related hashtags such as #notguilty and #caseyanthonytrial occupied almost all of the top 10 Twitter trends. By Wednesday afternoon, they were gone from the list, replaced with such hashtags as #nationalkissingday and JoeJonasIsPERFECT. (Joe Jonas? Really? Really.)
More on the annoying way we live now:
Helen A.S. Popkin goes blah blah blah about the Internet. Tell her to get a real job on Twitter and/or Facebook.